Green hydrogen gets closer yet remains elusive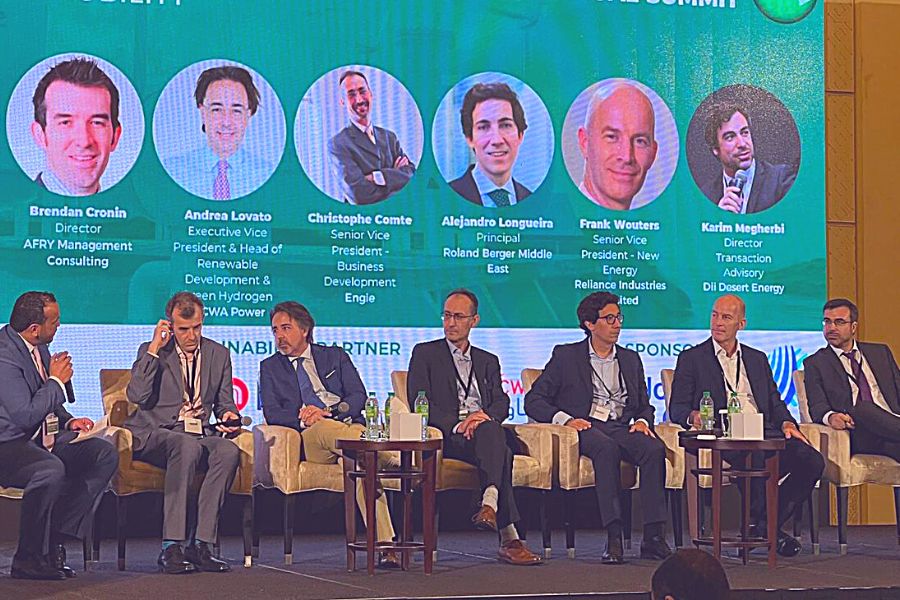 Clean Energy Business Council event looks closely at carbon-free hydrogen in MENA, seeing need for carbon pricing and possibility of a 'growth spiral,' although no OPEC for hydrogen is foreseen
Hard questions about hydrogen were raised this week at the 10th Annual Summit of the Clean Energy Business Council (CEBC) in Dubai. Participants saw green hydrogen having great potential but also facing tough economics in the Middle East and North Africa.
Industry experts, speaking at a session called "Harnessing Low-Carbon Hydrogen Potential in the MENA Region," conveyed hope and caution as they portrayed green hydrogen as something that looks ever closer and ever further away.
Hydrogen happening now
Discussion opened with consideration of the Neom Green Hydrogen Project, perhaps the largest in the world now under construction. The project that began in 2018 is now almost five years in the making.
"The challenge was to finance a utility-scale project, with lenders needing to buy into a long-term business plan," said Andrea Lovato, Executive Vice President & Head of Renewable Development & Green Hydrogen, ACWA Power. His company is part of a consortium with Neom and Air Products & Chemicals Inc. to develop the $5bn project.  
The project, which began in 2018, is now almost five years in the making and close to financial close according to the developers. Construction began nearly a year ago, with  commercial operations to start in 2026.  
Lovato laid out the basic challenge, as product costs must include conversion and transport in ammonia form. It will be targeted to the transportation sector, where it must compete with diesel fuel, without subsidies. Yet he sees this first big project as something repeatable, as "the first Lego blocks to be replicated," in a global green hydrogen market.
Closing the gap
Brendan Cronin, Director, AFRY Management Consulting, sounded a note of caution for hydrogen's future in the region's domestic markets and in future export markets.
The region's relatively low natural gas prices make it relatively cheap to produce hydrogen and ammonia from it. For green hydrogen to compete, there will be need for a government-supported carbon price, which isn't there now. Countries, he said, will need to consider this kind of support as they begin to think seriously about their net-0 targets.  
Therefore he thinks the near-term focus will be on exports. But he pointed out the enormous commitment made by Air Products, off taker in the export-focused Neom project.
"Not every off taker is willing to take the bet that Air Products has," he said.  
Cronin noted that the ammonia price per tonne, although relatively high now, has been low during the past five years, at $200-300 per tonne, making an export strategy difficult.
However, he pointed to a couple promising factors to look at, including Europe's carbon border adjustment mechanism, which will favour ammonia and industrial goods produced from low carbon sources, and the German government's H2 Global tender looking for projects outside the EU.
Christophe Comte, Senior Vice President - Business Development, ENGIE, pointed to the remarkable fact that Europe is planning for 10 million tonnes of hydrogen imported in 2030, which is about 50 times the amount that will be produced at the Neom green hydrogen plant annually.  
"It's a lot of hydrogen," he said.  
He noted that, of the explosion of project announcements in the past year, about 45% are targeting export mostly in the form of ammonia, although transport could occur in the form of methanol, sustainable 'e-fuels', or liquid hydrogen.  
Citing a study that just 10% of projects have reached financial close, he also pointed out that a large amount of port infrastructure must be adapted at significant cost.
Alejandro Longueira, Senior Project Manager, Roland Berger Middle East, returned to the need for incentives in the form of a carbon market. He noted that in MENA there is not a carbon market, nor sufficient incentives on the production side, to provide price signals to companies.  
"There is still a gap between the price and the cost right now," he said, emphasizing that closing this gap will require incentives.
At this point in the discussion, Cronin reiterated his point about the lack of carbon price support for hydrogen.
"The price and support in the destination market locally doesn't support the cost we see in the market today," he said.
"And yet we see Neom happening, which makes me think that Air Products as off taker is making a massive bet."
Lovato replied that there are no subsidies for the Neom project, that it is fully commercial. Initial analyses found green hydrogen to be competitive with diesel for vehicles, while the project still compares favourably with what the natural gas price has been in Europe recently.
"Air Products believed in the project and they built infrastructure in the receiving terminal," he said.  
Going exponential
Frank Wouters, Senior Vice President – New Energy, Reliance Industries Ltd., said that he would not underestimate hydrogen's potential, as occurred with solar energy.
"This has the potential to grow exponentially, once a certain number of elements fall into place," he said.
Wouters sees a lot of parallels with the development of photovoltaics. There is a learning curve, he explained, that comes into effect as equipment gets cheaper the more it is produced, which leads to further deployment even more cheaply, leading to a spiral of growth.
In light of this, Wouters advised taking a 'macro approach' to understanding hydrogen, rather than a more 'bottom up' or piecemeal approach to market analysis that will inevitably underestimate it. He likes the economics of green hydrogen, while he is less optimistic about the economics of carbon capture for blue hydrogen, which lacks the possibility for the growth spiral he described.  
Still, he acknowledged that the business case for green hydrogen is unclear.
"The is not one single, simple business model" to really launch the market, as occurred with solar power's take-off in the wake of Germany's feed-in tariffs, he said. He suggested that a feed-in tariff for hydrogen is something Europe could consider, as much of its existing pipeline infrastructure could be used for hydrogen.
While the participants approached the question of hydrogen from different points, either 'macro' or 'bottom up', they generally agreed that hydrogen will be quite different from the petroleum that has so profoundly shaped the MENA region. There will be no OPEC for hydrogen, as so many projects are now appearing in many places worldwide.
Last week Energy & Utilities published an interview with Dr. Steve Griiffiths of Khalifa University, How hydrogen gets started, which considers carbon-free hydrogen's likely industrial applications in MENA.
Energy & Utilities - Middle East and Africa Market, Outlook Report 2023.
This must-have report for industry players offers a thorough understanding of the latest developments, challenges, and opportunities in the region, supported by data, analysis, and expert insights.