GEUF: Risk allocation and offtake agreements crucial to financing new clean technologies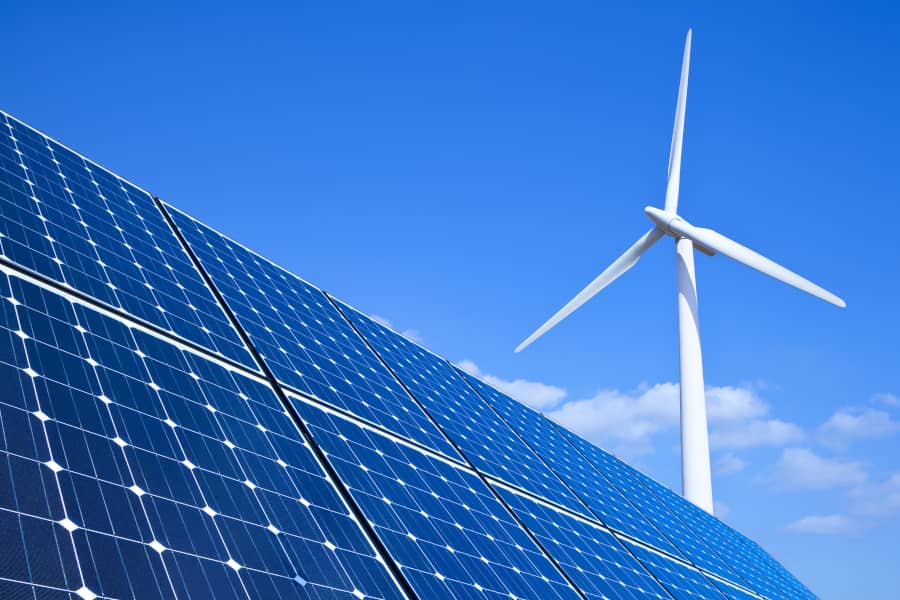 Innovative structuring of financing and balanced risk allocation vital if new clean technologies such as green hydrogen projects are to secure financing
Speaking on a panel discussing on "Funding the Energy Transition" at the second day of the Global Energy and Utilities Forum on 8 March, Rajit Nanda, Advisor to the CEO at ACWA Power, spoke of the role of the private sector in driving forward the MENA region's clean energy programmes.
"It is all about how we accelerate the transition into the hydrogen economy," he explained. "What we are seeing in terms of involvement of the private sector is, firstly, the pace of investments in renewables is continuing in an overdrive."
The International Renewable Energy Agency (IRENA) estimates that energy transition technologies will require investments of around US$131 trillion by 2050. Speakers at the Global Energy Utilities Forum discussed where this capital will come from to deliver on ambitious renewable energy projects and energy efficiency programmes.
Since the Mohammed bin Rashid Al Maktoum Solar Park in Dubai was launched a few years ago, a plethora of utility-scale projects have been coming through across the region, such as Al Dhafra PV2 solar, the world's largest single-site photovoltaic plant in Abu Dhabi, and Oman's first utility-scale solar power plant. Apart from the renewables drive, with Saudi Arabia also taking central space, Nanda mentioned an awareness and a move towards green hydrogen.
"This part of the world is naturally endowed with the right resources," he said. "And, therefore, given the public-private partnership model that has been well established in the last two decades here, this part of the world is very well positioned to capture and position itself as the hydrogen capital of the world."
He gave the example of NEOM, which has been the torch bearer and is showing the path to a lot of governments in the region and worldwide the way to restructure utility-scale green hydrogen projects. "All that needs to be done from a private sector perspective is a little bit of 'bespoking' on how we can take the lessons, the existing framework and the appetite of the private sector for the risk allocation that existed in, at least, the power sector, to build on the next phase of bankable green hydrogen projects," Nanda added.
"That's coming thick and fast. All of this is opening very well in terms of how we are going to see the rollout of renewables and green hydrogen, in the context of private sector investment in this part of the world."
He expects to see technology change over time and contracts to be able to cope with such gradual changes, as traditional EPCs do not allow for this. "They're not innovative enough so we need to think about innovative contracting structures as well, to allow for developments in technology to be utilised by contractors," he said.
Gurmeet Kaur, Partner at Pinsent Masons LLP, spoke of private sector investment into such projects, and the banks' perspectives, stating that one of the key aspects is to get balance contracts. "It remains true that to attract vendors in private sector participation in these projects, you need to allocate risk appropriately," she explained. "This model that's been used in this region, the IPP model, started many years back in the conventional power sector and over time, it was then also used in the renewables sector. We will probably see the same structures being used in green hydrogen projects."
She said the government sector in the region takes on the risk of taking on the land, which is key, because large-scale areas are needed to develop such projects. As a result, she highlighted that the government is better placed to obtain related permits, which enables it to procure these projects in a fast-track fashion. "It's a challenge to place that risk on the private sector," Kaur said. "Hydrogen projects are multi-faceted and an EPC contractor is not best placed to assume all the risk in respect to all these different elements."
Kaur outlined the importance for contractors to be able to price this risk upfront properly to avoid disputes. "One of the models we are seeing in Australia and elsewhere is what's known as a collaborative contracting structure," she added. "Another aspect is technology is evolving rapidly so manufacturers are looking to continuously improve their processes."
Tim Palmer, Head of Renewables and Transition at UK Export Finance, spoke of emerging markets, with a quote by his CEO that "there are no developed countries when it comes to a transition, there are only developing countries".
He said some countries have further to go and some are being held back by their economic position, which is where renewable technologies need to be looked into. "The feedback is that, in some of those markets in Africa and others, some of those mature technologies cannot be put into place because PPAs are not attractive to commercial lenders," he explained. "That's an area we are very much looking at for the solar and wind sector."
Moving to the emerging technologies in the hydrogen space, he said risk allocation is clearly an interesting area as an export credit agency because there is a tendency for commercial lenders to turn to them to be the risk taker. He foresees an enormous role for such agencies to play in taking as much risk as possible, however, at the same time, there needs to be a sharing of risk that is appropriate.
"It's only fair to say that commercial lenders need to be able to not look to us as being the sole lender in hydrogen projects, in particular," he noted. "In the last few months, we are seeing some of the larger commercial lenders willing to take some uncovered risk as well."