Experts hold forth on future of power production and demand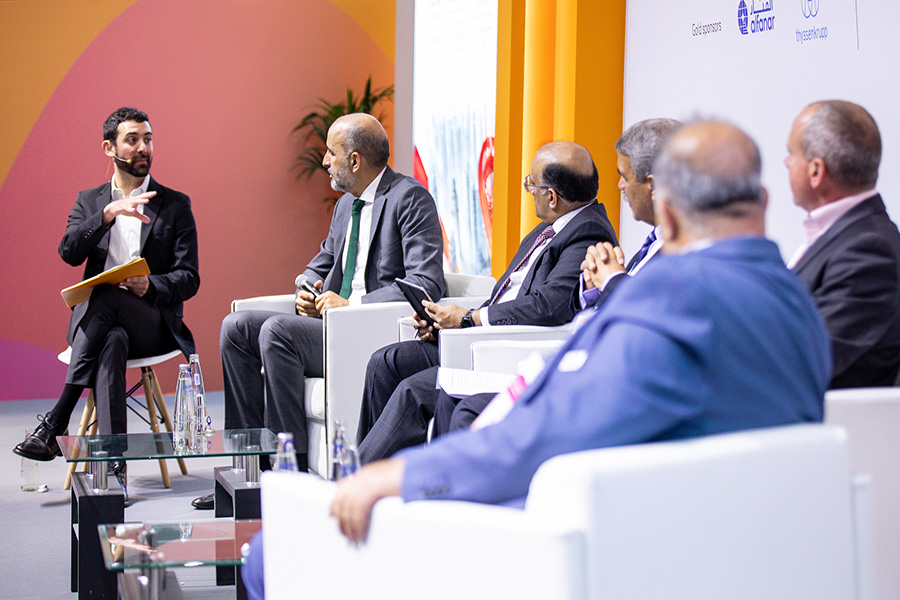 Fossil fuels will remain critical while renewables expand and new fuels ramp up, according to speakers at Middle East Energy expo in Dubai; considering what electricity demand will look like
Six experts shared views in a panel session "What electricity demand looks like in the future." Their discussion yesterday was preceded by a keynote address from Nicolas Daher, Lead Energy Analyst, The Economist Intelligence Unit – London.    
"Given its natural resources, expertise on energy markets and investment capacity, the Middle East and North Africa (MENA) has the conditions to lead on the energy transition," said Daher, as he opened the Strategic Conference at Middle East Energy 2023 this week.
"While some challenges are preventing this from happening, the opportunities remain enormous," he said.
Daher foresees that, eventually, coal demand in MENA will decline, but the region will witness a significant growth in coal and oil demand in the next 10 years. Similarly, gas demand in MENA will continue expanding rapidly as it continues to be supported by governments and energy-intensive industries.  
The energy transition in MENA: opportunities and challenges 
"Currently, fossil fuels represent about 98% of total energy consumption in MENA. With energy demand growth in the region the second fastest in the world (1.8% per year), we will face the double challenge of decarbonising while meeting a fast-growing demand.
"Here, investment in renewable energy will be critical," Daher explained in his keynote address. 
While solar power will be by far the most deployed renewable energy technology in MENA, wind energy growth may be sluggish, he said. Meanwhile, there is a renewed interest in nuclear in the region, with nuclear power capacity expanding especially in the UAE. 
"As we are going through a cycle of monetary tightening and higher interest rates, this is affecting capital-intensive projects such as renewable energy," Daher said. "Simultaneously, commodities price inflation is pushing up project costs, and concentrated supply chains remain vulnerable to political shocks.
"We also must face the fact that clean technologies outside the power sector are still in the early stages, and there is a need for the expansion of electricity grids." 
Daher highlighted that the MENA region could retain its role as a leader in energy and energy technologies, with its leadership on climate diplomacy shown by hosting two UN climate conferences. The region also has an opportunity to become a global hydrogen hub.
The future of electricity demand  
Following the keynote, a high-level panel convened to discuss the future of electricity demand, with discussion initially focusing on the impact of EVs.
"Currently, we have almost seven business models in play when you look at EVs and how they are built, specifically related to charging," said Abhay Bhargava, Vice President–Energy & Environment, Industrial Practice, Frost & Sullivan MEASA.
"As electricity demand continues to increase by 7%-10%, how do we incentivise people to draw from the grid at times that are appropriate for its operations?
"It is about putting in place the right kind of incentives and tariffs to ensure that you can shape the demand." 
When asked about the future of electricity demand, Prof Ammar Moussi, Honorary Member, Parliamentary Assembly of the Mediterranean (PAM), explained that one year ago, the answer to the question would have been completely different.  
"The war in Europe has changed the circumstances, and we need to think more about regional resistance to energy shocks," he said.
"Our energy security in MENA is at risk, and we must work together for a safe energy transition and step up to produce clean energy for the future." 
Utilities' disruptive innovation 
Discussing what disruptive innovation looks like, Brian Ryan, VP of Innovation, National Grid, USA, highlighted that there is a huge amount of investment coming into the energy transition, which creates the perfect environment for disruption and start-ups.  
 "You can expect investment to continue to increase with tech unicorns popping up every two weeks, worth over $180 billion dollars today, creating an environment right for start-ups and for business models that embrace the disruption," he said.  
"The challenge for large corporates and utilities is to capture value from the disruption that is going to come and to really scale it up." 
Rounding off the panel discussion, Otmane Benemar, Chief Technology Officer (Acting), GE Gas Power explained that the industry needs to provide reliable power, to make it affordable and sustainable.  
"There is not one solution that fits all, and we cannot wait for the ultimate solution to start acting," he said.
"In the meantime, we have solutions for the short term, such as digital tools, and the medium-term where we can convert assets to produce more power without adding any fuel, reducing carbon intensity.
"In the long term, whether maintaining the same assets or adding capacity, when hydrogen becomes available and affordable, we will be able to convert those to hydrogen." 
_____
The discussions continue today in three conference venues at Middle East Energy, Dubai World Trade Centre. 
Energy & Utilities - Middle East and Africa Market, Outlook Report 2023.
This must-have report for industry players offers a thorough understanding of the latest developments, challenges, and opportunities in the region, supported by data, analysis, and expert insights.