Egypt's new capital promises environmental gains in high tech city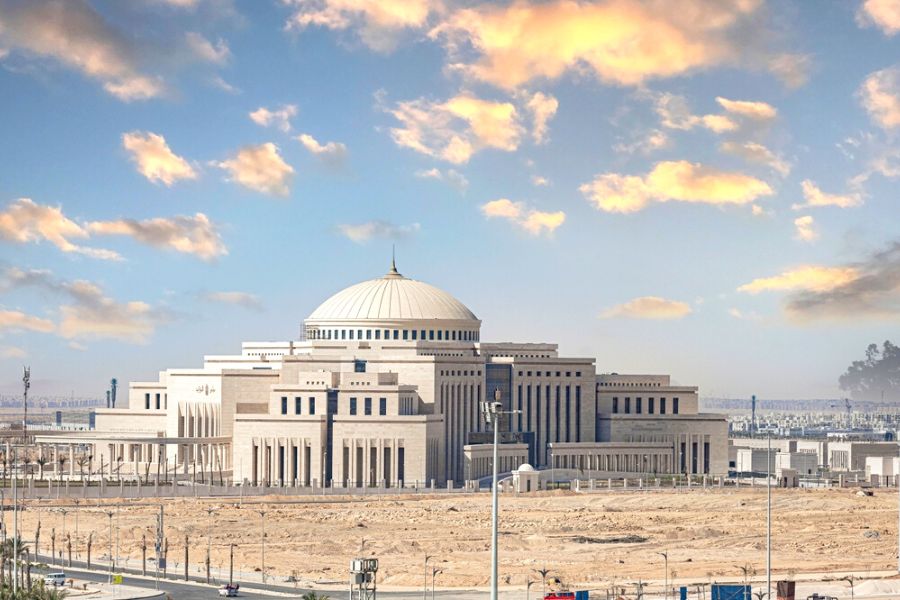 The New Administration Capital will receive 50k workers by year's end, will see eventual population of 6.5 million, the head of development announced recent progress at Cityscape Egypt conference
Khaled Abbas, who is Chairperson of Administrative Capital for Urban Development (ACUD), said that the second and third phases of Egypt's New Administrative Capital (NAC) will be launched by the beginning of 2023, according to a report in Daily News Egypt. He said that more than 50,000 employees will be transferred to the NAC's government district by the end of this year.  
Mr. Abbas, who was speaking at the Cityscape Egypt conference this past Saturday, said that development of the NAC's first phase is currently ahead of schedule, indicating that some projects have been completed, including the third residential district and the Government District.
ACUD, reported to be the largest real estate developer in Egypt, is owner and developer of the NAC.
A counterpart city to sprawling Cairo, the NAC is now under construction 45 km east of Egypt's capital. It will hold some 6.5 million residents in what is planned to be a very smart and sustainable environment. Begun in 2017, it will be the largest of numerous new cities that Egypt is building to create a new urban paradigm for 30 million people. It will house the nation's parliament, a presidential complex, government ministries, hotels, schools, and a central business district. It will have an airport and new public transit linkages.
An urban paradigm for the region?
Energy & Utilities reviewed the status of the NAC, to see a new city that might become a paradigm for the region. Such a model will contain all the components that must come together to achieve large gains in clean energy and water production and conservation.
Here is a quick review of what we learned.
Clean Energy
The rooftops of the NAC's residential district will have solar panels1. It will be the largest rooftop solar panel project in the world which is projected to produce 130 MW of energy. The overall aim of this is to adhere to the ACUD's goal of producing 30 to 35% of the NAC's power supply from renewable energy sources.
The first phase of this solar panel project commenced in 2019. This has already proven to be successful in providing 10 MW of electricity to buildings in the NAC's Government District.
Integration of utilities
Integrated utilities2 including a smart irrigation system, smart waste management, and smart meters, will exist in the city. Advanced technology will assist the management of these utilities and aid their efficiency. For example, an integrated approach to waste management and advanced recycling facilities will be implemented. This includes the recycling of organic waste3 as a way to grow local food.
Water treatment and sewage systems
A new water treatment plant4 located within the New Administrative Capital will treat and provide 1.5 million m3 of potable water per day. This will add to the existing water treatment plants in New Cairo City and the 10th of Ramadan City. These will transmit part of their outputted water to an 80,000 m3 and 100,000 m3 ground storage tank inside the NAC. An irrigation network that provides the required amount of irrigation water to different areas will also be implemented
By using a main gravity pipeline, sewage and stormwater will be collected for eventual discharge into the New Capital Sewage Treatment Plant. The network was carefully created with the management of stormwater in mind.
'Smart city' technologies
Egypt's New Administrative Capital is being fitted with advanced surveillance systems5 to create a safe environment with the rapid exchange of information at the highest possible standards. Some of the core abilities of this system include detecting theft, tracking suspicious individuals or objects, monitoring traffic and crowds, and activating automatic alerts in emergencies. This wide range of electronic services offers the city's population an improved quality of life while also advancing their welfare and keeping them up to date with the world around them. For example, many core communication services can be automated, such as updating people on traffic and congestion, and being able to quickly attend to emergencies.
The new capital is also utilizing shared mobile towers and connected fiber infrastructure5. This will provide readily accessible and high-speed communication services for residents in the NAC. So, the city will be strongly interconnected, but also highly integrated within the global economy.
An innovative system of paying utility bills6 is also being introduced. This will involve residents paying their utility bills using a rechargeable smart card. So, hyper-efficient bill collection procedures will be implemented.
Knowledge City
Expected to cost more than EGP 15 billion (about $ 953 million), the Knowledge City in the New Administrative Capital will contribute to Egypt's Vision 2030. Through its innovation center, it will help to develop an integrated digital infrastructure and network of smart facilities. These will further stimulate industrial innovation and aid a strong partnership between stakeholders that strive to adhere to sustainable development goals.
Summary
Egypt's New Administrative Capital is a forward-thinking and innovative city. This is particularly the case regarding how the city will utilize energy and utilities within its everyday functioning. The extensive rooftop solar panel system and the advanced delivery of utilities put this into perspective nicely. But equally, the integration of automated smart city technologies will be a core facilitating component. So, with an expected population of over 6 million people, the NAC will be well equipped to provide a modern and attractive living and working environment.
Energy & Utilities - Middle East and Africa Market, Outlook Report 2023.
This must-have report for industry players offers a thorough understanding of the latest developments, challenges, and opportunities in the region, supported by data, analysis, and expert insights.