Egypt grants land to ACWA Power for big wind plant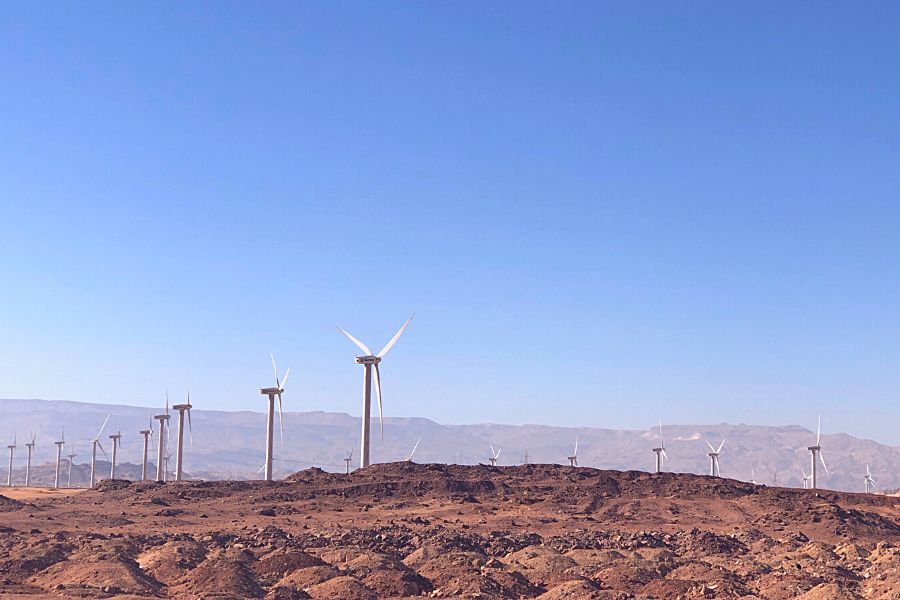 Located at Sohag, the 10 GW wind project is expected to be among largest in the region, NREA allocating 3000 sq.m for plant creating up to 120,000 job opportunities; follows Scatec land deal last week
ACWA Power, the Saudi power and water development company, signed a memorandum of understanding (MoU) with the New and Renewable Energy Authority (NREA) of Egypt on Monday to allocate land for a 10 GW wind project in Egypt.
The MoU allocates approximately 3,000 square kilometres of land west of Sohag, a city in Upper Egypt, for the project. According to a statement from ACWA Power, the wind project is expected to generate around 50 thousand gigawatt-hours (GWh) of clean energy annually, providing electricity to around 11 million households.
According to the company's statement, this MoU marks the next step in the development of this large-scale renewable energy facility. "Today's signing furthers our commitment to driving sustainable development and powering Egypt's future with clean, reliable, and renewable energy," said Marco Arcelli, Chief Executive Officer of ACWA Power
The agreement was signed at the headquarters of the Council of Ministers in the new city of El Alamein, by Dr. Mohamed El Khayat, Chairman of NREA, and Eng. Hassan Amin, Country Director – Egypt, ACWA Power.
The signing ceremony took place in the presence of the H.E. Dr. Moustafa Madbouly, Prime Minister of Egypt; H.E. Dr. Mohamed Shaker, the Egyptian Minister of Electricity; Mr. Mazyad bin Muhammad Al-Huwaishan, Consul General of Saudi Arabia in Alexandria; Eng. Sabah Mashaly, Chairman of EETC; and Arcelli.
ACWA in Egypt
The statement added that the 10 GW wind power plant is expected to provide the Egyptian economy with $6.5 billion savings in annual natural gas costs, in addition to creating up to 120,000 job opportunities.
Having had a presence in Egypt since 2015, ACWA Power has three other facilities in Egypt that are either in operation, under construction or in advanced development, including a 120 MW solar PV project in Benban, a 200 MW solar PV facility in Kom Ombo, and the 1.1 GW Suez Wind Energy project.
Background
This new agreement follows the MoU that was signed last year in Riyadh, between ACWA Power, Egypt's NREA and Egyptian Electricity Transmission Company (EETC) to build a wind power plant with a capacity of 10 gigawatts (GW).
That agreement included allocating lands for technical studies required for the project, in preparation for negotiating the project's final contracts. The two ministries also discussed electrical interconnection between Egypt and Saudi Arabia, as well as cooperation in the fields of renewable energy and hydrogen.
Energy & Utilities recently reported on a separate land agreement signed between Egypt and Norwegian developer Scatec for a large wind project in the West Sohag region.
Energy & Utilities also reported on a solar project in Egypt involving ACWA Power that received a financing package of $123 million.
David Haziri contributed reporting
Energy & Utilities - Middle East and Africa Market, Outlook Report 2023.
This must-have report for industry players offers a thorough understanding of the latest developments, challenges, and opportunities in the region, supported by data, analysis, and expert insights.