Egypt Energy conference covers 10 years of progress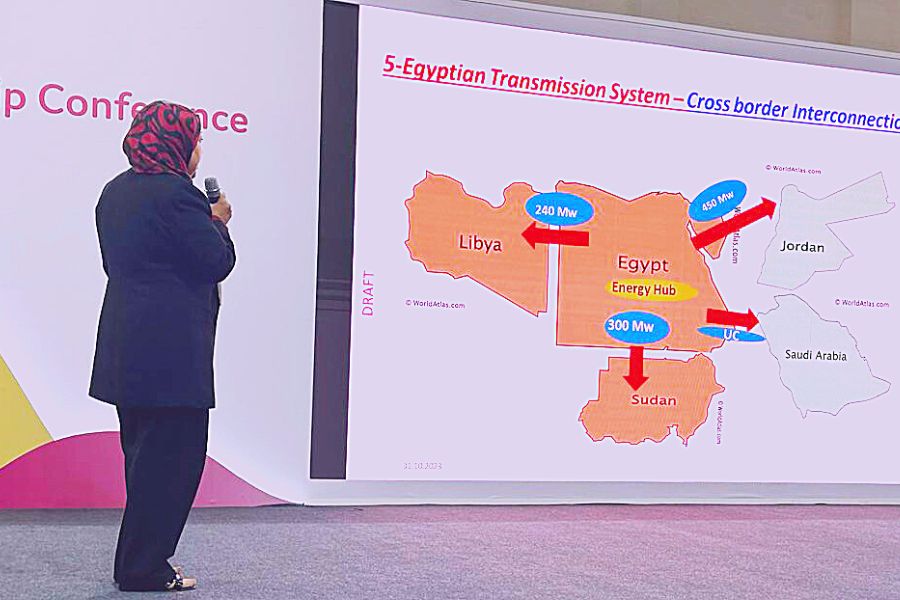 Power projects since 2014 expanded capacity with mix of renewables and new Siemens-built thermal, while smart grid offers promise to alleviate persistent supply problems; five experts hold forth on future
Egyptian officials say Egypt has achieved a breakthrough in the electricity sector from deficit to surplus through a number of giant projects and the expansion of clean energy sources.
Day 3 of the Egypt Energy Leadership Conference, in Cairo this month, had Egyptian officials and energy experts emphasizing the challenges and ongoing development of the Egyptian transmission grid during the past 10 years.
Experts shed light on new trends and challenges in smart grids technology and how it can help Egypt to reduce network problems and contribute to solving the crisis of power outages.
Cooperation with Siemens
In her presentation titled "Egyptian transmission grid development and challenges", Ghada Osama, Head of Studies and Planning Sector, Egyptian Electricity Transmission Company (EETC), highlighted electricity sector projects in Egypt since 2014, including renewable energy and green hydrogen projects.
She described Egypt's power sector challenges, including the lack of electricity generation in 2014 and power outages.
"At that time, the government began implementing an urgent plan to overcome the crisis by installing transformers on the electricity network with a capacity of 3,636 MW, with investments amounting to about 20.8 billion Egyptian pounds.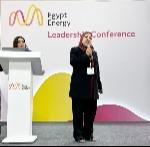 "Within 8 months, transformers were operating in areas suffering from an electricity deficit."
She pointed out that one of the most important milestones in the development of the Egyptian electricity sector was cooperation with Siemens.
"A contract dated 1 June 2015 was signed with Siemens company at a conference, it was to implement 800 MW in November 2016, to reach 4400 MW in December 2016, and the whole project in May 2018."
"To accommodate new electrical capabilities, 3 power plants were built at Burullus, New Capital and Beni Suef and 11 new substations were constructed and connected to the network," she said.
Renewable energy projects
Osama pointed out that renewable energy projects have required development of the Egyptian electricity network to accommodate the new electrical capacity.
She highlighted that work on developing the network began with the Benban solar energy project with a capacity of 1,465 GW and the participation of 32 investors.
She explained that the Benban Park was built in a strategic location near the High Dam so that hydroelectric capabilities could compensate for any shortage of unreliable renewable energy.
"When system load production drops from 24 MW PV to 0.4 MW, the High Dam acts fast to compensate PV curtailment with a capacity 2100 MW."
She confirmed that current total installed capacity in Egypt is 60 GW, of which renewable energy sources (including hydro) are 9.9%.
She also expressed Egypt's aspiration to operate its electricity network with high efficiency and with minimum fuel consumption, saying it's a major challenge with the expansion of major industrial projects and modern electrical transportation networks.
Importance of smart grids
A panel discussion followed, entitled "Smart Grids - A look to the future", highlighting the role of smart grids in improving the reliability of the electricity grid by providing real-time information about the grid's status and by allowing for more efficient and coordinated dispatch of power.
Moderated by Dr. Hady Habib, lecturer and researcher on smart grids and sustainable energy at Heliopolis University, the panelists touched on the latest trends and developments in smart grid technology, and the challenges of deploying and operating smart grids.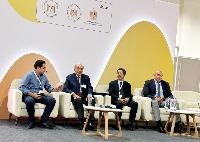 Dr. Hafez El-Salmawy, Professor of Energy Engineering, Zagazig University, Egypt, who is consultant to the World Bank, highlighted the importance of smart grids in achieving balance in load management, especially in light of the expansion of renewable energy projects and the electric car sector. He said that current electricity grids will not succeed in serving the new demand.
"Smart grids give the ability to control consumers' demand, whether it increases or decreases, to match production, and ensure no power outages, because they predict expected problems and can be stopped in the event of a security breach."
Continuous data updates
Prof. Walid El-Khattam, Professor at Electrical Power and Machines Department, Faculty of Engineering, Ain Shams University, explained that smart networks are capable of providing continuous data updates immediately, noting that they require replacing traditional electricity meters with modern meters. This requires the provision of significant funding.
He called for encouraging investments in smart grids, explaining that they will stabilize the national grid and make international electrical interconnection projects successful.
Mr. Sherif Kafafi, Co-founder and CEO, Afro Utilities, explained that installing smart networks requires creating a precise system that guarantees the privacy of data on the network and achieves integration of transmission and distribution networks. This requires development of operating systems and data reading.
He also emphasized the role of smart networks in reducing network problems and contributing to solving the power outages crisis that Egypt suffered last summer.
He said that France has a strong smart grid system at the level of transmission and distribution networks, one that can preserve customer data and provide scenarios to predict problems or electricity shortages before they occur and protect transformers.
Energy and Utilities reported on the 3-day Egypt Energy exhibition and conference this month in Cairo, where government and industry leaders spoke about a rapid energy transition and discussed Egypt's plans for international power connections.
Energy & Utilities - Middle East and Africa Market, Outlook Report 2023.
This must-have report for industry players offers a thorough understanding of the latest developments, challenges, and opportunities in the region, supported by data, analysis, and expert insights.