Diverse forms of energy storage emerging as renewables rise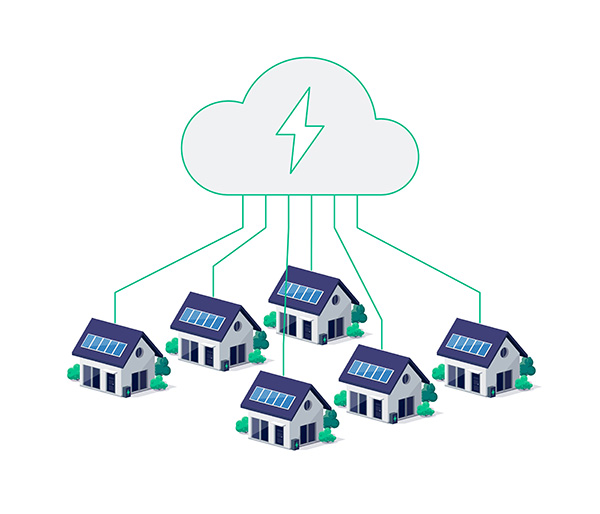 From pumped hydro and batteries, to Concentrated Solar Power, a multitude of storage technologies have emerged to help harness the full power of renewable energy. Such technologies are set to catalyse the industry by helping meet a growing energy demand while contributing to a global net-zero future.
Strong grids and energy storage systems have emerged as key components driving the world's shift to renewable energy. Increasingly, electricity storage is becoming a crucial factor.
It is widely understood that energy storage can help address key technical and economic challenges related to variable renewable energy integration – a current difficulty for grid networks – while helping to manage the variability and uncertainty that solar and wind sources introduce into power systems.[i]
Energy storage applications provide rapid response to signals from batteries. They open the way for new, high-value system services. Energy storage also improves off-grid electrification and helps decarbonisation efforts across different sectors.
And the shift is timely, as Frost & Sullivan revealed in its Prospects for Energy Storage in the Region report in 2020 that global installed solar PV and wind capacity are expected to grow at a CAGR of 7.6 percent and 4.7 percent, respectively, from 2020 to 2040.
The Middle East and North Africa (MENA) region is no exception, with installed renewable capacity having grown at 69 percent CAGR since 2015. It is expected to reach 45 percent CAGR growth in the UAE and Saudi Arabia by the end of this decade. Across the region, the report found that installed renewable capacity is also expected to increase from around 5GW in 2020 to over 130GW by 2030.[ii]
An array of approaches
A number of different storage technologies have reached maturity and are now deployed in large scale. Pumped hydro, which turns the kinetic energy of falling water into electricity, is a leading technology. Batteries, which store electricity through electro-chemical processes, will play an increasingly important role, dominated in the near term by lithium-ion technologies. Concentrated Solar Power (CSP), which gathers solar energy using mirrors to run turbines and generate electricity, is also increasingly important.
According to Dr Ibraheem Almansouri, Head of Engineering at Masdar Clean Energy, battery storage has huge potential in the near term, as latest forecasts reveal that energy storage installations throughout the world are on track to reach a cumulative 358 GW/1,028 GWh by the end of 2030 – more than 20 times larger than the 17 GW/34 GWh that were online at the end of 2020. [iii]
Other forms, such as thermal energy storage (TES) technologies, which store energy by heating or cooling a storage medium, vary in readiness level. Some are already tested and deployed in applications, such as utility-scale power generation, industry, district heating and cooling, buildings, and cold chain logistics, which allows for the safe transport of temperature-sensitive goods and products along the supply chain.
One example of a mature TES technology is molten-salt storage at CSP plants. IRENA has shown that over 234 GWh of TES capacity was installed globally by the end of 2019.
"Some TES technologies have the potential to play an important role in the energy transition," said Francisco Boshell, Analyst in RE Technology Standards and Markets at IRENA. "But innovation is still needed to increase their commercial readiness."
Boshell points to lithium-ion, valve-regulated lead acid, and pumped hydro storage as other mature technologies. Within the realm of electro-chemical (battery) technologies, he points to some that are still in demonstration, including the sodium nickel chloride (Na-NiCl2) or 'Zebra' battery, and the vanadium redox flow battery.
"One technology that remains a prototype is zinc-bromine energy storage battery," he says.

Battery energy storage systems (BESS)
As is evident from various Ragone charts, which categorise storage technologies, many systems currently have either market application or are underway.
For Richard Lappin, Technical Director of Power Generation at WSP Middle East, the main consideration when assessing the suitability of any storage technology's application hinges on expected life, energy density, and the storage time required.
"Equally, the economic considerations for any proposed technology and application need to form a fundamental role in potential uptake," he explains.
In the battery storage field, the technologies he observes being considered and utilised in current proposals and applications include lithium-ion, lead acid (PbA), nickel cadmium (Ni-Cd), sodium sulphur (Na-S) and flow batteries.
As solar and wind power continues to expand across the UAE, Saudi Arabia, Morocco and Egypt, it is expected that battery storage will play a prominent role in decarbonising the electricity systems and transport in these countries. Today, behind-the-meter battery storage systems, coupled with rooftop solar PV in residential and commercial buildings, have become a real growth market.
According to Masdar's Almansouri, the dominant technologies deployed to support the clean energy transition in each of these countries include battery storage in the UAE, and thermal CSP in the UAE and Morocco. In the near-term, he said green hydrogen is also expected to play a significant role, especially in the Emirates, where there is an abundance of cheap solar electricity which can be used to produce green hydrogen.
"Crucially, the UAE also benefits logistically from existing shipping routes and business networks to facilitate bringing green hydrogen to market efficiently and at scale," he noted. "Masdar aims to become a global green hydrogen leader, with plans to grow supply capacity to 1 Million Metric Ton (MT) by 2030. Earlier this year, we also signed a landmark agreement to develop 4 GW-capacity green hydrogen plants in Egypt by 2030."
An emerging BESS
For WSP's Lappin, the Lithium Iron Phosphate (LFP) battery system is a prime consideration in renewable energy market applications, as such batteries have also gained acceptance in other energy sectors in recent years, with strong uptake emerging in the automotive industry.
"In the context of solar and wind energy generation, the LFP system allows a number of energy storage advantages in comparison to traditional battery systems," he says. "Although stationary LFP systems are heavier, the benefits outweigh this issue as they are less expensive ($/kWh) than other lithium-based batteries, though they have comparatively lower energy density."
He believes their improved output, better safety, and longevity, position them as a more sustainable choice compared to conventional systems.
"LFP provides a suitable option to provide long duration energy storage, as the global energy sector targets renewable grids and ultimately transitions towards greener methods of energy generation, transmission, storage, and distribution," he said.

Masdar's approach
MENA-based organisations are incorporating such solutions into their projects. Masdar, for instance, has striven to position itself at the forefront of technological innovation in clean energy solutions, with notable early-stage investments in thermal CSP storage.
In addition, Masdar is pioneering battery storage integration with its 1 MWh Batwind storage solution, which was connected to the Hywind 30 MW floating wind park off the coast of Scotland in 2017. More recently, in February 2021, Masdar acquired 50 percent of a 1.6 GW clean energy portfolio of projects in the United States from EDF North America. The portfolio includes two lithium-ion battery storage systems, as well as a 128 MWdc solar PV and 40 MW/160 MWh battery energy-storage system.[iv]
What it's all about
Ultimately, energy storage holds great potential in a global sustainable future thanks to its capacity to add flexibility in grid operations, and its multiple applications and capacity to meet soaring demand for electricity. As such, it can also help capitalise on the use of renewable energy while serving more vulnerable remote areas. Storage, effectively integrated with renewable energy sources, will play a key role in reducing greenhouse gas emissions to counteract climate change.
[i] Data taken from IRENA interview with the author.
[ii] Data taken from 2020 Frost & Sullivan Report, 'Prospects for Energy Storage in the Region'.
[iii] Data taken from Masdar interview with the author.
[iv] Data taken from Masdar interview with the author.
Energy & Utilities - Middle East and Africa Market, Outlook Report 2023.
This must-have report for industry players offers a thorough understanding of the latest developments, challenges, and opportunities in the region, supported by data, analysis, and expert insights.