Digital Transformation for a sustainable energy transition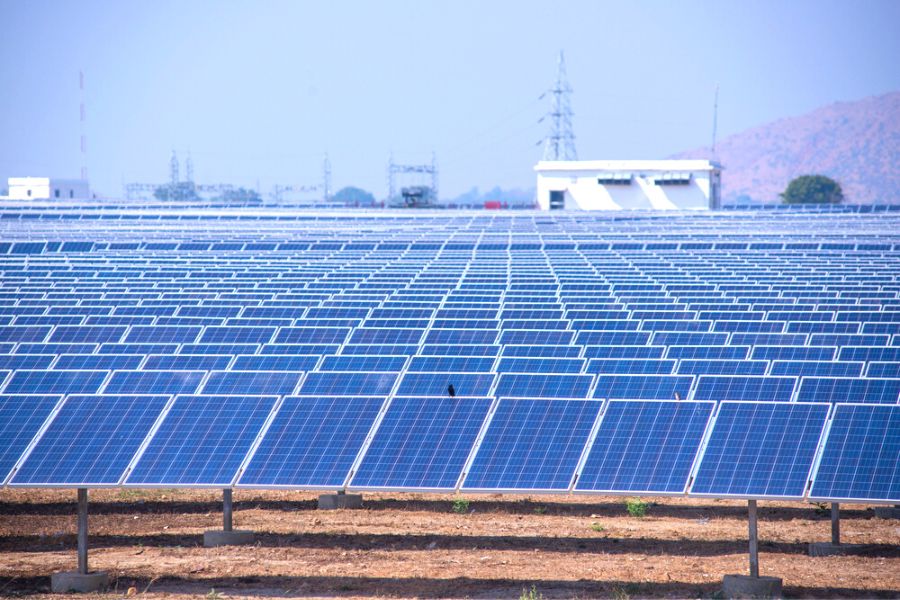 Webinar event, co-sponsored by Moxa, highlighted how the power sector is adopting advanced digitalization and artificial intelligence; four experts cast light on digital transformation of utility-scale renewable power
The latest tech in utility-scale solar power came to light last month in a webinar presented by Informa Markets Energy & Utilities. Diverse perspectives came from four experts working on the ongoing digital transformation of utility-scale renewable power.
In 'Digital Transformation for a sustainable energy transition,' they talked in detail of how they are building platforms that guarantee data integrity, cybersecurity, and optimal grid connections. Their data driven solutions feature the most current technologies and techniques to manage power loads.
The online event, co-sponsored by Moxa, highlighted how the power sector is adopting advanced digitalization and artificial intelligence (AI) as it adapts to handle growing shares of renewable power.  
The technology presentations by Moxa and its solution partner GreenPowerMonitor (a DNV company) were followed by a penetrating discussion on the rapid transformation of the Solar Industry with key industry experts.   
 
Hardware and software: seeing an IT/OT convergence
The webinar began with a close look at the current work of GreenPowerMonitor (GPM), and Moxa. The companies have collaborated on numerous projects, integrating multiple devices with different communication protocols to create power plant control systems at site.
Sandeep Prabhakar, Product Marketing Manager for India and Middle East, Moxa, reviewed his company's devices to secure data loss and provide timely monitoring. Among its devices is a power plant controller (PPC) with 20-ms fast processing.
Moxa, with more than 80 million devices installed, is involved with more than 7,500 substations worldwide. Strong in the renewables sector, its devices are monitoring more than 52 GW solar energy, with a majority of wind turbine developers deploying them. The company works with system integrators and cloud-based infrastructure as it looks to the next generation of networking.
Prabhakar referred to what he calls a 'convergence' of IT and operational technology (OT).   
"The most important thing is that the links between IT and OT are blurred," he said. "The OT can utilize useable IT intelligence to optimize the whole operation."
"That's happening now."
"What's also happening is IIoT brings opportunities but challenges as well," he continued. "For example, Cybersecurity for OT systems are equipped with legacy devices with less protection.
"Moxa has been investing a lot on strengthening the defence of OT."
Moxa has identified GPM as a 'solution partner' that uses Moxa equipment in the Power Plant Controller, base station, and weather station facilities at large plants.

IT for renewables
Sergi Bosque Garcia, Regional Manager for the Middle East, Africa and India, GreenPowerMonitor, said that his company wants to be a reference in the industry, focused on renewables.
"We're leading the green energy transition through data-driven digital solutions," he said.
Spain-based GPM became part of DNV in 2016, facilitating its worldwide expansion. The company now manages more than 50 GW, mostly PV, but also wind, storage and hybrid projects. Its five teams in technical hubs work with owners, developers, EPCs, and O&M providers.
"As system integrators, we developed our IT software solutions in house, combining our software with Moxa hardware, including network switches and converters," said Bosque Garcia.
Hardware for the architecture is provided by Moxa, with its switches allowing a robust network communication that is connected with devices on-site.
He spoke of the company's 'four pillars' including advanced analytics, which is relatively new for PV and storage. The company deploys 'twins solutions' to provide analytics that allow managers to understand the hidden losses which the SCADA or asset management solutions cannot discover. The other pillars are multi-technology capacity, asset management for companies expanding with mixed portfolios, and grid integration for complying with different grid codes.
"We are flexible on hardware," said Bosque Garcia. "The most important thing is that the data flows to the SCADA servers that are located in the main control room, with data stored on-site with redundancy.
"On top of the SCADA we have the PPC, which is essential for ensuring we comply with the grid code," he said.  
The GPM architecture allows the company to provide asset management, on-site and remote monitoring solutions, and web-based platforms. Its GPM Plus and GPM Horizon are asset management systems that may be complemented with advanced analytics specifically for solar and for wind power, and an energy management system (EMS) for hybrid plants.
Bosque Garcia discussed eight specific projects, including some in which the two companies have collaborated.

Keeping supply channels open
Presentations were followed by 40 minutes of discussion, bringing in the insights of a developer and an OEM. The four panellists gave a feel for what's happening in the industry, specifically in the solar sector, from multiple perspectives.
The developer's perspective came from Ahmed S. Nada, Chief Operations Officer and Deputy General Manager at Masdar STS (Masdar Clean Energy O&M Company). He also serves as President of The Middle East Solar Industry Association (MESIA).
The equipment supplier's perspective was provided by Khaled Arfien, Key Accounts Manager - UAE, Sungrow Middle East.
Ahmed Nada responded to a general question about the challenges Masdar encounters in managing multi-technology assets across its broad wind and solar power portfolio.
"It is very difficult for a developer to narrow down the selection of technologies to a few companies," he said. "That cannot work considering the economics, and the supply chain challenges as we have seen in the past two years."
"It is risky for a large developer, so you need multiple channels of supply and multiple technologies to choose from."
He said the first challenge is how to manage this selection process, knowing that the technologies selected today will be providing a lot of data that will eventually be used for the project's O&M later on. 
"We're a long-term investor, so we're looking at the long-term O&M cycles, synergies across the portfolio are a key priority," he said.
The second challenge he spoke of is that related to where data should be hosted, as Masdar is operating in different countries, making cybersecurity a serious matter. They're developing very large projects that are highly valued by the host countries, as the projects are intended to become significant contributors to national grids.
"These challenges will always be part of how you balance between an optimal view of a platform that is consistent and standardized, versus making sure you're not trapped into 1-3 suppliers," he said.
He also mentioned a third challenge, which is the training requirements on the management systems. In all of these areas he does not see industry-wide standards emerging at this time.

Inverter innovations
Khaled Arfien of Sungrow saw a key challenge that is dominant in determining the choice of inverters, which concerns the financing constraints on projects especially in MENA.
As governments and developers work with lenders, the resulting business models and expected rates of return may place restriction on equipment.
"You will get inverters that are a little bit old or behind, which does not optimize your capex, and does not optimize your rate of return," said Arfien.
He expressed concern about the drive for low tariffs, extending from financiers, to EPCs, to suppliers.
"You end up with a business model that is very tightly squeezed," he said.
Some of this can be counterbalanced, he said, by his company's long tenure and track record in MENA, which can lend support to new technologies and equipment.
Arfien spoke of the technology trend, noting that his company has introduced two inverters this year, both meant for utility-scale projects, including a string inverter, and the modular 1+X inverter. The latter was introduced to reduce the gap between central and string, so that Sungrow offers a complete portfolio.  
"What we see as the market trend, there will be nothing called string and central, there will be just inverters, with different modules, capacities, and features," he said.  
"The thing about the 1+X new technology is that it is very efficient when it comes to capex and opex, both sides of the project that optimize the business model," he continued.  
"So it can save money on the capex side, and in 25-30 years of power plant operation it saves a lot of money that can go into O&M and profit."

Going deep into the technical matter
As discussion continued, the panelists provided penetrating insights into the digital transformation of the solar sector.
In response to questions, they covered ideas concerning complex hybrid projects, battery configurations, the combination of IoT devices, AI and machine learning related to IoT, the useful deployment of 'digital twin' applications, system back-up capabilities, and new solutions for inverters.
Ahmed Nada reemphasized the critical part of cybersecurity amidst all of the current and ongoing data management innovations.
The full 90-minute webinar may be viewed on-line at Energy & Utilities webinars. 
Energy & Utilities - Middle East and Africa Market, Outlook Report 2023.
This must-have report for industry players offers a thorough understanding of the latest developments, challenges, and opportunities in the region, supported by data, analysis, and expert insights.