Bridging the gap between utilities and startups – an interview with Brian Ryan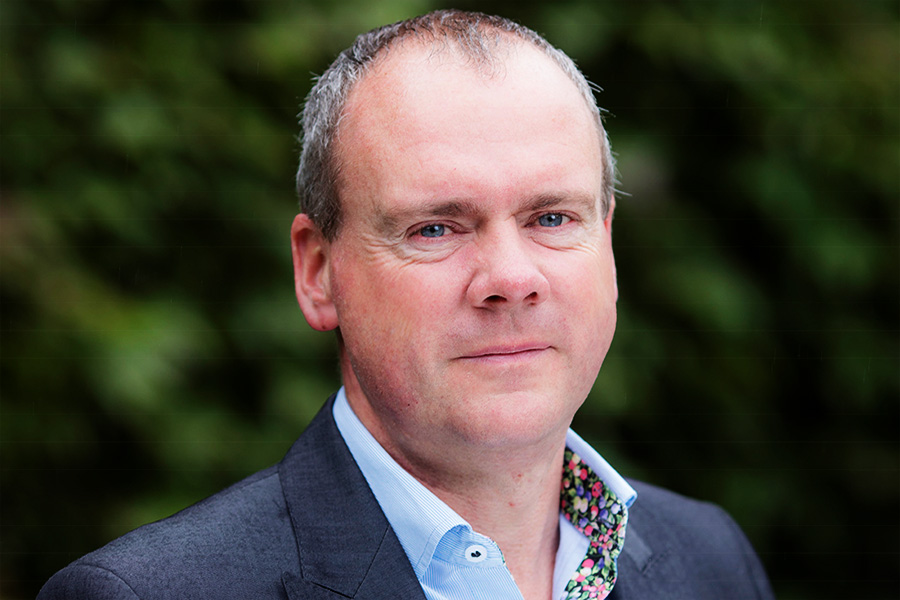 Vice President of Innovation looks for startups that can benefit the clean energy space, finding dozens of companies pioneering breakthrough technology while building an alliance of global utilities to deploy it
Brian Ryan is VP of Innovation at National Grid Partners (NGP), the venture investment and innovation arm of National Grid plc., an investor-owned energy company operating in the UK and North America. Brian's role as the innovation lead is to invest in and incubate startups that can benefit the clean energy space. He is based in San Jose, California.
Brian is a featured speaker on the first day of Middle East Energy's Strategic Conference. He is one of four distinguished speakers taking on a basic question: 'What electricity demand looks like in the future and what energy companies are doing to meet it and why?'
He is also presenting on how energy companies can accelerate their transition to clean energy by combining venture capital investing and a holistic innovation ecosystem.

Energy & Utilities caught up with him before the big show in Dubai, to get his unique insights.
E&U MEE is here. What do you want to see the discussions focus on?
BR I will be focusing on how energy companies can accelerate their transition to clean energy by combining venture capital investing and a holistic innovation ecosystem.
E&U What innovations are you working on now?
BR As we focus on the movement to decarbonization, we are looking at technologies from space-based solar to battery storage to software to monitoring fishing activity over our undersea cables to electric school buses to converting food waste to energy – just to name a few projects in motion!
Energy & Utilities What is your understanding of the energy transition?
Brian Ryan In order to succeed in the energy transition, businesses must join in the fight. In my opinion, the ones that will make the biggest, real impact will be those who, rather than focusing on short-term profit, are willing to invest in horizon 3 innovation on the fringes of clean tech. This is where big, out-of-the-box thinking goes from wild ideas to life-changing reality, with technology including systems to harvest solar energy from space and bring it down to earth, micro nuclear power plants powering homes and more.
E&U Part of National Grid's business involves the operation of gas distribution networks in the US. Can natural gas be part of a transition to post-carbon energy sector?
BR In the run towards net zero goals, it's easy to overlook the in-between stage that must first be successfully navigated in the transition to fully green energy. But to do so is to create a large gap between where we are and where we need to be – and that can set us back greatly if we don't plan properly.
This in-between stage will see utilities needing to provide service from both traditional carbon-heavy energy sources and newer clean energy sources, and renewable natural gas should absolutely have a positive role in the transition.
Countries have already invested in gas infrastructure to transmit and distribute natural gas, so repurposing this existing infrastructure for transportation of post-carbon renewable energies like renewable natural gas and even hydrogen will be a cost-efficient and fast way to bring about the clean energy transition.
E&U How does future 'decarbonized' energy support NGP's business model (or v/v, how is NGP's business model built around future energy)?
BR We seek to invest for strategic and financial impact, leading company-wide disruptive innovation efforts in clean energy technology. We provide a multi-functional approach to this, including innovation and new business creation, incubation, corporate venture capital, business development and venture acceleration.
Since NGP's founding, we have put $350M to work in dozens of companies pioneering breakthrough technology (including 7 exits and an unusually high average of unicorn valuations – 14%) to combat climate change and bridge the gap between utilities and startups to enact real change. With the team's 100 years of investing experience and 125 years of utility operations experience, we're connecting these two worlds to accelerate the clean energy transition.
More than 80% of NGP's portfolio companies are actively engaged with National Grid's business units to test, develop and deploy their technologies across its networks in the U.S. and U.K. Those collaborations not only help National Grid modernize and transform its operations but also help startups scale their technologies around the globe in months, not years.
NGP is also the only VC firm that's built an alliance of nearly 100 global utilities to deploy startup technology globally, and its heritage provides the access and know-how to solve the energy industry's challenges faster, together.
E&U How can your experience in US/UK be useful in the Middle East and Africa?
BR Climate change and our ambition for a clean, fair and affordable energy future is a global problem that will be solved by collaborating across the globe and across industries. The learnings and insights we glean will be applicable in almost every region with an ambition to decarbonize the energy ecosystem.
E&U What questions in your industry need to be answered now?
BR How can we accelerate the planning process to ensure access to renewable energy sources can be connected at lightning speed?
E&U Thanks very much Brian for coming to see us and share your insights in Dubai.
BR My pleasure.
Energy & Utilities - Middle East and Africa Market, Outlook Report 2023.
This must-have report for industry players offers a thorough understanding of the latest developments, challenges, and opportunities in the region, supported by data, analysis, and expert insights.