Billion dollar water and power plant inaugurated in Bahrain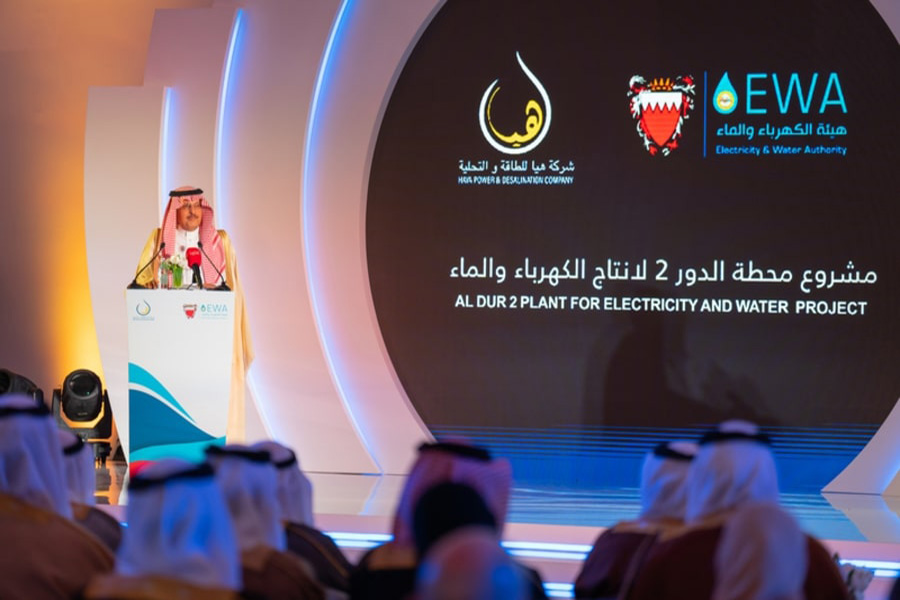 Al Dur IWPP is first production station in Kingdom connected to 400 kV transmission network; project is part of larger plan for energy security and efficiency among GCC member states
Bahrain has successfully launched the second phase of the large Al-Dur 2 Independent Water and Power Project (IWPP), valued at $1 billion. HRH Prince Salman bin Hamad Al Khalifa, Crown Prince and Prime Minister of the Kingdom of Bahrain, attended the inauguration of the new facility this week.
Al-Dur 2 Phase 2 IWPP is the first production station in the Kingdom of Bahrain connected to the high-voltage electricity transmission network of 400 kV. The station cost more than $1 billion and was established in partnership with companies from Bahrain, the Kingdom of Saudi Arabia, and Japan, including Almoayyed Contracting Group, ACWA Power, and Mitsui, respectively.
The plant generates 1500 MW of electricity and processes 50 million gallons of desalinated water daily. This increases the Kingdom's overall production capacity to 5044 MW of electricity and 204 million gallons of desalinated water daily, according to a statement from ACWA Power.
The Al-Dur 2 project will be integrated into intake and outfall facilities whereas the gas connection facilities will be developed and transferred to engineering services company Tatweer to enable supply of natural gas to the plant, according to ACWA Power.
Regional Project
Bahrain's 400 kV transmission network, partly funded with support from Kuwait, is intended to contribute to the exchange of electric power with GCC networks.
GIC is an investment company owned by the governments of the six member states of the Gulf Cooperation Council (GCC). The Gulf Cooperation Council Interconnection Authority (GCCIA), created in 2001, is a joint stock company established by the six Gulf states (Bahrain, Kuwait, Oman, Qatar, Saudi Arabia, and the United Arab Emirates).
The GCCIA's major project currently underway is the GCC Interconnection Grid which runs along all Gulf states, connecting their major power plants. This is intended to operate not just as a mere grid, with different energy sources, but also to guarantee security and efficiency. The grid would also be a source for power in the event of "blackouts or unforeseen contingencies", according to the GCCIA.
In a statement to the press, Bahrain's Minister of Electricity and Water Affairs explained that the Al-Dur 2 project would be instrumental in boosting the capacity and efficiency of power transmission besides tackling the electricity shortage issue and ensuring the safe operation of equipment. The project will also contribute to facilitating the exchange of electric power with the GCC networks, he added.
Energy & Utilities reported on the Bahrain's Al-Dur 2 project beginning its operations and also on Mitsubishi Power being chosen to upgrade Kuwait's largest power plant in addition to the Kuwait Fund and the GCCIA agreeing to finance the development of the GCC Interconnection System.
David Haziri contributed reporting Photo credit: Bahrain EWA
Energy & Utilities - Middle East and Africa Market, Outlook Report 2023.
This must-have report for industry players offers a thorough understanding of the latest developments, challenges, and opportunities in the region, supported by data, analysis, and expert insights.