Abu Dhabi fund to finance solar plant expansion in Togo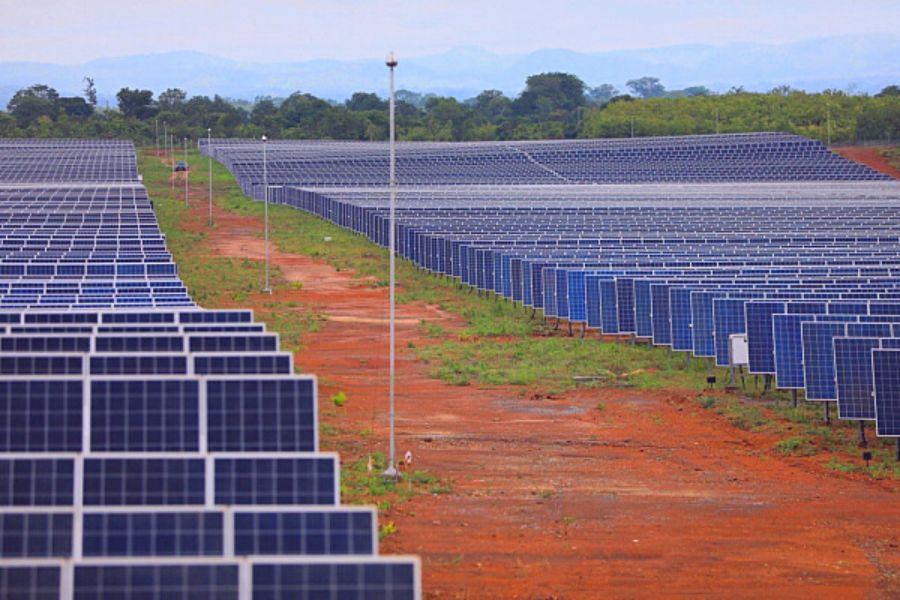 Exports office providing $25 million loan to Togo's Mohamed bin Zayed Solar Park to add 20 MW power + storage, adding to largest solar plant in West Africa; Dubai-based AMEA Power to lead construction and operation
The Abu Dhabi Exports Office (ADEX) signed an agreement with Togo's Ministry of Economy and Finance to raise the production capacity of the Mohamed bin Zayed Solar Park in the country from the current 50 MW to 70 MW. In addition, the financing will help procure 4MWh solar energy production storage system.
Under the agreement, the Abu Dhabi Exports Office will provide a loan of AED92 million ($25 million), while the Emirati company AMEA Power will undertake the construction and operation of the new complex.
This agreement comes on the heels of a provision of AED37 million ($10 million) financing from ADEX in January this year. Thus, the total value of ADEX's financial contribution towards Mohamed bin Zayed Solar Park in Togo amounts to AED128.5 million (U$35 million).
The project will raise the share of renewable energy in the country's total energy mix and make energy more accessible to the population, with 225,000 households expected to benefit, according to a statement issued today by ADEX.
"The agreement supports the continuation of the contribution of Abu Dhabi Fund for Development (ADFD) to the Mohamed bin Zayed Solar Energy Complex in Togo," said Mohamed Saif Al Suwaidi, Director General of Abu Dhabi Fund for Development and Chairman of the Executive Committee of ADEX.
Al Nowais highlighted ADFD's contribution to the solar energy project, which he said would have a "tangible impact on Togo's developmental efforts."
In 2021, ADFD financed the first phase of Mohamed bin Zayed Solar Energy Complex at a value of AED55 million ($15 million). The solar complex aims to reduce CO2 emissions by 9,500 tonnes per year, accelerate the country's transition to renewable energy sources, stimulate sustainable economic growth in Togo and create hundreds of jobs for local people.
The current $33.5m ground-mounted solar park is spread over 92 hectares at Blitta in central Togo, generating 90,255MWh electricity to power 158,000 households. Project construction commenced in 2020 and started commercial operation in 2021.
Togo's electricity access rate is approximately 54% according to recent World Bank data. The country imports fuel oil and gets about half of its electric power from neighbouring Ghana and Ivory Coast. It also generates much of its electricity from hydropower, including from the large Nangbeto Dam on the Mono River. Most energy consumed in the country is biomass.
Energy & Utilities reported last year that AMEA Power commissioned the 50 MW solar plant, as one of the largest independent power producer (IPP) projects in West Africa. Funding for the project was provided by ADFD and the West African Development Bank.
Photo credit: Togo First 
Energy & Utilities - Middle East and Africa Market, Outlook Report 2023.
This must-have report for industry players offers a thorough understanding of the latest developments, challenges, and opportunities in the region, supported by data, analysis, and expert insights.