Young climate activist inspires Middle East Energy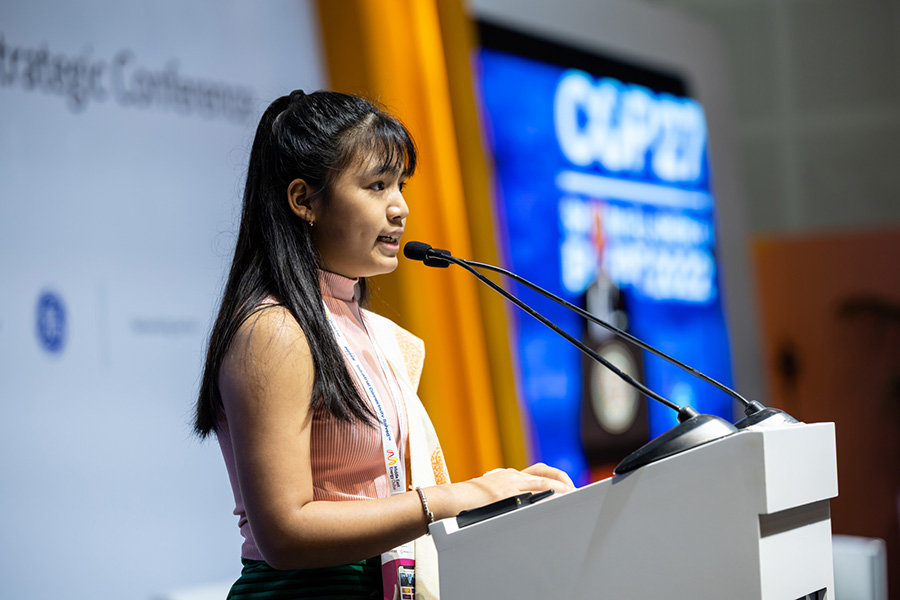 Licypriya Kangujam calls for dramatic change to save climate while energy experts take hard look at problems, approaches, challenges and solutions; focusing on net-zero roadmaps for MEA
Licypriya Kangujam, an 11-year-old climate activist from India, delivered an inspiring view on reducing our carbon footprint, speaking to the audience at the Strategic Conference of Middle East Energy 2023.
Kangujam, the founder of the Child Movement, an organisation that calls on world leaders to take urgent climate action, was one of the youngest people at the COP27 talks in Egypt last year.
Climate action for a shared future
Representing the voice of millions of children, and wildlife as well, she urged leaders to take urgent climate action now with climate finance.
"Today's global climate crisis is caused by the rich nations, and the global south deserves climate justice and reparations for the damage," Kangujam said. "Stop giving beautiful speeches; we have enough of your empty, false promises and blaming each other instead of finding a long-term solution.
"Millions of children like me are losing their lives, parents, and homes due to climate disasters," she explained.
"This is a real climate emergency for which we need a permanent solution.
"If you don't know how to fix it, please stop breaking it," she pleaded. "We must change our behaviour to save our planet.
"Climate change is our reality, and if there is no nature, we will have no future."

The road to universal electricity access
Following Kangujam's talk, an expert-led panel discussion convened, discussing "Net zero carbon roadmap implementation."
They offered a hard look at what success would look like, and what policies, systems, and strategies countries need to adopt to achieve universal electricity access through clean energy.
For Sule Abdulaziz, Chairman of the Executive Board, West African Power Pool, and Managing Director, Transmission Company of Nigeria, the idea of decarbonisation and net zero - meaning the complete elimination of carbon dioxide from the atmosphere – has a particular meaning for Nigeria.
"With a population of over 200 million, all of which need access to electricity, decarbonisation must be a gradual process," he said.
He explained that Nigeria is committed to achieving 30 gigawatts (GW) of energy by 2030, with 30% to be generated from renewables. The government is doing what it can to transition to clean energy; through hydro, solar and gas projects, with plans to phase out all power stations using diesel and petrol to reduce emissions.
For Eng. Faiza Al Harthi, Head of Energy, Environment & Natural Resources, Oman Vision 2040 Implementation Follow-up Unit, decarbonisation does not mean a move away from an oil and gas economy; instead, a need to balance the reduction of emissions and creating new opportunities to promote wellbeing, and to sustain the world for the future generations, is required.
"We have to tackle decarbonisation positively as we move towards our net zero vision by utilizing and sustaining our natural resources that we are blessed with," she said.
"The recent Royal decree approving and endorsing a 50,000 km area of land dedicated for renewable energy projects means we can continue to work together, collaboratively, towards global development to reduce the impact of climate change."
MENA role central in world's drive for net-zero
Gagan Porwal, Head of Partnerships, Carbon Solutions, GE Gas Power - International Markets, highlighted that net zero is the action we need to take today to be relevant tomorrow.
Today, with 70 million people globally lacking access to any electricity, Porwal explained that the role of the Middle East and North Africa (MENA) region is even more critical in terms of steering an orderly and just energy transition.
"This region has decades of expertise in dealing with hydrocarbons and already has the human capital and a clear infrastructure laid out to draw from," he said. "These countries sit at a vantage point to lead the charge for how the world tackles decarbonisation as we go forward."
Meanwhile, Dr Maged K. Mahmoud, Technical Director, Lead Renewable Energy Advisor, Regional Centre for Renewable Energy and Energy Efficiency (RCREEE), Egypt, discussed four critical components of working towards decarbonisation, including: electrification, a clean carbon economy, moving into new sectors, and addressing the left behind sectors to enable all citizens to adopt new technologies and enjoy smart solutions.
To enable access to electricity that is affordable and reliable, Dr. Maged agreed that the world cannot escape reliance on conventional power sources. He said the issue concerns designing a good plan and translating the strategies into policies that can be implemented, monitored and evaluated continuously.
"It seems simple, but, in reality, the level of risk perceived to achieve these plans is high.
"Therefore, we need to enhance the implementation capacity of a country to translate plans into actions," he said.
"Part of this is not only giving incentives but also understanding the market dynamics and de-risking the investments."
Energy & Utilities - Middle East and Africa Market, Outlook Report 2023.
This must-have report for industry players offers a thorough understanding of the latest developments, challenges, and opportunities in the region, supported by data, analysis, and expert insights.