Yellow Door Energy and Amana to develop 2.6MW solar rooftop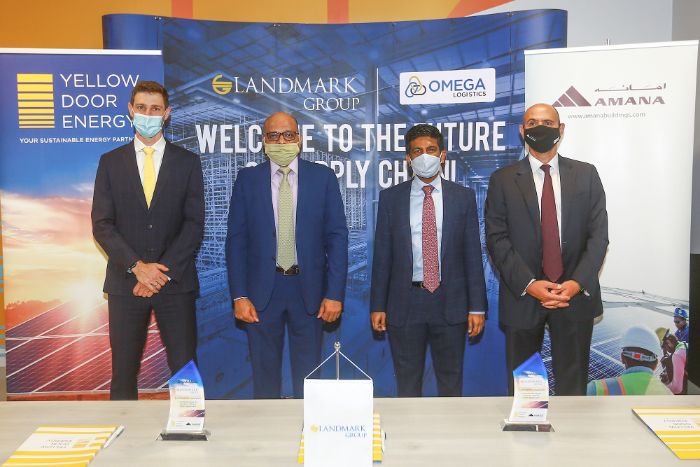 The project will involve installing and connecting more than 6,000 solar panels to the rooftop of Landmark's fully automated OMEGA warehouse, which will be able to generate 4,200 megawatt hours (Mwh) of clean energy annually
Yellow Door Energy and Amana Investments have joined forces to sign a deal with retail group Landmark to develop a 2.6MW photovoltaic (PV) solar rooftop system at one of Landmark's warehouses in Jebel Ali Freezone, Dubai.
The project will involve installing and connecting more than 6,000 solar panels to the rooftop of Landmark's fully automated OMEGA warehouse, which will be able to generate 4,200 megawatt hours (Mwh) of clean energy annually.
Construction of the rooftop solar project is expected to start in late 2020 and the solar plant is expected to be completed by the spring of 2021.
The power generated from the solar rooftop will be the equivalent of reducing carbon emissions by 1,700 tonnes a year or removing 380 cars from the road.
Yellow Door Energy has a portfolio of more than 100MW of solar projects across the Middle East.
Energy & Utilities reported in February that the solar developer had started construction on a 2MW solar project for Future Pipe Industries (FPI) in Dubai's Industrial City.

The rooftop solar project will cover the roofs of four warehouses, covering a total area of 18,000 square metres. The plant is due to commission 3,100MWhrs of clean energy in its first year of operation, commencing in the summer of 2020, which is equivalent to reducing 1,300 tonnes of carbon emissions a year.


Energy & Utilities - Middle East and Africa Market, Outlook Report 2023.
This must-have report for industry players offers a thorough understanding of the latest developments, challenges, and opportunities in the region, supported by data, analysis, and expert insights.