Water reuse can play important part in solving region's water crisis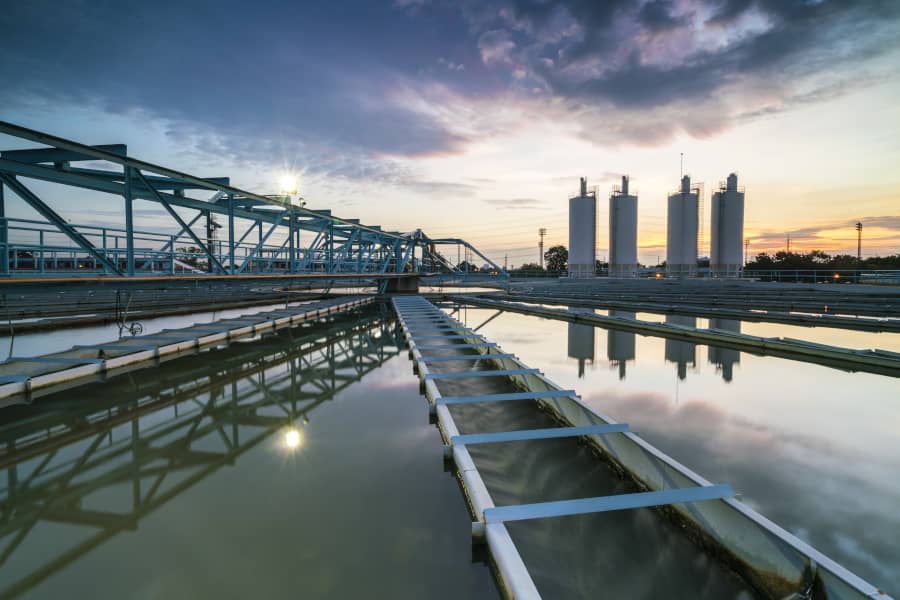 From treated sewage effluent (TSE) in the UAE to reusing drainage and agricultural water in Egypt, many techniques have been adopted to meet the growing demand of water in the region
With the Middle East ranking one of the most arid regions in the world, freshwater almost non-existent, and climate change adding further complications to the mix, countries have had to innovate to ensure their survival.
From treated sewage effluent (TSE) in the UAE to reusing drainage and agricultural water in Egypt, many techniques have been adopted to meet the growing demand of water in the region.
"Such methods are important mainly because the Middle East is the driest region in the world and has a very significant need for water," said Carlos Cosin, CEO of Almar Water Solutions, the dedicated water solutions unit of Abdul Latif Jameel Energy.
"The use of treated wastewater as a safe source has become a reality for increasing water availability in several Arab countries and is now a primary objective in many of the national resource management plans in the region."
He spoke of reuse in the Middle East, which is currently mainly directed towards agriculture, irrigation of golf courses and lawns, where filtration and the use of chlorine are applied. But initial steps are also being taken to apply reuse for indirect consumption, using membrane technologies.
"It is predicted that the increasing water stress in the Middle East will generate increased need for wastewater for different uses, and progress is already being made to meet and improve legal regulations in the region," Cosin said. "Middle Eastern countries have their own water reuse standards, and there are stricter restrictions on reuse for food. Regulations include conventional water parameters, such as pH, BOD, turbidity, faecal coliforms and residual chlorine."
In regard to sustainability in the region, he said a large percentage of wastewater is not treated, generating uncontrolled discharges to the sewage network. This leads to health problems for the population and environmental disasters. 
Reusing water can also have numerous economic benefits. Reused water is cheaper and more profitable than generating water through other technologies, which means savings for both public institutions and citizens.
 "With Saudi Arabia setting an example, the country has set out to meet some of the United Nations Sustainable Development Goals through a series of targets for wastewater treatment and reuse," he added. "In addition, the Saudi National Water Strategy highlights the need to reduce the environmental footprint of the water sector, particularly with regard to greenhouse gas emissions, untreated wastewater and the impact on natural ecosystems."
In the UAE, wastewater receives a multi-stage treatment to obtain a high-quality Treated Effluent. These include screening, de-gritting, biological treatment, clarification, filtration and disinfection. It is then used for public landscaping, golf courses, irrigation for farming, and industrial and commercial activities.
"We have Wetlands, located inside the premises of our treatment plant," said Elias Sfeir, General Manager of Ajman Sewerage. "Their primary role is to act as a buffer storage of Treated Effluent, but the presence of water attracted over years a vast diversity of wildlife, and notably more than 150 species of birds were spotted, showing their ecological importance."
He said more innovative polishing treatments to meet more stringent quality requirements are still to be developed in the Middle East.
"As an example, in Ajman, SAFI has a unique in its kind RO treatment plant feeding a tanker filling station, where customers can procure high-quality water at a competitive price," he explained.
"Desalination is now the major resource to produce fresh sweet water, but this consumes a lot of energy. Many actions could help encourage more extensive reuse of treated effluent in the region, such as investing in infrastructure, incentivising users to adopt reuse of treated effluent, along with an adequate framework that will help users to adopt safe reuse practices, and educating the public and decision-makers about the importance of reusing water."
In Abu Dhabi, thermal desalination accounts for nearly 85 percent of water production. However, the emirate is now leading a revolution in wastewater treatment, with five major recycling plants processing nearly 93 percent of wastewater produced in the city.
"The industry dynamism is such that leading companies like Bee'ah are now boasting a waste diversion rate of 75 percent," said Chandra Dake, CEO of Dake Rechsand. "Efficiency improvements in desalination plants have proved to be largely elusive and minimal. Wastewater treatment and rainwater harvesting, on the other hand, are becoming cheaper and eco-friendlier, warranting increased research and development, globally."

New developments in biological denitrification, catalytic enzyme-based treatment and UV filtration have maximised operational efficiencies, lowering turbidity and removing suspended solids in wastewater. "This increased efficiency also has environmental implications, since discharged water is now relatively safer," he added. "Policy-makers, taking stock of these end-to-end developments, are now incentivised to foster integrated diversion networks, for better output."
Such efficiency-driven developments have inspired Dake Rechsand's breathable sand technology, with application in decentralised rainwater harvesting. Its products, including pavers, tiles and kerbstones, can be used for harvesting rain while the same materials can also be deployed to create decentralised micro reservoirs. "The 100 percent water absorption rate of the products transforms common areas and public roads into rainwater harvesting infrastructure," Dake explained. "Surface runoffs can be collected at high efficiency, and storage infrastructure can be built closer to where water is harvested."
Gallega, in Abu Dhabi, also works with rainwater, recovering as much of it annually as possible for its underground water reservoirs, fed by its yard drainage system to capture it for storage for future use. "Water continues to be a scarcity, particularly in this region," said Brent Melvin, CEO at Gallega.
"We have taken it upon ourselves as Gallega to reduce our environmental impact as far as practicably possible as we believe in a sustainable future for generations to come. The small impact we can make today will hopefully have a lasting effect and we implore other businesses to participate in innovative ways to limit our environmental impact."
Other companies offer a portfolio of products and systems designed to effectively meet the demands and challenges of treating water and wastewater.
From smarter aeration to advanced filtration and chemical-free disinfection, Xylem provides chemical-free and environmentally friendly water and wastewater treatment technologies, including ultraviolet disinfection and ozone oxidation systems.
"For years, Xylem has helped municipalities in the Middle East give their precious water resources a second life, taking used water from municipal and industrial systems and recycling it in homes, farmland, landscaping, and new industrial processes," said Frank Ackland, Xylem's Managing Director for Middle East and Turkey.
 "Increasing human population, industrialisation, and expanding agriculture are all putting strains on freshwater resources. Populations have expanded into water stressed areas, with countries across the Middle East finding the demands on water resources are increasing to the point of strain, but the good news is that regional governments are not sitting back."

He mentioned Oman, which treats 100 percent of its collected wastewater and reuses 78 percent of it. "Water scarcity will be a defining resource challenge of this century," he added.
"Surmounting this challenge requires building resilience with an all-hands-on-deck approach from public leaders, civic organizations, and the private sector. At Xylem, we have made sustainability and conservation part of our strategy to develop clean energy sources that treat nature as a precious resource, so by embracing the power of technology, we are taking a step in the right direction to safeguard water in the region and around the world."
With 47 percent of the global water reuse capacity redirected towards agriculture and landscape irrigation, according to Global Water Intelligence Data, experts have said that agricultural and industrial uses consume too large of an amount of water, as they do not require water that is as pure as drinking.
"So there is no reason to dry up and consume water from aquifers and other sources," Cosin concluded. "To further encourage the market in the region, we must stablish safe and effective regulation, which allows all of the agents to act and put measures on the table. When there is political willingness, actions are taken and the quality of life in countries improves significantly".
Written by Caline Malek
Energy & Utilities - Middle East and Africa Market, Outlook Report 2023.
This must-have report for industry players offers a thorough understanding of the latest developments, challenges, and opportunities in the region, supported by data, analysis, and expert insights.