UAE economic zones to work with TotalEnergies for distributed solar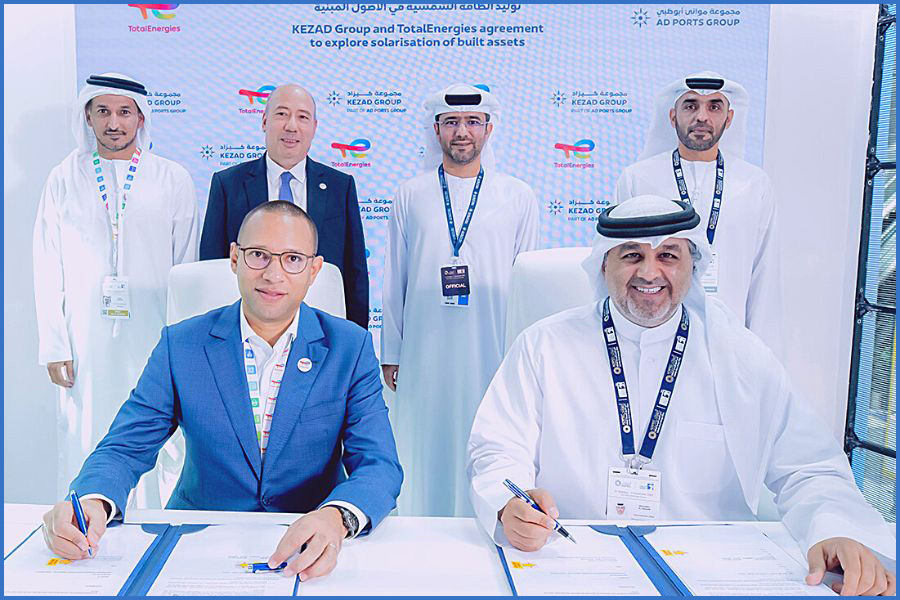 The UAE's KEZAD Group - covering 400 km economic zones - joins deal to explore solar power across its assets; agreement comes as UAE enacts new law to facilitate distributed renewables
KEZAD Group – Khalifa Economic Zones Abu Dhabi – a subsidiary of AD Ports Group, yesterday signed an agreement with TotalEnergies Renewables Distributed Generation Middle East & Africa, an affiliate of TotalEnergies.  They will explore opportunities to solarise assets across the group's industrial areas, according to its announcement.

Solar power study for 12 zones
Under the agreement, each partner will contribute expertise and technologies to conduct a series of feasibility studies for distributed solar generation, covering economic, commercial, regulatory, and technical aspects. The agreement seeks to realise the full potential of solar power installation across KEZAD Group's built assets, which today cover over 400,000 square metres.
The 12 economic zones under KEZAD Group, located in Abu Dhabi, Al Ain and Al Dhafra, offer 100% foreign ownership, 100% repatriation of capital and profit, and the potential for duty-free trade within the region.
"We are pleased to partner with KEZAD and AD Ports Group as this agreement is a steppingstone for many future opportunities," said Hamady Sy, Managing Director, TotalEnergies Renewables Distributed Generation Middle East and Africa.
"Through our collaboration with TotalEnergies, we are keen to realise the complete potential of distributed solar generation across our integrated ecosystem… and to enhance the value proposition we can offer to our investors while supporting Abu Dhabi and the UAE's sustainability goals," said Mohamed Al Khadar Al Ahmed, Chief Executive, KEZAD Group.
The agreement comes as Abu Dhabi accelerates its development of solar energy solutions to support the UAE agenda to achieve net-zero emissions by 2050. The emirate plans to install 5.6 GW solar PV capacity by 2026 and is currently developing a solar plant with 2 GW capacity in the Al Dhafra region.

New law to bolster distributed RE
In related news yesterday, the UAE Ministry of Energy and Infrastructure announced the approval of a federal law regulating the linkage of distributed renewable energy production units to the electrical grid.
The new law aims to enable the production of electricity from renewable sources, according to the UAE's state news agency WAM.
Its provisions apply to the operations of electricity production units' linkage to the distribution network, and to all producers and service providers, including the economic, free and investment zones.
The law draws up the roles and responsibilities of the Ministry of Energy and Infrastructure, stipulating that any person wishing to connect a distributed production unit to the distribution network must obtain prior approval from the relevant authority, and conclude the linkage agreement with the service provider in accordance with the legislation in force at the relevant authority.
"The UAE continues to develop the legislative and legal system that guarantees a low-carbon future, in a manner that bolsters… the country's global leadership, and its position in that industry prior to hosting the COP28 in 2023," said HE Suhail bin Mohamed Al Mazrouei, Minister of Energy and Infrastructure.
He said that the law seeks to unify efforts and benefit from areas of integration among various federal and local government agencies, as well as the private sector.
Energy & Utilities reported in July that TotalEnergies signed an agreement with water provider Veolia for a 17 MWp solar PV plant to provide power for a desalination plant in Oman. E&U reported in May that TotalEnergies  signed an agreement to develop a 500 MW solar PV plant in Libya.
Photo credit: KEZAD Group