UAE becomes first Gulf state to pledge net-zero by 2050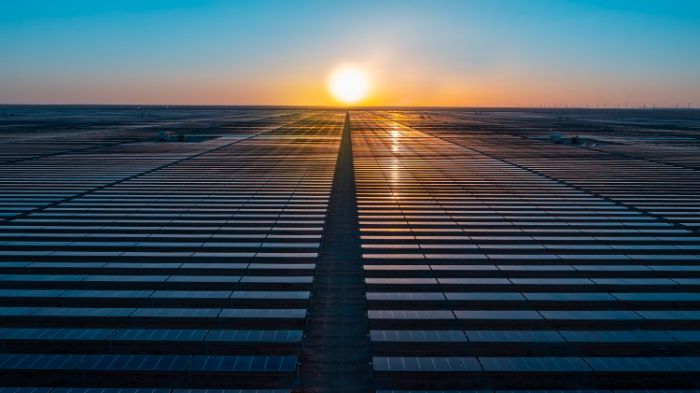 The UAE has become the first Gulf state to set a target to reach net-zero carbon emissions by 2050, pledging to spend more than $160bn to achieve the ambitious goal
The UAE has become the first Gulf state to set a target to reach net-zero carbon emissions by 2050, pledging to spend more than $160bn to achieve the ambitious goal.
The "UAE Net Zero by 2050 Strategic Initiative" was announced at the Expo 2020 Dubai event.
"We are committed to seize the opportunity to cement our leadership on climate change within our region... as we pivot our economy and nation to net zero," Sheikh Mohammed bin Rashid al-Maktoum, vice president and prime minister of the UAE and ruler of Dubai. "With an investment of over Dh600 billion in renewable energy, our vision for a clean future is clear."
Sheikh Mohamed bin Zayed al-Nahyan, Crown Prince of Abu Dhabi and Deputy Supreme Commander of the UAE Armed Forces, said that the net-zero target would support the UAE's economic growth alongside positive environmental impact.
"In achieving climate neutrality in the UAE by 2050, we aim to develop an approach that both drives sustainable economic growth and is an example of working together to achieve a better future for humanity," said Mohammed bin Zayed.
The UAE has made great strides with developing renewable energy capacity in recent years, with the first utility-scale PV solar project commissioned in Abu Dhabi in 2009. Since then, Abu Dhabi and UAE have broken a number of records for the scale and tariffs achieved for utility-scale clean energy schemes.
Dubai has also made significant progress with its Shams rooftop solar programme, under which more than 400MW of capacity has already been installed since 2016.
The UAE had previously set a target for 50 per cent of its energy to come from clean energy sources by 2050.
Energy & Utilities Middle East and Africa Market Outlook Report 2022: Out Now!
The coming years promise opening of new avenues within the energy industry. The latest outlook report from Energy & Utilities highlights the power sector outlook with a focus on both, developed regions, as well as emerging markets.
Explore core findings about the business opportunities, regulatory environment in the Middle East's power market and more about the planned projects and investments in Africa's emerging utilities markets in this latest release.