Trina Solar launches Vertex 600W Series PV Module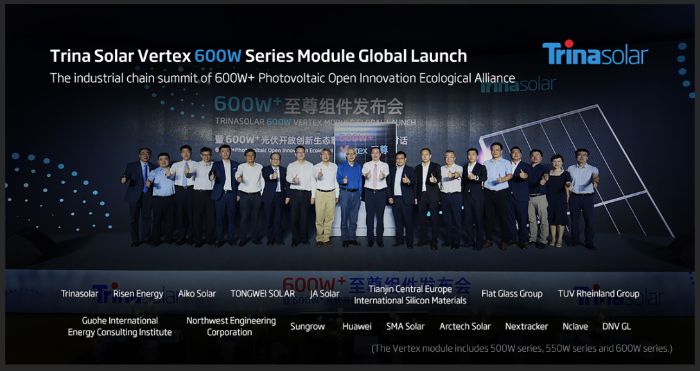 23 Jul 2020
Trina Solar has announced the launch of two next-generation Vertex series modules with power output of up to 600W. The company expects to realise the mass production of a 550W series in the final quarter of this year.
Several representatives of upper, middle and lower streams of the industrial value chain of the 600W+ Photovoltaic Open Innovation Ecological Alliance, representing manufacturers of silicon, wafers, cells, modules, trackers, inverters, materials and equipment, took part in a launch event and witnessed the new next-generation Vertex series modules.
Dr Zhang Yingbin, Head of Product Strategy and Value Management at Trina Solar, said at the event: "The next-generation Vertex modules enhanced by a host of forward-looking innovations, including a 210mm silicon wafer, high-density packaging and multi-busbar technologies, deliver photoelectric conversion efficiency of more than 21 percent. By virtue of low-voltage and high-module string power output, the new Vertex series unlocks huge potential for further reducing balance-of-system costs. By collaborating with key players across the industry chain, we believe the Vertex modules developed on the basis of a new technology platform will help reduce the levelized cost of energy across various applications and maximize customer value."
The next-generation Vertex series modules hold three key advantages, including: the combination of non-destructive cutting, high-density packaging and multi-busbar technologies; low voltage and improvement in power output of a single module string by more than 35 percent; and significant value in greatly reducing balance-of-system costs.
Antonio Jimenez, Managing Director and Vice President, Trina Solar Middle East and Africa commented: "With the spike in renewable energy investment we are currently witnessing in the Middle East and Africa we are confident that there will be an increasing demand for the new Vertex series modules to match the growing power needs of the region. We are proud to be a member of the 600W+ Photovoltaic Open Innovation Ecological Alliance that is responsible for revolutionizing the PV modules industry and that the next-generation Vertex series, built on the basis of a new and forward-looking technology platform, has been recognized by key partners across the photovoltaic industry chain."
Trina Solar
Founded in 1997, Trina Solar engages in PV products R&D, manufacture and sales; PV projects development, EPC, O&M; smart micro-grid and multi-energy complementary systems development and sales, as well as energy cloud-platform operation. In June 2020, Trina Solar listed on the STAR Market of Shanghai Stock Exchange. For more information, please visit www.trinasolar.com
Want more Energy & Utilities insight?
Free energy tutorials at your fingertips this May and June with Middle East Energy Online
Be confident in finding the inspiration you need to navigate the energy evolution. Be energised by 40 hours of free virtual seminars, tech demos, case studies and thought leadership, to help you find the answer to your project challenges, only through Middle East Energy 2021. Plus, discover over 150 renewable and clean energy, transmission & distribution, critical & backup power and energy consumption & management suppliers and solution specialists, from solar and green hydrogen to automation solutions, EV controls, plus switchgears and components.