Taqa and Abu Dhabi Ports plan 2GW green hydrogen project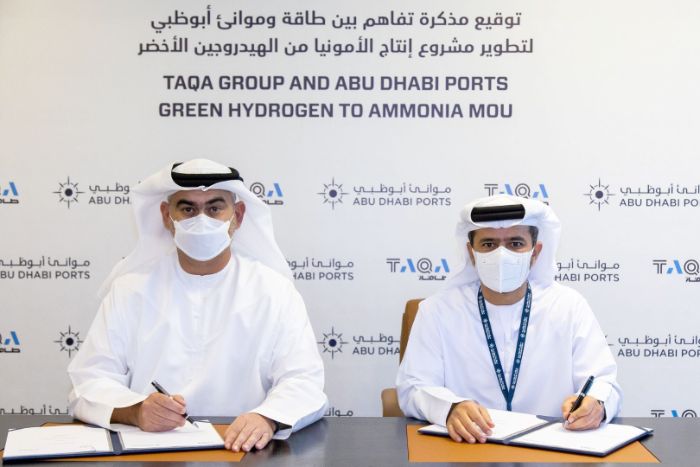 8 Jul 2021
Abu Dhabi National Energy Company (Taqa) and Abu Dhabi Ports (ADP) are working on plans for an industrial-scale green hydrogen to ammonia export project in the emirate, which would be powered by a 2GW photovoltaic (PV) solar power plant
Abu Dhabi National Energy Company (Taqa) and Abu Dhabi Ports (ADP) are working on plans for an industrial-scale green hydrogen-to-ammonia export project in the emirate, which would be powered by a 2GW photovoltaic (PV) solar power plant.
The scheme is part of Abu Dhabi's ambitions to become a major global hub in the impending green hydrogen boom.
Taqa and Abu Dhabi Ports are working together on developing proposals for the green ammonia export facility, which would be based at the Khalifa Industrial Zone Abu Dhabi (Kizad).
The green hydrogen would produced by an electrolyser facility paired with the 2GW PV solar plant. The produced green hydrogen would be converted in liquid ammonia to supply ships converted to use ammonia as a bunker fuel and also as an export from Abu Dhabi Ports via specialised gas carriers. Ammonia, which is easier to transport than pure hydrogen, has a number of industrial uses and can also be converted back into hydrogen.
The facility would also contain a storage facility at Khalifa Port, which would help position Abu Dhabi as a hub from exporting green ammonia to international markets in Asia and Europe. The ammonia plant, to be located at Kizad, will have a pipeline connected to the Khalifa Port storage facility to allow large volumes of ammonia to be delivered directly to the port.
Jasim Thabet said: ''Hydrogen requires large-scale low carbon electricity production and desalinated water. Taqa is an internationally recognised leader in both of these. We are pleased to have opened discussions with our partner Abu Dhabi Ports on developing proposals for a major industrial scale facility that, if it goes ahead, would place Abu Dhabi at the heart of the emerging market for green hydrogen. Combining the global reach of Abu Dhabi Ports with the energy and water know-how and established technology partnerships of Taqa could open up exciting opportunities for both companies, for our shareholders and for Abu Dhabi," Jasim Thabet, Taqa CEO, said in a press release about the scheme.
GCC hydrogen opportunity
A recent report, produced by Dubai-based Dii Desert Energy and Germany's Roland Berger, stated that GCC countries could generate revenues of $120bn-200bn by 2050 by producing and exporting green hydrogen and derivatives, such as green ammonia or clean fuels, to markets in Europe and Asia.
Projects
GCC countries have unveiled plans for a number of green hydrogen projects over the past 12 months. One of the largest is planned in Saudi Arabia's ambitious $500bn NEOM development on the Red Sea Coast.
In July 2020, US-based Air Products and the local Acwa Power has signed a memorandum of understanding (MoU) to develop a $5bn hydrogen-based ammonia plant at the NEOM development. Thyssenkrupp is the hydrogen technology partner for the project.
The project will be powered by more than 4GW of renewable energy, and will be able to produce 1.2 million tonnes per year of ammonia. The plant will produce 650 tonnes of hydrogen daily, Air Products revealed in a statement released on 7July.
Air Products will be the offtaker for the produced green ammonia, and will invest a further $2bn in distribution. Production from the facility is due to begin in 2025.
According to the report, Neom has developed a comprehensive localisation approach and strategy which could have the potential to make it a first hydrogen valley in the Middle East and North Africa (Mena) region. As a core element of the above-mentioned green hydrogen project, the electrolyzers are envisioned to be assembled by thyssenkrupp locally with a focus on the cells. Considering the size of the project with approx. 2GW of electrolyzer capacity, the local manufacturing could serve as an incubator for Neom and other green hydrogen projects nationally and potentially internationally for electrolyzers and the broader value chain
In December 2020, Deme Group announced it was planning to develop a 250MW-500MW electrolyser project in Oman at Duqm port.
Duqm is set to become a major green hydrogen hub, with Acme Holdings planning to invest $2.5bn in a project to manufacture green ammonia and green hydrogen at the Duqm Industrial Zone.
Acme signed a memorandum of understanding (Mou) with the Oman Company for the Development of the Special Economic Zone at Duqm (Tatweer) in March 2021 to develop a facility with the capacity to produce up to 2,200 metric tonnes of green ammonia per day.
In May 2021, a consortium of Oman's state-owned energy company OQ, Hong Kong-based green fuels developer Intercontinental Energy and Kuwait's EnerTech revealed plans for a green hydrogen plant in Oman which will be powered by 25GW of renewable energy.
The consortium began undertaking a solar and wind monitoring study for the project in 2019, and has identified an area in the central Al-Wusta governorate that has significant solar radiation during the day and strong wind at night to enable the development of both solar and wind capacity for the green hydrogen scheme.
The project will produce millions of tonnes of zero-carbon green hydrogen a year, which can be used locally or converted to green ammonia for international export.
GCC's first green hydrogen scheme
In May 2021, Germany's Siemens Energy, in collaboration with state utility Dubai Electricity & Water Authority (Dewa) and Expo 2020, commissioned the first industrial scale solar-powered green hydrogen facility in the Middle East and North Africa (Mena) region.
The pilot project is located at Dewa's outdoor testing facility of the Research and Development (R&D) Centre at the Mohammed bin Rashid (MBR) solar park in Dubai.
The facility contains electrolysis, storage and re-electrification capabilities. Daylight solar power from the MBR park will allow the plant to produce 20.5kg/hr of hydrogen at 1.25MW of peak power. Operational data from the green hydrogen electrolysis facility will be displayed at Expo 2020, which is due to start in October
Want more Energy & Utilities insight?
Whitepaper: GCC energy transition, by Frost & Sullivan
Get insight and analysis on the investments required in transmission and distribution (T&D) infrastructure and technologies to ensure that GCC power sectors are equipped to deliver some of the world's most ambitious clean energy programmes.