Saudi Arabia achieves two new world record solar tariffs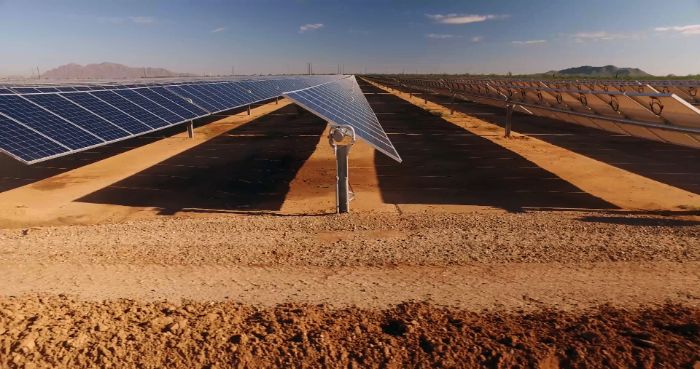 Record solar pricing includes a $cents1.04 a kilowatt hour (kWh) tariff for 600MW project under second round of kingdom's ambitious National Renewable Energy Programme (NREP). Both tariffs were submitted by consortiums led by Saudi Arabia's Acwa Power
Saudi Arabia has signed power purchase agreements (PPAs) for two photovoltaic (PV) solar projects which have both smashed the previous world record for the cheapest unsubsidised solar energy.
Both of the record breaking tariffs were submitted by consortiums led by local developer Acwa Power.
The lowest tariff of $cents1.04 a kilowatt hour ($c/kWh) was awarded for the 600MW Fasiliyah PV independent power producer (IPP) project, the largest project under the second round of the kingdom's National Renewable Energy Programme (NREP).
Saudi Arabia's Renewable Energy Project Development Office (Repdo), which the renewable energy arm of the Ministry of Energy, invited consortiums led by Acwa Power and the UAE's Masdar to submit best and final offers (BAFO) for the Fasiliyah IPP in April 2020 after both consortiums had submitted very similar tariffs during the competitive tendering process.
The 0.104$c/kWh tariff is significantly lower than the $c.1.35 tariff awarded for the 2GW Al-Dhafra solar project in Abu Dhabi in 2020, which at the time was a world record tariff.
The power purchase agreement (PPA) for the Fasiliyah IPP was signed on 8 April, according to sources close to the project. Energy & Utilities reported in January that the PPA had been signed for other Category B projects under the second round of the NREP.
Also on 8 April, Saudi Arabia's sovereign wealth fund Public Investment Fund (PIF) announced that it had signed the PPA with an Acwa Power consortium for the 1.5GW Sudair PV IPP – a project that had been directly negotiated with the developer through PIF's solar programme. PIF owns a 50 per cent stake in Acwa Power.
The tariff of $c1.239/kWh is the second lowest PV solar tariff recorded, only beaten by the Fasiliyah IPP.
The 1.5GW Sudair PV project will be by far the largest PV solar project awarded in Saudi Arabia to date, and also among the largest single-site PV projects in the world.
The project will provide enough power for 185,000 homes and will offset 2.9 million tonnes of carbon emissions a year.
The projects are part of Saudi Arabia's ambitious target to develop 58.7GW of renewable energy capacity by 2030. Repdo will oversee the development of 30 per cent of this through a competitive tendering programme, with the PIF to procure the rest through directly negotiated contracts with investors.
Energy & Utilities - Middle East and Africa Market, Outlook Report 2023.
This must-have report for industry players offers a thorough understanding of the latest developments, challenges, and opportunities in the region, supported by data, analysis, and expert insights.