Record new renewable energy capacity installed globally in 2020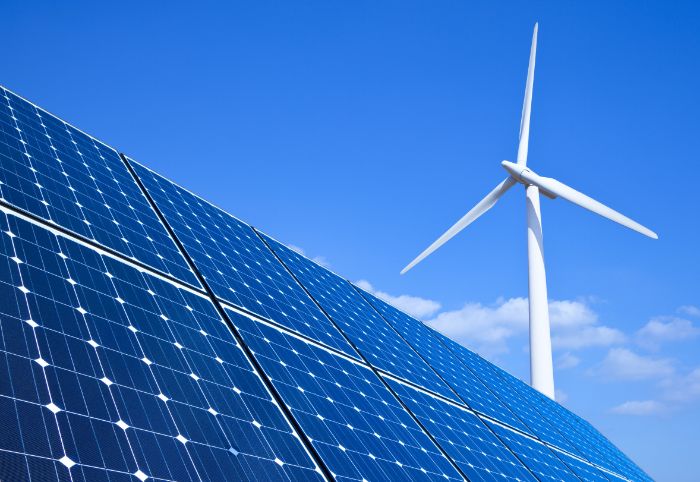 5 Apr 2021
More than 260GW of renewable energy was installed globally in 2020, according to the latest data from the International Renewable Energy Agency (Irena), almost 50 per cent more than the clean energy capacity installed in 2019
More than 260GW of new renewable energy capacity was installed globally in 2020, almost 50 per cent more than the additional clean energy capacity installed in 2019, according to the latest data from the International Renewable Energy Agency (Irena).
The data was published in Irena's Renewable Capacity Statistics 2021, the organisation's annual report tracking the growth of clean energy across the globe. The 260GW of renewables installed accounted for more than 80 per cent of all of the new electricity capacity installed in 2020. Solar and wind accounted for 91 per cent of the new capacity additions.
The growth of the share of renewables in the total installed power generation capacity is partly due net decommissioning of fossil fuel plants in Europe, North America and for the first time in the Eurasia region. Total fossil fuel additions in 2020 fell to 60GW from 64GW in the previous year.
The growth of the renewables market is particularly impressive, given the impact that the Covid-19 pandemic had on energy demand across many parts of the world.
"These numbers tell a remarkable story of resilience and hope. Despite the challenges and the uncertainty of 2020, renewable energy emerged as a source of undeniable optimism for a better, more equitable, resilient, clean and just future," Irena Director-General Francesco La Camera said in the press release accompanying the launch of the report.
"The great reset offered a moment of reflection and chance to align our trajectory with the path to inclusive prosperity, and there are signs we are grasping it.
According to La Camera, the sharp rise in the growth of clean energy capacity despite the Covid-19 pandemic showed that 2020 marked the "start of the decade of renewables."
La Camera said that while the uptake in renewables is encouraging, there is a "huge amount to be done" if the target of reducing global warming to 1.5c by 2050, set out in the Paris Climate Agreement, is to be achieved.
By the end of 2020, the total installed renewable energy capacity had reached 2,799GW. Hydropower still accounted for the largest share of this, about 1,211GW. In 2020, 127GW and 111GW of new solar and wind capacity was installed respectively.
China and the US were unsurprisingly the largest two growth markets for renewables in 2020, with 136GW of clean energy capacity installed in China. In the US, 29GW of renewable energy capacity was installed in 2020, marking a 80 per cent rise on 2019.
Highlights by technology:
Hydropower: Growth in hydro recovered in 2020, with the commissioning of several large projects delayed in 2019. China added 12 GW of capacity, followed by Turkey with 2.5 GW.
Wind energy: Wind expansion almost doubled in 2020 compared to 2019 (111 GW compared to 58 GW last year). China added 72 GW of new capacity, followed by the United States (14 GW). Ten other countries increased wind capacity by more than 1 GW in 2020. Offshore wind increased to reach around 5% of total wind capacity in 2020.
Solar energy: Total solar capacity has now reached about the same level as wind capacity thanks largely to expansion in Asia (78 GW) in 2020. Major capacity increases in China (49 GW) and Viet Nam (11 GW). Japan also added over 5 GW and India and Republic of Korea both expanded solar capacity by more than 4 GW. The United States added 15 GW.
Bioenergy: Net capacity expansion fell by half in 2020 (2.5 GW compared to 6.4 GW in 2019). Bioenergy capacity in China expanded by over 2 GW. Europe the only other region with significant expansion in 2020, adding 1.2 GW of bioenergy capacity, a similar to 2019.
Geothermal energy: Very little capacity added in 2020. Turkey increased capacity by 99 MW and small expansions occurred in New Zealand, the United States and Italy.
Off-grid electricity: Off-grid capacity grew by 365 MW in 2020 (2%) to reach 10.6 GW. Solar expanded by 250 MW to reach 4.3 GW and hydro remained almost unchanged at about 1.8 GW.
Want more Energy & Utilities insight?
Free energy tutorials at your fingertips this May and June with Middle East Energy Online
Be confident in finding the inspiration you need to navigate the energy evolution. Be energised by 40 hours of free virtual seminars, tech demos, case studies and thought leadership, to help you find the answer to your project challenges, only through Middle East Energy 2021. Plus, discover over 150 renewable and clean energy, transmission & distribution, critical & backup power and energy consumption & management suppliers and solution specialists, from solar and green hydrogen to automation solutions, EV controls, plus switchgears and components.