Product
RANPREX®
RANPREX®, red beech laminated densified wood is made with the best wooden essences, impregnated with patented thermosetting resins and pressed at very high pressure and temperature.
The result is a dense and very strong material, with different specific weights (densities), suitable for many different ap...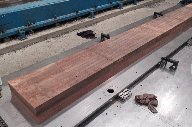 Product
THERMOFORMING
After a large number of tests made in comparison with other composites, in aerospatial, aeronautical, automotive and railway sectors, Ranprex® started to be widely used as moulds for thermoforming.
More in detail, by exploiting the excellent resistance of the material to high and low temperature and its ...