Presidents of Tanzania, Uganda open joint hydropower plant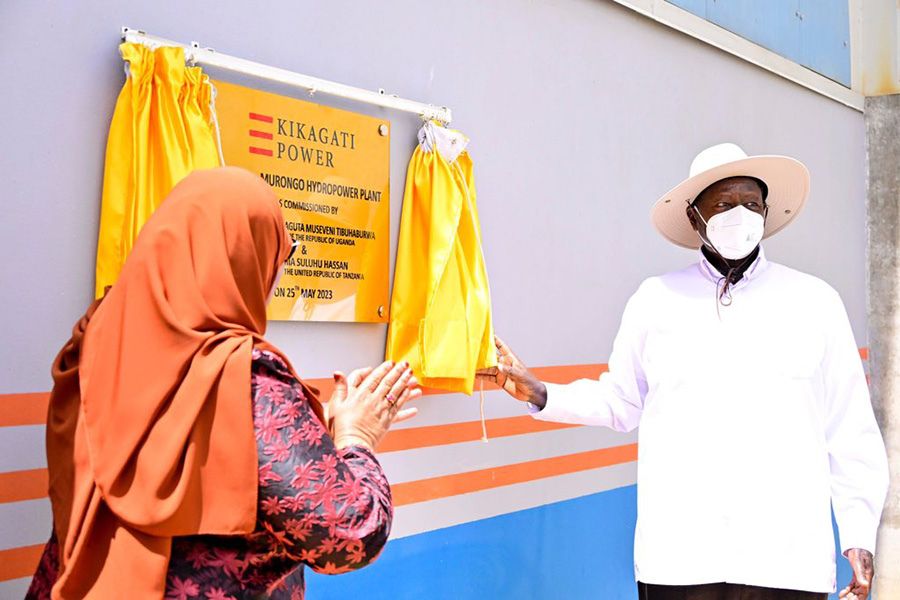 Presidents Yoweri Museveni and Samia Suluhu commission 14MW run-of-river plant on Kagera River bordering Tanzania and Uganda, built with multilateral funding and owned by Africa Renewable Energy Fund; Uganda aims to become regional power exporter
Presidents Yoweri Museveni of Uganda and Samia Suluhu of Tanzania commissioned the Kikagati-Murongo hydropower project this week. The 14MW run-of-river hydropower plant is located in southwest Uganda, on the Kagera River, which forms a natural border between Tanzania and Uganda, about 320km from the capital Kampala.
The power plant was constructed under a bilateral agreement signed in 2015 and is the first cross-border Infrastructure project by both countries.
The plant was constructed by Kikagati Power Company Limited, a Special Purpose Vehicle (SPV) fully owned by the $200m Africa Renewable Energy Fund managed by Berkeley Energy.
The $87m project, financed through a mix of debt and equity (at a ratio of 62:38), reached financial close in 2019, with the Emerging Africa Infrastructure Fund (EAIF) and the Dutch development bank FMO providing $27m debt financing each. The tenor for both loans is 16 years.
According to the FMO, the hydropower plant will generate about 113GWh clean energy every year, supplying power to 233,489 people.
The project is part of the EU's Global Energy Transfer Feed-in Tariff (GetFit) programme which aims to support East African countries' transition to a low-carbon, climate-resilient development path to growth, poverty reduction, and climate change mitigation.
According to the Ugandan government which has provided tariff guarantees for the project, customers will pay $0.085 per kWh for the power generated from the plant. Half of the power generated by the plant will be supplied to Tanzania, further integrating the East African Power Pool.
Uganda set for expanded electricity export role
According to the country's Electricity Regulatory Authority (ERA), Uganda has an installed electricity capacity of 1,346MW (mainly hydro) and a peak demand of 800MW resulting in a surplus of over 500MW.
Uganda is still constructing more large and small hydropower plants. For instance, the 600MW Karuma Hydropower Dam which is slated for completion later this year could raise the country's generation surplus to over 1GW. The government has stated plans to export the excess energy from the Karuma hydropower plant to South Sudan.
While the majority of Ugandans still do not have access to electricity - Power Africa puts the nationwide access rate at 23% - the country has significantly increased its energy export over the past couple of years.
According to the Bank of Uganda, earnings from electricity exports in its 2021 financial year (February 2021 – January 2022) increased by 46% from $20.69m to $38.46m. During this period, the country exported 411,589MWh of electricity, a 44% year-on-year increase.
Uganda's export countries include Kenya, Tanzania, DR Congo, and South Sudan. While Kenya is the country's current largest importer, electricity sales to Tanzania are expected to increase in the coming years, especially as Tanzania's energy demand grows. Last year, both countries signed an MoU for the development of a 30km 400kV transmission line to link them.
Energy & Utilities reported on Kenya's significant hydropower capacity in an interview with a top energy official last year. E&U reported this month on the ongoing upgrade of Kenya's Olkaria geothermal plant.
Energy & Utilities - Middle East and Africa Market, Outlook Report 2023.
This must-have report for industry players offers a thorough understanding of the latest developments, challenges, and opportunities in the region, supported by data, analysis, and expert insights.