Optimizing a hybrid power fleet: Getting the insights you need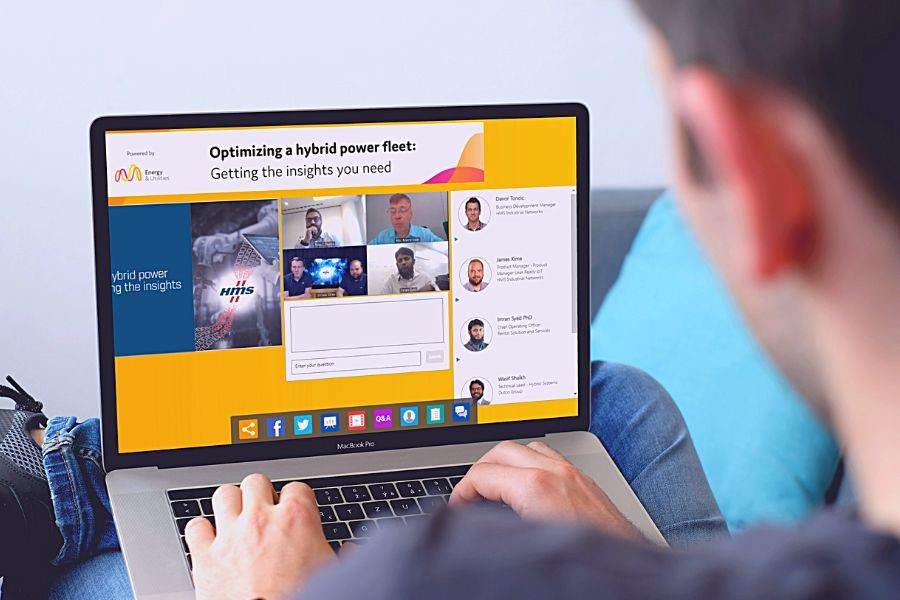 Informa webinar sponsored by HMS with four experts expounding on expanding possibilities for data collection and use in remote management of hybrid power systems; edge computing is seen as key
Last week's webinar from Informa Markets, sponsored by HMS Networks, featured  a leading OEM opening a detailed discussion of field applications of hybrid power generation.  
HMS means 'hardware meets software,' and the company creates products that enable equipment – all kinds of industrial equipment – to communicate and share information and to process it at machine level.
The message from all four participants was clear: as more and more machines are connected, the importance of sending valuable and efficient information becomes paramount.
Sweden-based HMS Networks, with a strong MEA presence, is a leader in Industrial ICT (information and communication technology). Executives from sales and from product development offered their insights.  
Getting the right data – at the edge
"The important part is the type of data," said Davor Toncic, Business Development Manager, HMS Industrial Networks, as he broached the topic of 'edge computing.'  
"Taking data from different types of equipment, you can combine that, with some optimization on the edge, instead of having to send up all data to the cloud…with data cleaning on site," he said.
"Processing the data locally gives great benefits in terms of… giving a filtering of the type of data you actually need."
James Kime, Product Manager for user ready IoT solutions, HMS Industrial Networks, put the edge computing concept into context.
"An insight is something useful from your equipment that you need to know to make better decisions," he said.  
"Talking about 'edge computing,' all it really means is that you're doing a calculation in the local environment as close to where you get the data as possible… you can do calculations, algorithms right there," he added.
"How you get the information from your machines, that actually helps you do something…whether you're trying to do a complex business model, or even a simple business model," is what is essential, he said. "Maybe you just need to know when to maintain a machine."
It can be something as basic as measuring power production, or looking at the data from a temperature sensor, he said.  
Their slides illustrated hybrid installations composed of many different pieces of equipment. They discussed the need to combine information from diverse sources such as battery storage, solar panels, and generator units. Information from these needs to be combined in such a way that efficient data collection is optimized. This often requires data cleaning on the edge, reducing data transfer cost and effort while working with remote systems.
"Getting the data filtered is a first step of edge computing," said Kime.
He used the example of a valve, of its opening and closing at the micro-second level, to illustrate the importance of getting quality data, then determining what to do with it, combining values with calculations.
Kime and Toncic focused on looking at values from devices, on converting data to useful values while being careful about what gets sent to the cloud. This led to consideration of metadata, which gives context to data in the actual gateway itself.
And it led further to the concept of 'edge intelligence,' with AI feedback improving machine performance. Here, traceability of data, adding metadata layers, is seen as critical in the growing convergence of OT and IT, while a movement toward standardization of devices is allowing action on data in real time.
From equipment solution to 'energy solution'  
The HMS reps were joined by two guest panellists from Dubai-based companies who are very much involved with applying edge technologies in the field, in remote hybrid systems and related applications. Imran Syed PhD is Chief Operating Officer, Rental Solution and Services. Wasif Shaikh is Technical Lead - Hybrid Systems at Dutco Group
They look at the growing role for industrial IoT, at how is the market for temporary power and cooling rental solutions is changing in the Middle East.
"We're trying to change how power is delivered to customers, shifting toward an energy solution for the client, from mere equipment rental to a data-supported energy solution," said Syed.  
"We charge based on kWhs," he continued. "To do that, we need to be able to predict and estimate what the energy consumption is going to be… this comes from collecting a lot of data."
"Any time we put down any of our solutions, load data is automatically transferred back to us by IoT… that allows me to design the first phase… a solution that is optimal, saves costs," he said.  
Syed emphasized a constant real-time optimizing of how a system runs, for example a remote solar-based system.
"The commercial viability of the project, the technical viability of the project, it all depends on having the right data," he said.
He asserted that data-supported energy solutions are something new in the market, whether a power system be located in the desert or in an urban setting.
Wasif Shaikh described how an IoT-centric approach can help address challenges in deployment of hybrid solutions for temporary power applications. His company is working increasingly to integrate renewable power into its operations across multiple sectors.
"It's critical for us to build renewable energy solutions that can be integrated on any site, we're building renewable energy hybrid products which are plug-and-play," he said.  
"The data becomes so critical… technically and commercially."
But Shaikh emphasized that, rather than a standard plug-and-play solution, he's looking at, for example, the need to avoid curtailing a lot of solar power, and he's accounting for geographical factors.  
"We must have clear understanding of a load application, of how much solar not only to meet a customer's KPIs, but also to maximize the investment on the asset," he said.
He said that data must be combined from diverse sources to optimize asset deployment while meeting client KPIs for decarbonization, diesel displacement, and so forth. He mentioned new technologies coming in for energy storage, even talking about mobile storage solutions.  
"Very critical elements," he said, are "the operational understanding, and the application… that are driven by the data."
"It's a very interesting challenge, there's not a lot of people doing it," he added.

The full 60-minute webinar may be viewed on-line gratis. 
More Energy & Utilities webinars are also available.