Mitsubishi Power's place in MENA energy transition - an interview with Khalid Salem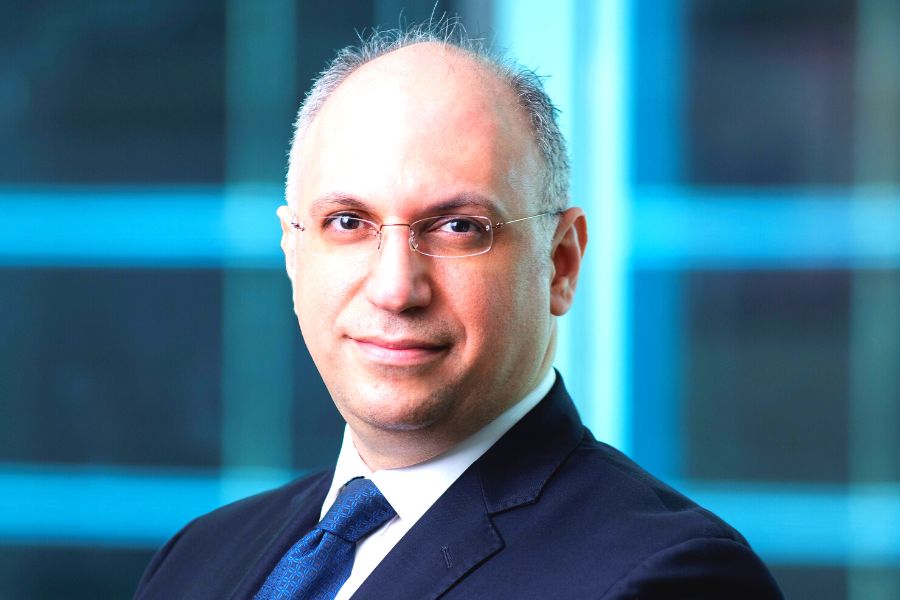 The company's regional leader talks about projects and equipment that are gradually changing the region's power profile; 30% hydrogen co-firing for large frame gas turbines to reach 100% by 2025; "packages" to bring first standard initiatives for green hydrogen integration
Energy & Utilities asked Khalid Salem, President, Middle East and Africa at Mitsubishi Power, for his thoughts on energy transition, hydrogen, and related topics. He shared insights on a broad range of projects and the equipment that utilities will need to ensure a secure energy supply ecosystem, ultimately unlocking energy transitions.
A company overview is followed by our interview.
Mitsubishi Power
Mitsubishi Power is a power solution brand of Mitsubishi Heavy Industries, Ltd. (MHI) active across more than 30 countries worldwide with a strong presence in the Middle East and North Africa. The company designs, manufactures and maintains equipment and systems, including a wide range of gas turbines, hydrogen-fuelled gas turbines, solid-oxide fuel cells (SOFCs), and air quality control systems (AQCS). It is also pursuing development of the digital power plant through its suite of AI-enabled TOMONI® solutions.
Mitsubishi Power tested and demonstrated the operation of hydrogen-related technologies, including hydrogen production and storage and hydrogen fuelling of gas turbines. At Takasago Hydrogen Park, Mitsubishi Power developed hydrogen firing technology that enables thermal power systems owners to decarbonize their existing plants with minimal modifications, deploying hydrogen blending combustion technology.
The company has already announced its 30% hydrogen co-firing for large frame gas turbines. Now important hydrogen-related research is occurring in Japan, at the Takasago Hydrogen Park, which aims to commercialize small and large frame gas turbines on a path to 100% hydrogen firing starting in 2025. The hydrogen production facility utilizes a water electrolysis system.
Mitsubishi Power plans to conduct successive testing and verification of other next-generation hydrogen production technologies, such as turquoise hydrogen production by pyrolysis of methane into hydrogen and solid carbon.
To support the commercialization of hydrogen gas turbines by 2025, verification of large gas turbines is being conducted at the T-Point 2 combined cycle power plant validation facility in Takasago Works, Japan for power generation using a JAC class turbine initially starting at 30% hydrogen co-firing and increasing hydrogen co-firing over time. Testing for 100% hydrogen firing of small- and mid-sized turbines will be conducted using a H-25 class gas turbine.
A major project is at Alexandria National Refining & Petrochemical Company (ANRPC) in Egypt, where the company is leading the design, engineering, procurement, construction, and commissioning of fuel conversion solutions for an existing 100 ton/hour boiler, enabling it to fire up to 100% hydrogen by the end of 2023. The project includes the installation of state-of-the-art hydrogen burner technology and advanced control solutions to ensure efficient and safe operations.
Mitsubishi Power in MENA
At Mitsubishi Power, efficiency is pivotal in energy-intensive industries that are the cornerstone of the region' industrial growth, such as steel and aluminium. To this end, Aluminium Bahrain (Alba), the world's largest aluminium smelter ex-China, recently announced its adoption of Mitsubishi Power's industry-leading gas turbine technology to increase the capacity of its Power Station 5 Block 4. This will help the company continue to secure highly efficient and reliable power at the smelter.
Mitsubishi Power is actively involved in the development of carbon capture and hydrogen-related industrial developments. Mitsubishi Heavy Industries is working with Alba in Bahrain on a project that is assessing the feasibility of applying CCUS at the aluminium smelter, which will be the first application of CO2 capture technologies in the aluminium industry, when realized.
The company's JAC gas turbines are capable of using up to 30% hydrogen fuel by volume today, to reach 100% hydrogen fuel by 2025. MP is striving to achieve a transition to hydrogen-capable gas turbines that can be done with minimal existing infrastructure modification, thereby enabling power producers to manage their costs while meeting environmental standards and their own net zero ambitions.
In 2020, Mitsubishi Power introduced the world's first standard packages for green hydrogen integration, consisting of a hydrogen and natural gas fuelled gas turbine power plant with electrolysis to produce green hydrogen using 100% renewable power and onsite storage of green hydrogen. This solution can help to ensure reliability of supply, which is essential for grid operations.
In August 2022, Mitsubishi Power successfully commenced the simple cycle operation of its two advanced M701F gas turbines powering the Layyah combined cycle plant in Sharjah, UAE. The power plant is expected to supply 20 percent of the power for the city of Sharjah through the provision of the F Series gas turbines supplied by Mitsubishi Power.
Khalid Salem, President, Middle East and Africa at Mitsubishi Power, is guiding efforts to focus on the use of advanced, cleaner, and higher-efficiency power generation technology, such as that which Mitsubishi Power is providing for the UAE's largest natural gas fired GTCC power plant. The plant's JAC turbines, which have an efficiency of over 64%, the highest in the world, are adding 2,400-megawatt of power to power the growth of the Emirate of Fujairah in the UAE.
He is positioning the company to play a central role in achieving secure energy supply in MENA, ultimately unlocking energy transitions with decarbonization technologies and supporting customers in the region on this journey. Such technologies are to be deployed at scale and at competitive costs, while complementing the existing energy infrastructure. 
E&U  Mitsubishi Power is involved in exciting hydrogen power projects in MENA, such as at Alexandria National Refining and Petrochemicals Company (ANRPC) in Egypt, enabling a refinery boiler to fire up to 100% hydrogen by the end of next year. And with Alba in Bahrain, on a project that is assessing the feasibility of applying CCUS at an aluminium smelter. It is often said that these kinds of heavy industry sectors, refining, metals, etc., will be the last to have an energy transition, which might not occur until the 2040s or later. Do you see a faster timeline? What key technological and/or process breakthroughs still need to occur for heavy industry?
KS  Mitsubishi Power has long been developing energy solutions and processes that will enable hydrogen's transition from industrial use to being a clean fuel of choice that will drive a net-zero carbon future.
We are committed to implementing technologies that modernize existing power systems by enabling fuel conversion and the use of hydrogen that brings these hard to abate sectors one step closer towards achieving their decarbonization goals.
Our JAC gas turbines can use up to 30% hydrogen fuel by volume today, to reach 100% hydrogen fuel by 2025. The J-Series Air Cooled gas turbines boast industry leading reliability and efficiency of greater than 64%.
Mitsubishi Power is also revolutionizing the global power sector by developing a hydrogen fuel power generation upgrade system that utilizes existing gas turbine facilities, therefore making hydrogen transformation cost effective and within reach by 2025.
In terms of timelines, the pace of decarbonization of the region's hard-to-abate sectors, also referred to industrial "greening" of the industrial base in MENA is in line with the "greening" of global economy around the world. As "greening" imperatives are shifting from voluntary to increasingly policy-driven, so will the business strategies and timelines of regional industries align, to be an active participant in the global economy and access regulated international markets.

E&U  In the power sector, Mitsubishi Power is moving toward the commercialization of hydrogen gas turbines by 2025, initially starting at 30% hydrogen co-firing and increasing to 100%  hydrogen firing  before the end of the decade. Testing for 100% hydrogen firing of small- and mid-sized turbines is being  conducted today. What is the market outlook for hydrogen-powered turbines in MENA? Do you see widespread adoption over the next 8 to 10 years?

KS  Hydrogen enables the greater use of renewable electricity and is capable of decarbonizing nearly every sector that makes up the global economy, including ones that have traditionally been difficult to decarbonize using renewables alone.
The Middle East and North Africa region recorded a staggering estimate of US$55bn-worth of blue and green hydrogen-related projects[i] being planned across the region. The Abu-Dhabi-based Clean Energy Business Council (CEBC) found that that the participation of MENA countries in blue and green hydrogen initiatives grew from 11% to 89% between 2020 and 2021[ii].
There is increasing confidence in the region's ability to utilize hydrogen as a clean energy alternative. While the element's rise as an energy source comes on the heels of a wider global shift to a low-carbon economy, the opportunity for hydrogen production in the Middle East is already vast, given the region's strategic location for potential green hydrogen exports and convenience of renewable energy resources.
This year, the Kingdom of Saudi Arabia (KSA) announced its ambition to become the world's top exporter of hydrogen. The United Arab Emirates (UAE) is also drawing up a hydrogen road map and is looking to add the fuel to its clean energy mix by 2050. Similarly, this year, Egypt also added green hydrogen to the country's Energy Strategy 2035, with a distinct focus on clean fuel generation and use across sectors.
At Mitsubishi Power, we are developing energy solutions and processes that will enable hydrogen's transition from industrial use to being a clean fuel of choice that will drive a net-zero carbon future. Our JAC gas turbines can use up to 30% hydrogen fuel by volume today, to reach 100% hydrogen fuel by 2025. 
Earlier this year, we also completed the world's largest hydrogen fuel blending project, successfully validating fuel blending of hydrogen and natural gas at both partial and full load on a natural gas turbine at Georgia Power's Plant McDonough-Atkinson in Georgia, United States. The project was the first and largest to validate 20% hydrogen fuel blending on an advanced class gas turbine globally. Mitsubishi Power provided full turnkey service for this project including engineering, planning, hydrogen blending hardware, controls, commissioning, and risk management.
The MENA region is witnessing hydrogen technology being widely implemented and the end of this decade will continue to see an influx of hydrogen projects. Starting 2025 for first mover projects, followed by others from 2030 onwards, is a period that will notably be recognized as the decade of hydrogen; where it will be commoditized and rolled out on a large scale to help achieve global decarbonization.
E&U  Mitsubishi Power introduced the world's first standard packages for green hydrogen integration. Can you describe how this might be deployed in MENA?
KS  The Hydaptive™ package and Hystore™ package brings to market the world's first standard initiatives for green hydrogen integration. Worldwide, there's a growing consensus that power balancing and energy storage are keys to successfully transitioning to a zero-carbon grid. These innovative standard green hydrogen packages help customers cut through the complexity that power generators and grid operators encounter when integrating renewables, gas turbines, green hydrogen, and other energy storage technologies.
The Hydaptive™ package provides renewable energy flexibility by acting as a near-instantaneous power balancing resource that greatly enhances the ability of a simple cycle or combined cycle power plant to ramp output up and down to provide grid balancing services. It integrates a hydrogen and natural gas fuelled gas turbine power plant with electrolysis to produce green hydrogen using 100% renewable power and onsite storage of green hydrogen.
The Hystore™ package combines the Hydaptive™ package with access to large-scale off-site hydrogen production and storage infrastructure, enabling large-scale renewable energy storage that shifts variable renewable energy over time, from hours to seasons, and provides reliable and cost-effective carbon-free energy when the grid needs it most.
Hydaptive™ and Hystore™ standard packages further enables the balancing of renewable energy and better equips the MENA region to reliably and cost effectively meet climate goals. The hydrogen-enabled simple cycle or combined cycle gas turbine power plants convert the green hydrogen into centralized dispatchable electricity.
Commercializing hydrogen is now a global priority, to scale its use. Mitsubishi Heavy Industries (MHI) are fast-tracking this process through projects such as the recently announced Takasago Hydrogen Park, the world's first centre for the validation of hydrogen-related technologies, from hydrogen production to power generation, which will support the commercialization of small and large frame gas turbines.
In fact, our company is building a value chain for hydrogen, from production to use, through further integration and advancement of the existing energy infrastructure and hydrogen-related technologies. By further developing this approach and linking it with many different types of hydrogen-centric industries, Mitsubishi Power and MHI aim to establish a hydrogen ecosystem that will accelerate its commercialization through verification at the Takasago Hydrogen Park. 
 
E&U  What is Mitsubishi Power's relation with Saudi Arabia in terms of hydrogen?
KS  It is important to acknowledge that Saudi Arabia's Vision 2030 and its commitment to net-zero by 2060 is testament to the leadership's ambition of transforming the nation, economically and environmentally.
Our focus is to continue providing best-in-class power solutions to address the Kingdom's demand for energy, supporting Saudi's circular carbon economy and cleaner power strategies. We have been a long-term power partner to Saudi Arabia and key energy players like Saudi Aramco on utility and industrial power projects. Our brand's industry-leading power technology, combined with a strong localization strategy, has enabled us to provide the best power solutions and value to the Kingdom's power infrastructure expansion.
Mitsubishi Power signed a Corporate Procurement Agreement with Saudi Aramco for GT Repair in 2014, and then in line with the iktva initiative, we established a service and repair centre for combustor components and a rotor repair shop in Dammam, which are audited and accredited by Saudi Aramco. As part of our commitment to the Kingdom of Saudi Arabia, we are expanding the repair centre to encompass a gas turbine assembly facility which will enable us to produce and supply the world's most efficient and reliable gas turbines with advanced technology locally in Dammam.
As part of our commitment to the Kingdom, in 2019 we also launched a 'National Program for the Kingdom of Saudi Arabia' that aims to expand Mitsubishi Powers' presence and contribution in KSA, in line with both IKTVA and the Saudi Vision 2030. This program educates, trains, and builds the capabilities of young Saudi nationals; as well as focuses on localizing the manufacturing of Gas Turbines and Services in the Kingdom, built, and serviced by Saudi hands and expertise. Mitsubishi Power has achieved 54% of their Saudi talent development plan to date and are looking forward to accomplishing their Saudization target of 60% by 2023.

We will continue to dynamically support the Kingdom's vision and reinforce our commitment to Saudi Aramco, through localization of the energy value chain, innovative power solutions and partnerships.
E&U  What is your outlook for 'blue' hydrogen? Will it complement 'green' hydrogen or be outcompeted by green hydrogen in Saudi Arabia? In other countries?
KS  Today, we understand that hydrogen is one of the main pathways for the energy transition. So far, few experts, policymakers, multilaterals, and industry players would disagree. Hydrogen is mostly produced today using fossil fuels. But there is now a wide range of carbon-free and low-carbon production methods for hydrogen.
Two of the most hotly debated contenders are "green" and "blue" hydrogen.
The viability of blue hydrogen critically depends on preventing CO₂ release to the atmosphere, helping decarbonize hard-to-abate sectors such as transportation. Currently, it is also significantly cheaper than green hydrogen.
Much less than 1% of hydrogen is produced by electrolysis and therefore considered "green". While electrolysers are a mature technology used in many other chemical processes, production costs for green hydrogen can still be high compared with those using fossil fuel technologies.
The industry must bring down this cost. A significant factor is having access to low-cost renewable electricity, and this varies from one region to the next. Moreover, green hydrogen production needs to scale up to become more economical.
Saudi Arabia is in a prime position for green and blue hydrogen production. According to "Economics and Resource Potential of Hydrogen Production in Saudi Arabia," which was commissioned by the King Abdullah Petroleum Studies and Research Center (KAPSARC)[iii], Saudi Arabia's vast renewable energy potential and natural gas reserves will support it in producing some of the cheapest green and blue hydrogen globally.
At current domestic gas prices and considering the average auction price of the renewable energy projects awarded in 2020, the cost of producing blue and green hydrogen is estimated to be at $1.34/kg and $2.16/kg, respectively. Additionally, the delivered cost of hydrogen by 2030 from Saudi Arabia's western region to the Port of Rotterdam, via the Suez Canal, will average between $3.50/kg and $4.50/kg depending on the hydrogen carrier used.
Projects and investment pledges have ramped up all over the world that could ultimately change the economics of green hydrogen. In its Hydrogen Economy Outlook, Bloomberg New Energy Finance says that green hydrogen could supply 24% of the world's energy demands by 2050 while cutting CO2 levels by 34%.[iv] 
Countries such as the UK are pursuing a twin-track approach to hydrogen.[v] This includes blue production methods in projects including the Zero Carbon Humber cluster. The gas will be used directly by local industry – including at a combined heat and power plant that Mitsubishi Power will convert to run on hydrogen instead of natural gas, and at a new power station that will run entirely on hydrogen.
At the recent FT Hydrogen Summit, Professor Emmanouil Kakaras, Executive Vice President of NEXT Energy Business at Mitsubishi Heavy Industries (MHI) EMEA stated that no color of hydrogen should be neglected in the battle against climate change, especially given the compound importance of hydrogen as a fuel and a storage medium for renewable energy.
In the long run, green hydrogen will definitely be the winner because we cannot decarbonize a world without an abundant investment in renewable capacities, until then, we also need blue.  

E&U  Thank you Mr. Salem for your thoughts. 
KS  My pleasure.  
[i] https://www.zawya.com/en/projects/industry/mena-hydrogen-project-pipeline-stands-at-55bln-ltmwfbgx
[ii] https://ieefa.org/articles/middle-east-north-africa-seen-largest-green-hydrogen-suppliers
[iii] https://www.arabnews.com/node/2069656/business-economy
[iv] https://www.forbes.com/sites/kensilverstein/2022/08/17/green-hydrogen-made-from-renewables-is-a-step-closer-because-of-the-inflation-reduction-act/?sh=55334cba5c8c
[v] https://cleanenergynews.ihsmarkit.com/research-analysis/uks-twin-track-hydrogen-strategy-sets-it-apart-from-greener-eu.html
Energy & Utilities - Middle East and Africa Market, Outlook Report 2023.
This must-have report for industry players offers a thorough understanding of the latest developments, challenges, and opportunities in the region, supported by data, analysis, and expert insights.