MENA could be energy storage leader as countries deploy renewables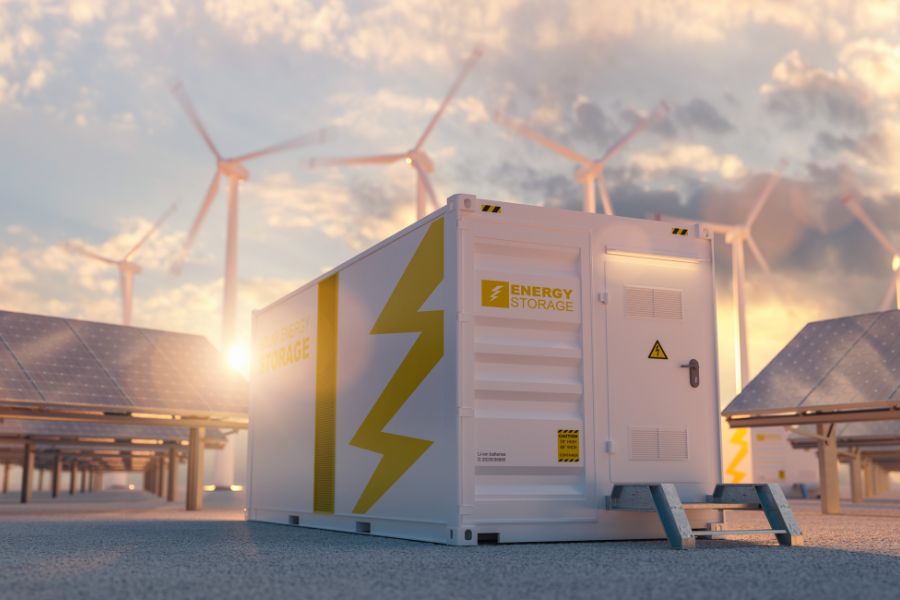 Storage projects to become key factors in achieving RE targets while share of batteries expected to jump from 7% to 45% by 2025, with IPPs a driving element in scaling up and activating projects
MENA countries must rapidly deploy energy storage solutions (ESS) into their power grids if they are to meet their national renewable energy targets in the medium term.
This assessment comes from a report by the Arab Petroleum Investments Corporation (APICORP), Leveraging Energy Storage Systems in MENA, Opportunities, Challenges and Policy Recommendations, published late last year.
It says there are 30 ESS projects planned in MENA between 2021 and 2025 with a total capacity/energy of 653 MW / 3,382 MWh. Of these, 24 projects are for variable renewable energy (VRE) integration and grid firming. The share of batteries out of the total energy storage landscape in MENA is expected to jump from the current 7% to 45% by 2025.
With such useful metrics, and a thorough list of storage projects, installed and in development, across the region, the report conveys a wealth of information on the various technologies and the services they provide.
"The list of projects in our report is still valid for the region, we haven't seen more of large size being announced in the past 9 months," says co-author Suhail Shatila, MSc., Senior Energy Specialist at APICORP.
"We decided to write about ESS because it will be a key element in scaling up renewables in the region," he continues.
"Given the ambitious renewables plans and policy targets, ESS projects will be key factors in achieving those targets while smoothing out the intermittency of REs and providing flexibility to the power grids."

Many projects and more to come
The APICORP researchers think that MENA, with its magnificent renewable energy resources, also holds potential to become a leading region for energy storage, with private sector IPPs playing a key role.
"We see a trend of more active participation of the private sector in energy projects in MENA, hence more IPP activity given its success in the renewable energy space so far," says Shatila.
"Given that ESS is still an emerging technology, IPPs will be a driving element in scaling up and activating such projects."
According to the Leveraging Energy Storage Systems report, the application of on-grid ESS in MENA remains relatively low, estimated at an operational capacity of 1.46 GW compared to 10 GW globally. Front-of-meter (FTM) applications in MENA are approximately 89% of installed capacity - equivalent to 1.3 GW – as compared to a 50% FTM market share in Europe. Behind-the-meter (BTM) applications in MENA are estimated at only 11%.
The wide gap between the market shares of the two applications in MENA is likely to persist, according to the authors, given the power market structure, utility business models, and tariff subsidies (report, p. 9).
A useful graphic shows a 'spectrum of technologies' deployed in 5 groups (report, p. 10), while details of ESS projects throughout the MENA countries are listed in the back in Annex II.
Some of the current technologies being used for energy storage in MENA include pumped hydro storage (PHS) and electrochemical energy storage – mainly sodium-sulphur and lithium-ion batteries. Most of the planned and operational projects are in the GCC (UAE, Saudi Arabia, Qatar, Oman), North Africa (Egypt, Morocco, Algeria and Tunisia), with several projects in the Levant – mainly in Jordan, Iraq and Lebanon.
MENA storage duration ranges between 32 minutes and 2 hours in the case of Li-Ion batteries, 6 hours for Sodium-Sulphur (NaS) batteries, and 10 hours in the case of thermal storage (molten salt, etc.), according to the report (p. 11).
PHS has the largest share of installed capacity in MENA at 55%, as compared to a global share of 90%. Morocco's National Office of Electricity implemented two PHS projects in Agadir and Afourer in 2013, with capacities of 350 MW / 2,800 MWh and 465 MW / 3,720 MWh, respectively. A 250 MW PHS project is under construction in Hatta, UAE (to be operated by Dubai Electricity & Water Authority - DEWA).
The researchers conclude that although PHS dominates ESS in MENA, the technology is non-modular, capital intensive, and has a lower efficiency as compared to other ESS technologies (report, p. 10).
Meanwhile electrochemical energy storage – batteries – is gaining traction in MENA.
Among all on-grid ESS projects, 80% are of the battery type. However, this share constitutes only 7% of the operational ESS energy, equivalent to 677 MWh, the bulk of which is installed in the UAE. Currently, NaS battery technology dominates the battery storage capacity in operation in MENA. This is concentrated in the UAE, with a total of 108 MW / 648 MWh projects developed by the Abu Dhabi Water and Electricity Authority (ADWEA).
The technology costs, coupled with system needs in MENA, demonstrate that batteries will be the leading energy storage system for short and medium-term applications. This includes NaS, Li-Ion, and flow batteries.
The researchers note that Li-Ion batteries have the fastest growing market share among electrochemical technologies due to their wide application including in power systems and transport.
In MENA, Li-Ion batteries have a significant share of the battery grid-scale applications coupled with solar energy systems. The operational capacities range from 0.1 MW in Morocco's Demostene Green Energy Park to 23 MW in Al Badiya Solar-PlusStorage at Al-Mafraq in Jordan.
They note that although Li-Ion is currently among the low-cost types of ESS, it stands at a disadvantage in elevated climate temperatures where it experiences a drop in its efficiency (report, p. 10).
"Electrochemical-based ESS will mostly be based on Li-ion, the largest one being in the Red Sea development project in KSA," says co-author Suhail Shatila.
The report sees other important battery technologies making their way into the region. For example, it mentions a vanadium flow battery of 0.13 MW / 0.50 MWh has been implemented at the Nour plant, in Ouarzazate, Morocco. The authors note that flow batteries have significantly lower efficiencies than Li-Ion batteries but provide longer storage durations, lower degradation, and less safety concern (report, p. 11).
Different needs
According to the Leveraging Energy Storage Systems report, ESS is deployed in MENA for different primary and secondary functions. These include energy arbitrage (64% of applications), capacity firming (19%), frequency regulation (6%), and other ancillary services (report, p. 12).
The authors write that FTM applications are expected to remain dominant compared to BTM applications, as FTM constitutes 96% of planned on-grid energy storage.
A need for power system flexibility and capacity firming is emerging in countries with rising shares of VRE, including Saudi Arabia, the United Arab Emirates, Oman, Egypt, and Morocco. In the GCC, it is expected that the bulk of ESS deployment will be FTM applications driven by VRE integration and firming.
The report considers the 400 kVA interconnection grid that has linked the national grids of the six GCC countries since 2011, run by the GCC Interconnection Authority (GCCIA). It says the six GCC states have significant capacity reserve margins, reaching 35% in Saudi Arabia as a result of the interconnection grid. The interconnection grid is under-utilized with the electricity traded reaching only 5% of the designed capacity.
However, the increased integration of renewable energy in the GCC will open opportunities for additional electricity trading driven by FTM energy storage applications (report, p. 12).
In other countries, such as Lebanon and Iraq, power rationing creates a different need for ESS. The bulk of it may be BTM applications driven by the need to secure reliable and continuous power.
In these countries, the cost of power outages should drive policymakers towards adopting renewables plus storage micro-grids to stabilize the power system. This is especially critical during the peak season, when temperature increases trigger higher power rationing. The report notes that these countries also rely on expensive private diesel generators, which reduces the competitiveness of commercial and industrial consumers.

Ten policies
In the Leveraging Energy Storage Systems report, the APICORP researchers combine their inventory with insightful policy analysis, setting out ten key policy support actions needed to integrate energy storage systems in the MENA power markets.
They show that, with the imminent expansion of renewable energy across the region, thousands of megawatts in the pipeline, a corresponding expansion of power storage capacity is crucial. And, with the right policies and financial incentives in place – key regulatory reforms, new policies, and targeted financing – such energy storage capacity can be put into place, providing highly valuable services to national and regional power systems.
One interesting proposal is to create a MENA Energy Storage Alliance, an organization supported by governments and the private sector dedicated to fostering the development of ESS in the region through public-private partnerships.
The report also proposes defining energy storage as a standalone asset category in the power value chain and setting energy storage targets in national energy policies. Other recommendations include creating incentives to attract private sector investments, and endorsing utility-scale ESS within green financing frameworks (see report, chapt. 6).
For its part, APICORP sees ESS as a critical element in the energy transition and wants to target investment to support it. The entity is planning to allocate $1bn over two years to fund ESG-linked assets,
"We are also looking at facilitating partnerships between governmental entities, financial institutions and the private sector to make ESS more financially viable to unlock its potential in the region," says Suhail Shatila.
"We want to finance renewable energy projects that include energy storage systems, that's one category of where the green bond proceeds will go to," he says.
The report, Leveraging Energy Storage Systems in MENA (Dec. 2021) is available on APICORP website.
Energy & Utilities - Middle East and Africa Market, Outlook Report 2023.
This must-have report for industry players offers a thorough understanding of the latest developments, challenges, and opportunities in the region, supported by data, analysis, and expert insights.