Masen announces plan to add 6 gigawatts renewable power by 2030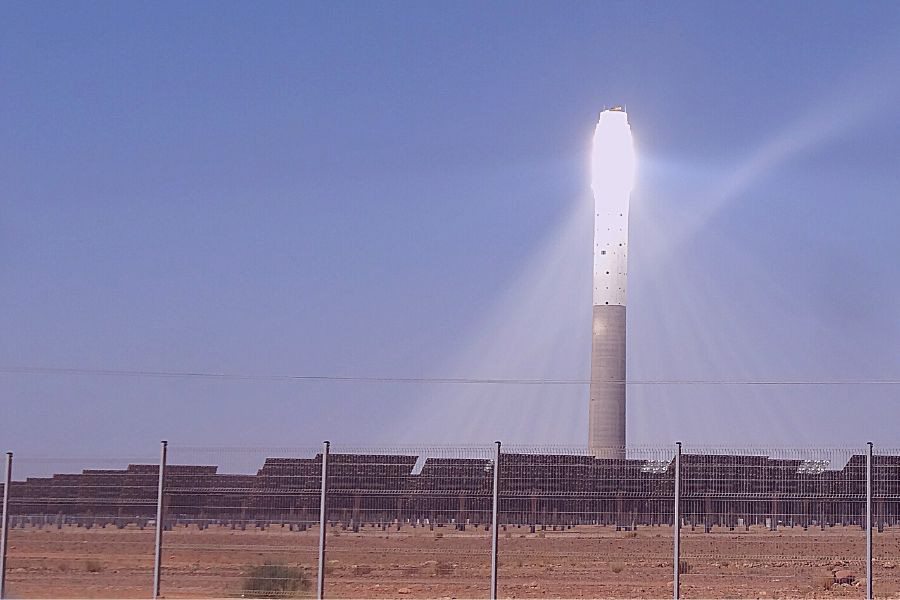 Moroccan Agency will develop additional 6 gigawatts to meet 2030 objective, official says, adding to numerous solar, wind and hydro plants already in operation; aims to raise the share of renewable energy sources to more than 52% of the national electricity mix
The Moroccan Agency for Sustainable Energy (MASEN) announced the development of an additional 6 gigawatts of renewable energy by 2030. This objective, previously announced, was restated earlier this month by Fatima Hamdoush, Acting Director General of Masen, in a presentation before the government's Infrastructure, Energy, Minerals and Environment Committee.
It is another indicator of Morocco's desire to rapidly shift, during the next few years, to greater reliance on renewable energy. It will be a dramatic shift for a country that still relies mainly on fossil fuels.
"Morocco has great capabilities in the field of renewable power," said Hamdoush.
"There are more than 4,100 megawatts of (renewable) electric power projects currently in operation," in the country, she said. "It has an estimated hydropower capacity of 1.8 GW, solar power capacity of 830 MW, and 1,510 MW of wind energy."
Solar power plants now in operation in Morocco include Ain Beni Mathar (20 MW), Nour Ouarzazate 1 (160 MW), Nour Ouarzazate 2 (200 MW), Nour Ouarzazate 3 (150 MW) and Nour Ouarzazate 4 (72 MW). Others are Nour El-Ayoun 1 (85 MW), Nour Boujdour 1 (20 MW), and Nour Tafilalet (Zagora, Erfoud, Missour photovoltaic plants), which produces 120 MW.
The country has more than 20 hydroelectric power stations with a production capacity of up to 1.8 GW.
The country's wind power plants, with current installed capacity of 1,510 MW, include Nessim Amougdoul (60 MW), Nessim Tangier (140 MW), Nessim al-Koudia Baida (50 MW), and Nessim Tarfaya (300 MW). Others are Nassim Midelt (180 MW) and Nassim Taza 1 (87 MW).
Morocco aims to raise the share of renewable energy sources to more than 52% of the national electricity mix by 2030. Renewable energy contributed 20% of electricity required to meet power demand in Morocco in 2022.
Experts interviewed for this article put the recent Masen announcement into context.
"Morocco has vast resources of solar and wind energy that are among the highest in the world," says Ghalia Mokhtari, an energy specialist at the Moroccan Institute for Strategic Intelligence in Rabat.
"The Moroccan government wants to exploit these renewable resources to make Morocco a leading country in the field of preserving the environment and achieving national energy independence."
Mokhtari makes the point that Morocco still imports 90% of its energy, especially from Algeria and Spain, and relies mainly on fossil fuels.
"King Mohammed VI has been calling for reliance on renewable energy since 2007, imposed by the need for energy alternatives that are not harmful to the environment and are economically feasible," says Mohamed Bouhamdi, an independent analyst and expert on renewable energy in Morocco.
"Masen's plan is to develop an additional 6 GW of renewable energy by 2030, which will reduce pollution and open the way for investments based on exporting electricity to Europe, exploiting Morocco's wealth of solar energy," he adds.
"If there were an electrical connection between Morocco and Europe, we would be able to invest in heating the European continent through panels that can be placed in Marrakesh, especially after the current gas crisis," Bouhamdi affirms.
Energy & Utilities reported last summer that Masen was proceeding with development of seven sites for solar power in southern and eastern Morocco. 
Energy & Utilities - Middle East and Africa Market, Outlook Report 2023.
This must-have report for industry players offers a thorough understanding of the latest developments, challenges, and opportunities in the region, supported by data, analysis, and expert insights.