Masdar signs agreement to implement 1GW of solar PV projects in Iraq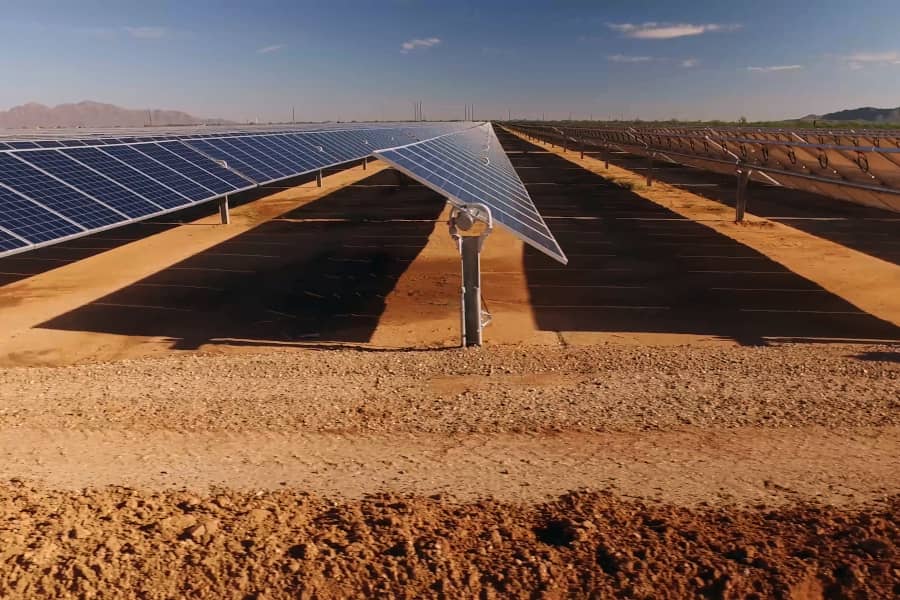 7 Oct 2021
UAE-based Masdar has signed an implementation agreement with Iraq's Ministry of Electricity & National Investment Commission to implement five photovoltaic (PV) solar projects with a total combined capacity of 1GW
UAE-based Masdar has signed an implementation agreement with Iraq's Ministry of Electricity & National Investment Commission to implement five photovoltaic (PV) solar projects with a total combined capacity of 1GW.
Under the agreement, Masdar, a subsidiary of Abu Dhabi sovereign wealth fund Mubadala Investment Company, will develop a 450MW PV solar independent power producer (IPP) project in the Dhi Qar governorate in southern Iraq; 100MW and 250MW PV IPPs in Ramadi in central Iraq; a 100MW PV IPP in Mosul and a 100MW project in Amarah in the southeast of the country.
The five projects form the first phase of an agreement Masdar signed with the Iraqi government in June to develop 2GW of renewables capacity across Iraq. A further 1GW of capacity will be delivered in the second phase.
The agreement was signed in Baghdad, Iraq, by Suha al-Najjar, president of Iraq's National Investment Commission, Maha Hamoudi Abdul-Jabbar, the director general of the investments and contracts department at the ministry of electricity, and Jameel al-Ramahi, the chief executive of Masdar.
The agreement was signed in the presence of Iraq's Prime Minister Mustafa al-Kadhimi, Suhail al-Mazroui, the UAE's minister of energy and infrastructure, Ihsan Ismaael, Iraq's oil minister and Adel Karim, Iraq's minister of electricity. Salem Issa Qattam al-Zaabi, the UAE ambassador to Iraq was also present.
"This agreement represents an important step forward in relations between the UAE and Iraq and will support Iraq's efforts to achieve its clean energy and climate change goals," said Al-Mazroui. "Through this milestone agreement, we look forward to exploring similar such opportunities in the region, and to consolidate our partnership with our brothers in Iraq in order to ensure a more sustainable future for the region."
Masdar CEO Al-Ramahi said the agreement will facilitate knowledge exchange between the two countries who share a common goal to diversify the energy mix and to take a lead on climate action.
The projects will form part of Iraq's target to generate 20-25 per cent, about 10-12GW, of its energy from renewable resources by 2030. The projects will be located in central and southern Iraq, which suffer from electricity shortages and blackouts during peak demand in the summer.
Iraq is facing a major challenge to meet growing demand for power across the country. In 2018, the installed capacity of 15GW was significantly lower than the 23.5GW peak demand recorded during the year.
As a result of the shortfall, many areas of the country only have access to a few hours of electricity a day. According to the government, it is estimated that electricity shortages are costing Iraq's economy as much as $40bn a year.
Want more Energy & Utilities insight?
Whitepaper: GCC energy transition, by Frost & Sullivan
Get insight and analysis on the investments required in transmission and distribution (T&D) infrastructure and technologies to ensure that GCC power sectors are equipped to deliver some of the world's most ambitious clean energy programmes.