Masdar commissions 100MW Uzbekistan solar project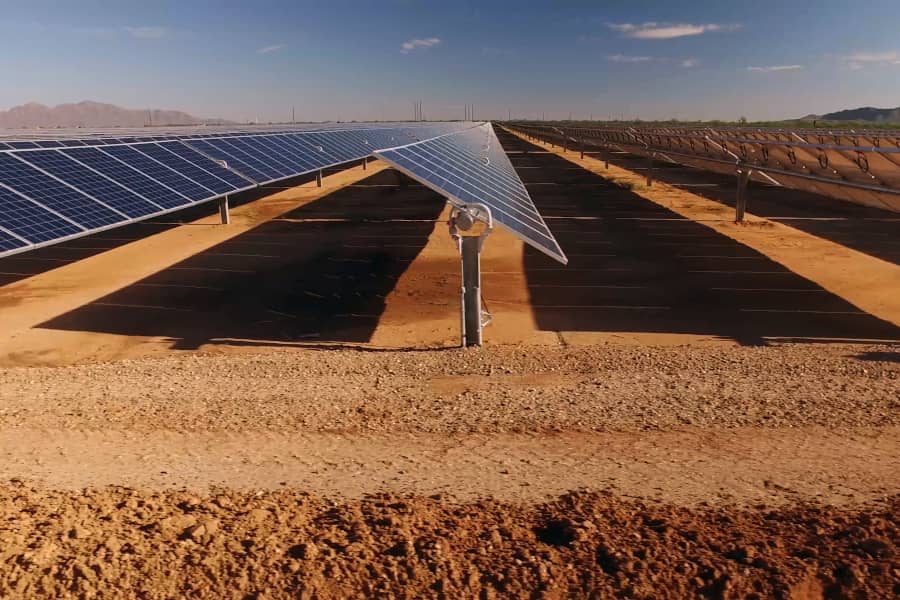 29 Aug 2021
UAE-based Masdar has commissioned the 100MW Nur Navoi solar project in Uzbekistan, the first successfully financed independent power producer (IPP) project in the country
UAE-based Masdar has commissioned the 100MW Nur Navoi solar project in Uzbekistan, the first successfully financed independent power producer (IPP) project in the country.
The Nur Navoi photovoltaic (PV) IPP is Uzbekistan's first utility-scale solar plant.
His Excellency Shavkat Mirziyoyev, President of the Republic of Uzbekistan, said, "In the next five years, we plan to increase our economy's growth rate by 1.5 times, and bring GDP to at least $100 billion," Shaykat Mirziyoyey, Uzbekistan's president, said following the inauguration of the solar project.
"Thousands of new industrial enterprises, both medium and large will be launched, and electricity demand is set to reach 100 billion kilowatt-hours - 30 billion more than now. Therefore, we have very big plans for new reforms and projects in the electric power industry. In the next five years, 19 projects worth $6.5 billion will be launched to create 11,500 MW of new capacity," added the Uzbekistan president.
Uzbekistan has set a target for 25 per cent of its energy to come from renewable sources by 2030. Energy & Utilities recently reported that the country was planning to increase its renewables target, with the installed solar capacity to rise from 5GW to 7GW and wind capacity from 3GW to 5GW by 2030.
Masdar reached financial close for the 100MW Navoi solar project in December 2020.
The conclusion of loan and finance agreements were signed on 24 December during a virtual online signing ceremony with representatives from Masdar, Uzbekistan's Ministry of Investments and Foreign Trade (MIFT), the International Finance Corporation (IFC), Asian Development Bank (ADB), the World Bank Group and the European Bank for Reconstruction and Development (EBRD).
The UAE energy firm submitted the lowest tariff of $cents2.679 per kilowatt hour. The project is being developed under the IFC's Scaling Solar Programme. Uzbekistan has set a target of developing 5GW of renewable energy by 2030, with projects to developed under the IFC Scaling Solar programme expected to contribute 1GW of the total.
The Nur Navoi project marks the first of a number of clean energy projects Masdar is planning to develop in Uzbekistan.
Energy & Utilities reported in July that Masdar had signed contracts to develop two PV projects with a total capacity of 440MW in Uzbekistan.
Masdar was selected for the 220MW Jizzakh project with a total energy charge tariff of $cents1.823/kWh. The total tariff was comprised of a plant only energy charge of $c1.578/kWh and a PIF charge of $c0.245/kWh.
Masdar was chosen for the 220MW Samarkand PV IPP with a total energy charge tariff of $c1.791/kWh, which comprised of a plant only energy charge of $c1.570/kWh and a PIF charge of $c0.221/kWh.
Masdar has also been awarded a contract to develop a 457MW PV IPP in the Sherabad district of Uzbekistan. Masdar submitted the lowest bid for the Sherbad project in May 2021.
Masdar is also developing a 1.5GW wind project in Uzbekistan. Masdar signed a power purchase agreement (PPA) to develop the 500MW Zarafshan wind IPP project in June 2020. In April this year, Masdar signed an implementation agreement with the Uzbekistan government to increase the size of the Zarafshan wind project to 1.5GW.
Want more Energy & Utilities insight?
Whitepaper: GCC energy transition, by Frost & Sullivan
Get insight and analysis on the investments required in transmission and distribution (T&D) infrastructure and technologies to ensure that GCC power sectors are equipped to deliver some of the world's most ambitious clean energy programmes.