Market waits for Saudi Arabia's clean energy drive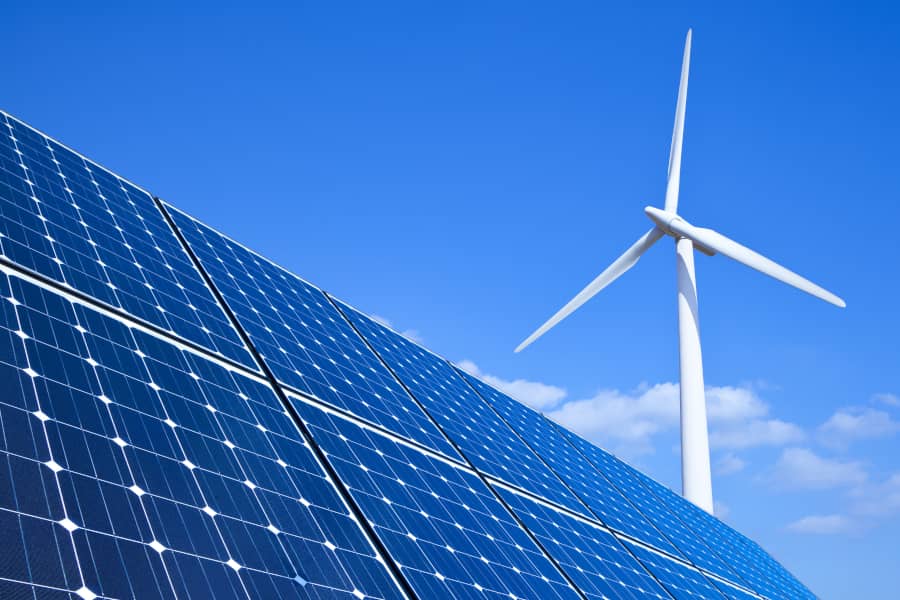 Investors and energy providers from across the world are keeping an eye on developments with Saudi Arabia's renewable energy sector, which is planning to deliver the most ambitious clean energy programme in the Middle East and North Africa
Saudi Arabia's renewable energy programme is the most eagerly anticipated in the Middle East and North Africa with regional and international investors and energy companies eyeing a promised pipeline of 58.7GW of renewable energy projects, the majority of these photovoltaic (PV) solar schemes.
In January 2019, the kingdom announced that it had dramatically upped its planned 9.5GW renewable energy target by 2023 to 58.7GW by 2030.
The significant increase in planned capacity was the latest statement of intent from the world's largest oil producer and region's largest economy that clean energy would play a key part in the country's ambitious economic diversification programme.
Progress, has to date, been slower than anticipated, with Covid-19 leading to delays in awarding projects under the 1.4GW second round of the kingdom's National Renewable Energy Programme (NREP).
Following the shortlisting of bidders for the second round in April, no contracts or power purchase agreements (PPAs) have yet been signed.
"Final investor selection was expected to be announced this past April for Round II while proposals were expected to be received for category A and B under Round III," says Albara'a Alwazir, Economist at the US-Saudi Arabian Business Council.
"However, these were delayed due to Covid-19. While projects may have stalled because of the pandemic, there have been positive developments worth noting."
He said a critical component to the success of the renewables programme is liquidity injections to develop the sector. "One method that is widely becoming more common globally is the issuance of green bonds," he explains.
"In September, the Saudi Electricity Company [SEC] offered the Kingdom's first ever green bond in the amount of $1.3bn and was four times oversubscribed. The introduction of sustainable debt instruments will provide the Kingdom with new streams of liquidity injections to support the growth of the renewable energy sector."
The other key development he mentioned was the launch of the first major green hydrogen project planned in the region, a $5bn green hydrogen-based ammonia production facility that will be powered by renewable energy and based in Neom, the $500bn futuristic city that is a centrepiece of Saudi Arabia's Vision 2030 economic reform programme.
While these recent developments show Riyadh's commitment to its energy diversification programme, Covid-19 has led to the delay of major projects.
In addition to the delay with awarding contracts for the PV solar projects under the NREP's second round, the Yanbu 850MW wind IPP project was also expected to draw request for
pre-qualification (RFQ) in April 2020. However, no announcements have been made regarding the entities that have been selected to the next round. "The pandemic is likely to cause project completion dates for round II to be pushed back by another year, assuming the ongoing containment of the virus," he notes.
"Perhaps more important in the long-term is management of the industry's supply chain – the coronavirus pandemic has disrupted global supply chains as entities grapple with their lack of control of available input supplies."
Alwazir stresses that the renewable energy sector is heavily reliant on the success of global supply chains, especially goods sourced from China. As such, the impact on global supply chains were immediately felt, as China was the first nation to experience disruptions in its economy.
"The cascading effects led to shortages of goods for the majority of economies that heavily rely on China's manufacturing sector," Alwazir says.
 "China [has] accounted for 70 per cent of the global market share in solar manufacturing since 2019. However, a positive development will be the need to ramp up the local manufacturing base within the Kingdom to withstand future global shocks, which, in turn, will see the sector become a significant job provider to deliver on these projects."
According to Frank Wouters, global lead of clean hydrogen at Worley, the most significant breakthrough this year was the announcement of the green ammonia facility. "A combination of solar PV and wind will power that, with the electrolyser capacity amounting to 2,000MW," he explains.
"Several GW of wind and solar will be constructed to power the facility and the deal is significant because it was negotiated mostly during a period of lockdown; the largest electrolyser that has been built recently is 10MW while Neom's electrolyser will be 200 times larger than that; and the investment will be $5bn – a third of which will be from outside the Kingdom."
For Osama al-Othman, Head of Development and Investment (GCC, India & Americas) of Masdar Clean Energy at Masdar, the Saudi renewable programme is one of the pillars of the Saudi Vision 2030. "Last year alone, Repdo tendered 1.5GW of renewables capacity, and this year another 1.2GW," he said. "This is a clear indication that Saudi Arabia is paying close attention to its renewable energy sector and has attracted many potential investors and partners."
Despite the turmoil caused by Covid-19, Al-Othman believes the Kingdom has a strong determination to push forward with its ambitious renewable energy programme.
"The tendering of projects under Round Two of the NREP is moving forward and we, at Masdar, are eager to support the kingdom in the realisation of its plans for both solar and wind energy alongside our partners," he added.
"To that end, construction of the 400MW Dumat Al Jandal wind project began last August and the project is now taking delivery of its first turbines. The start of commercial operations is on track for the first quarter of 2022 and, once fully operational, the wind farm will displace around one million tonnes of carbon dioxide per year."
Although Covid-19 has reduced energy demand globally, which has had a significant impact on the world's largest oil exporter, Wouters said the country had repeatedly reiterated its commitment to replace burning liquids for domestic power production with renewable energy, while doubling its efforts around the Neom project, which "seems to be going ahead at full steam".
"Both the Public Investment Fund (PIF) and Repdo are mandated to support renewable energy projects," he added. "And both use competitive tension to achieve value for money, as per Saudi procurement guidelines."
The Kingdom has embarked on an ambitious plan to grow the renewable energy sector's contribution to the country's electricity mix. And while many initiatives have already begun and projects are under execution, experts say Saudi Arabia faces challenges in meeting its short to medium-term goals.
"To achieve its medium to long-term renewable energy objectives, the Kingdom's prioritisation of the sector within its budgetary planning and continued foreign investment attraction will be vital," Alwazir explained. "According to our estimates, Saudi Arabia's total renewable energy capacity will grow to 5.3GW by 2030, accounting for seven per cent of the Kingdom's total electricity output of 102GW, and solar power is forecasted to account for 77 per cent of all renewables by 2030."
He said localisation and employment will be key beneficiaries of the renewable energy sector's development. "These opportunities provide the Kingdom with long-term economic benefits," he added.
"The renewable energy sector is expected to provide numerous employment opportunities as part of the country's broader Vision 2030 goals. The level of growing investments into the sector, as evidenced in REPDO's round one and upcoming round two and three, will be largely reliant on experienced Saudi nationals to help implement these developments."
Others believe solar SMEs and small private EPCs will continue to struggle, unless there are regulations for good solar incentives for the residential, commercial and industrial sector. "The opportunities they have are currently working as contractors with developers or big EPCs in the NREP or PIF projects," said Khizer Nabi, Senior Electrical Engineer at the Advanced Electronics Support Services Company (Aessco).
"As for the RE programme, it will continue to progress steadily as the price of solar PV will continue to decrease. Given huge solar GHI in Saudi Arabia, it will remain an ideal location for solar PV for the coming years and decades."
With time and the right policies, he expects it will have a great economic impact on local industries as well.
The PIF renewables programme is expected to account for 70 per cent of the 58.7GW renewables target, with the Repdo programme contributing the remaining 30 per cent.
"Firstly, it spurs the creation of direct and indirect quality jobs," said Mustapha Boussaid, Managing Partner at ARKAD Group Limited in Dubai. "Secondly, it creates a much-needed demand for contractor companies during the construction phase. Moreover, these projects will likely be under the PPP schemes attracting private capital deployment, not to mention, energy price."
And although ambitious target-setting is starting to bear fruit in Saudi Arabia, transparency and visibility remain a concern for Antoine Vagneur-Jones, Associate of EMEA Energy Transition at BloombergNEF.
He says investors have little information on what capacity will be auctioned past round three, which could lead to potential entrants holding off. "Time and again, transparent, competitive auction frameworks have shown their potential to accelerate renewables investment," he says.
"One could caveat that deals with PIF are to award tariffs based on recent auction bids, keeping procurement costs competitive. But relying on opaque, bilateral deals comes at the expense of the clear investment signals, which are vital to helping a nascent renewables market achieve scale."
He spoke of only one project that has been contracted with PIF to date – the 1GW Sudair PV project awarded in November 2019. "Future projects are likely to be based on captive offtake from large-scale manufacturing, and are to be fast-tracked compared to the Repdo auctions," he concluded. "Announced in 2018, plans to develop 200GW of solar with SoftBank through 2030 appear to have stalled".
Written by Caline Malek
Energy & Utilities - Middle East and Africa Market, Outlook Report 2023.
This must-have report for industry players offers a thorough understanding of the latest developments, challenges, and opportunities in the region, supported by data, analysis, and expert insights.