Infinity Power enters pact to send renewable power to Europe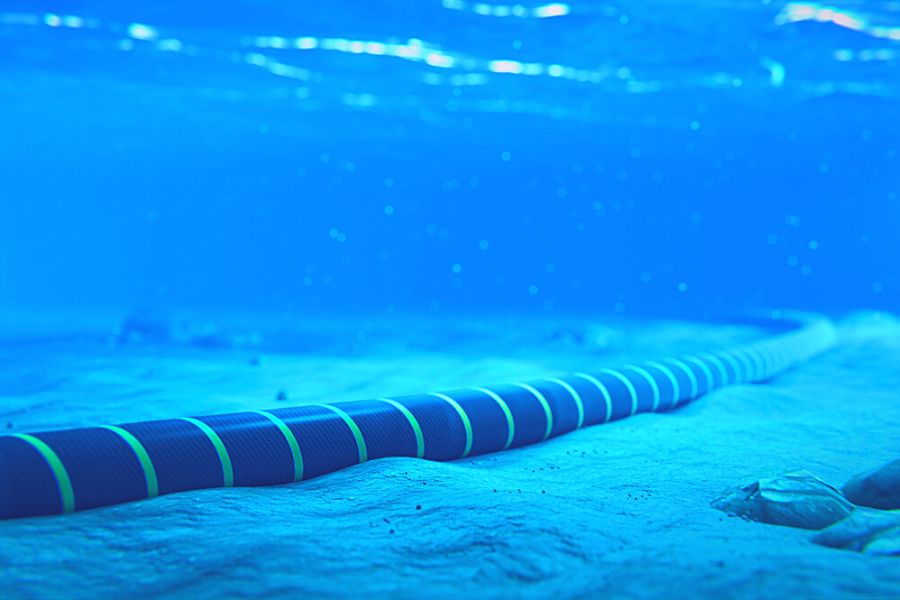 Agreement with Copelouzos Group to jointly develop renewable energy projects for Egypt-Greece green energy interconnector, will require 9.5 GW capacity; expert says project to transfer energy from West Damietta, Egypt to Cyprus then to Crete
Abu Dhabi-based Masdar announced last week that Infinity Power, a joint venture between Masdar and Egypt's Infinity, has entered into a partnership with Greece-based Copelouzos Group to discuss joint production of renewable energy that will reach Europe through an electrical interconnection project between Egypt and Greece.
The GREGY – Green Energy Interconnector project involves the electrical interconnection of Egypt directly with mainland Greece through a submarine cable of 3 GW capacity and the possibility of bidirectional energy transmission.
The GREGY project will carry 100% green energy from Egypt to Greece, and through Greece to Europe. The companies have signed a Memorandum of Understanding in order to access, on a non-exclusive basis, the possibility of jointly developing renewable energy projects that will provide GREGY with a source of green energy.
Renewable energy projects with a capacity of around 9.5 GW will be required to maximize the utilization of GREGY, according to a Masdar statement.
The MoU provides for the establishment of a Steering Committee, consisting of three members, to coordinate discussions, exchange information and conduct negotiations. Through their cooperation, the parties will seek to make use of their expertise, experience and technical, commercial and financial know-how, for the swift development, implementation and successful operation of the renewable energy projects, according to the Masdar statement.
Infinity Power was established in 2020 to develop utility-scale and distributed solar energy and wind power projects in Africa. The company's total capacity of operational projects is 1.3 GW.
Infinity Power currently operates a wind project with a total capacity of 200 MW in Ras Ghareb. It also operates the Phoenix 50, Infinity 50, MMID 30, and Infinity 3 projects with a total capacity of 184 MW at the Benban Solar Park at Aswan.
"We are very excited to work together through this partnership and anticipate strong potential for mutual benefit and cooperation through the joint development of renewable energy projects in Egypt and the transfer through the Egypt-Greece subsea transmission project (GREGY) of the produced green energy to Europe," said Mohamed Ismail Mansour, Chairman – Infinity Power.
"This partnership opens up greater avenues of aspirational goals and milestones for us…We are not only contributing towards the realization of COP27's aspirations, but we are also spearheading the movement towards COP28 by establishing ourselves as a significant green energy supplier, beyond Africa," said Nayer Fouad, CEO of Infinity Power.
"We are happy to enter into a MoU with Infinity Power for assessing the opportunity of cooperation in developing one of the largest green energy projects in Eastern Mediterranean for producing green energy to be transferred via GREGY to Greece and through Greece to Europe...," said Christos Copelouzos. Chairman and CEO of Copelouzos Group.
Connecting Egypt to Europe
"The MoU between Infinity and Copelouzos Group aims to exchange experiences in order to accelerate the generation of renewable energy necessary for the operation of the cable between Greece and Egypt," says Dr. Sameh Noman, professor of engineering and renewable energy expert.
Noman explained that the MoU enhances cooperation between Egypt and Greece in the field of electrical interconnection and confirms Egypt's role as a regional energy center in the eastern Mediterranean.
"The project helps connect Egypt to the European electrical network, and allows the export of energy to other countries," he says.
"The GREGY project will be carried out in two phases to transfer renewable energy from West Damietta, Egypt to Cyprus and then to Crete, to solve the energy crisis in Eastern Europe as a result of the Russian-Ukrainian war and the gas crisis in Europe."
Energy & Utilities reported last month that Infinity Power acquired all shares of Lekela Power in a deal that makes Infinity Power one of the largest renewable energy companies in Africa. E&U reported last year that Infinity Power was part of an Egypt-UAE agreement for 10 GW onshore wind project in 'Green Corridor'.
Energy & Utilities - Middle East and Africa Market, Outlook Report 2023.
This must-have report for industry players offers a thorough understanding of the latest developments, challenges, and opportunities in the region, supported by data, analysis, and expert insights.