Expo City Dubai to build on legacy for sustainable city district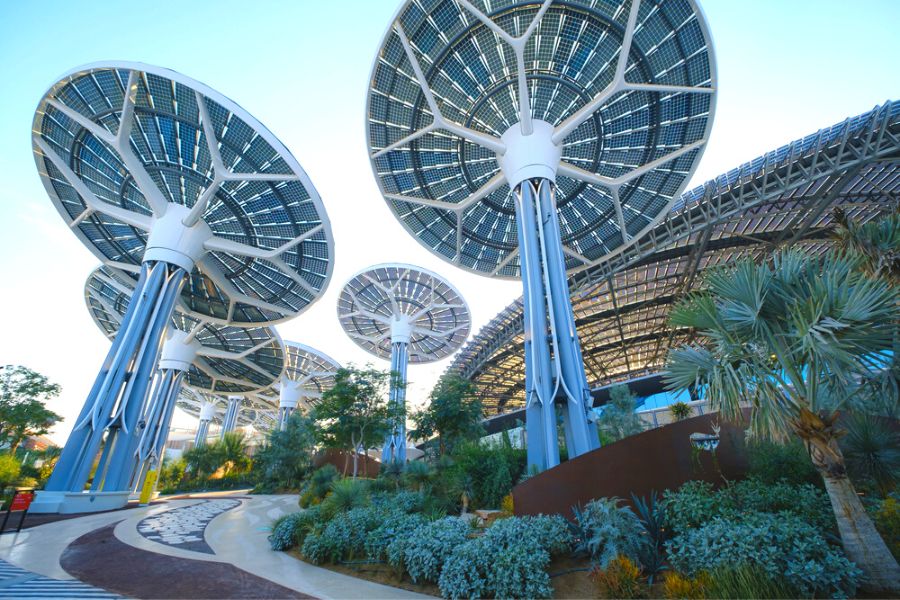 Expo 2020 site to become technology-driven smart city in free zone, with Siemens as anchor tenant of what is planned to become a startup hub, deploying advanced IoT, attaining high energy and water self-sufficiency with on-site solar
Dubai Expo 2020, the first World Expo to occur in MEA, is now becoming an innovative new city district, one that stands among the leading efforts to showcase sustainable cities and smart infrastructure in the region.
The Expo event, which ran for six months through last March, gained notoriety for its ambition to become the most sustainable expo ever. From its start 10 years ago, it was planned to be the nucleus of a new permanent district designed to set a new course for the sprawling desert metropolis.
Ambitious goals for energy use, water and waste recycling were set. Protocols for monitoring, reporting and adjusting in light of emerging data were put in place. Design and construction took seven years.
The Expo 2020 site is being transformed into a technology-driven smart city, Dubai Expo City. It seeks to be a hub for high tech business in a dense city district devoted to high environmental goals.
The city currently extends across 1,083 acres (4.38 sq. km) of reclaimed desert making it small in area. But its technological innovations could create a mighty impact in Dubai and throughout MEA.
Expo 2020/Dubai Expo City is scheduled to reopen to the public this week. The Expo City Dubai Authority (ECDA) will lead its ongoing development with 'free zone' designation.
Energy & Utilities looked at the ongoing project. What follows is a brief review of its legacy and smart city elements.
Building on a great legacy of energy and water infrastructure
Expo 2020 built a strong base upon which to build a new sustainable city. Some 80 percent of its structures remain in place for the new Expo City.
Most of the permanent buildings earned Gold status from the US Green Building Council's Leadership in Energy and Environmental Design (LEED). Seven signature pavilions received the highest LEED certification of Platinum. Similarly, the international Civil Engineering Environmental Quality Assessment and Award Scheme (CEEQUAL) conferred an Excellent certification on the Expo site as a whole.
One of the highlights of Expo was the magnificent Terra Pavilion, which supports over 1,055 solar panels across a 135-meter-wide canopy. The main canopy's solar panels, coupled with eighteen smaller, revolving 'Energy Trees' that encircle it, produce approximately four gigawatt hours of electricity each year.[i]
Terra was designed to be self-sufficient in energy and water, with innovative systems for harvesting and recycling water. Subsequent measurements show it has been successful.
Equally, all permanent buildings built for the Expo were equipped with renewable energy systems.[ii] Their PV rooftop panels have a combined capacity of 5.5 megawatts.
This on-site solar was intended to meet 25 percent of the buildings' total energy requirement, while a combination of onsite and offsite renewable energy would meet 50 percent of their total energy requirement. To meet the 50 percent objective, however, would have required covering the entire 30,000-car parking lot that surrounds the Expo site with solar panels.
Expo's planners declined to do this, as they knew the big parking lots would be built over with high density housing for the future Expo City. As it turns out, the rooftop solar panels produce up to 30 percent of the Expo-built buildings' energy requirements.
For water conservation, they ensured that every building on the site used less than half the standard maximum allowed in Dubai.[iii]
Transport infrastructure
The overall goal of Expo City is to facilitate car-free living. It is developing new public transport routes, autonomous vehicle networks, bicycle lanes, and pedestrian paths. The dominant way this is being facilitated is via an extension of Dubai Metro's Red Line. The extended route, called Route 2020, was opened last fall to serve the event. The transit and bike/ped modes are complemented with three major arterial roads with flyovers specifically built for the site.
Startup hub
The German technology firm Siemens has announced that it will transfer hundreds of employees to Expo City. And some 85 start-up businesses are going to establish themselves there by the end of this year. The start-ups will serve as the backbone for Scale2Dubai, Expo City Dubai's international entrepreneurship program.[iv] Also, new cohorts of startups are going to be allocated space in Expo City each year as part of the program.
Although the city will predominantly be a place for business, innovation, and culture, some residential properties will be available. Commencing in 2023, roughly 800 residential properties solely for renting will be made available.[v] This is in addition to approximately 2,300 apartments in the nearby Expo Village.
Smart city tech
Dubai Expo City will be the largest city district in the world to have a full coverage 5G-enabled network.[vi] This will facilitate rapid communication in all aspects of the city's functions.
A whole host of digitally sophisticated technologies will also be utilized, all to create an efficient and optimal working environment in Expo City. The technologies being leveraged will include Big Data Analytics, the IoT, Blockchain, 5G, smart city financing models, and cybersecurity. Among these technologies, artificial intelligence and NLP (natural language processing) will play a key role in enhancing services including transportation, energy, and utilities.[vii]
The German technology giant Siemens is playing a central role, deploying advanced Internet-of-Things (IoT) technology. The basis for this is MindSphere, an open, cloud-based IoT operating system that serves as the foundation of the digital infrastructure. MindSphere collects data gathered from thousands of sensors, systems, gateways, and building management software. This data is then analyzed and visualized by programs including Navigator, Siemens' cloud-based energy and asset management platform.[viii]
Siemens MindSphere smart metering system utilizes a diverse range of data points, implemented across all buildings in Expo City. These include over 3,500 doors connected to Sipass Integrated and 15,000 cameras connected to Surveillance VMS. They also include over 200,000 data points connected to Desigo CC. This data is then integrated into operational centers where MindSphere will make intelligent decisions.[ix] Overall, this sophisticated system helps to monitor and optimize the consumption of energy, power efficiency, light, water, and climate conditioning systems.
Summary
Dubai Expo City may well become a paradigm in the region, showing how technology may be integrated within cities for optimal, sustainable, and efficient ways of operating. The deployment of sophisticated IoT technologies, combined with the sustainable production of electricity, would seem to lay a basis for what the future has in store. The new city district can set standards for not only how cities utilize technology, but also how they can leverage sustainable energy sources to promote environmentally conscious urban development.
[i] World Economic Forum, "Introducing Terra: The 135m pavilion that generates all its own water and energy", October 12 2021, https://www.weforum.org/agenda/2021/10/dubai-expo-sustainability-pavilion-giant-energy-tree-solar-sustainable-design/
[ii] Expo 2020 Dubai, "Sustainability at Expo", April 12 2021, https://www.expo2020dubai.com/en/understanding-expo/expo-initiatives/sustainability-at-expo
[iii] AramcoWorld, Sustainability's Dubai Beta Lab, May/June 2022, https://www.aramcoworld.com/Articles/May-2022/Sustainability-s-Dubai-Beta-Lab
[iv] Khaleej Times, April 13 2022, https://www.khaleejtimes.com/business/district-2020-to-host-85-start-ups-as-part-of-its-scale2dubai-initiative
[v] Propsearch, "Expo City Dubai", September 01, 2022, https://propsearch.ae/dubai/expo-city-dubai
[vi] Expo City Dubai, "Welcome to Expo City Dubai", June 23 2022, https://www.expocitydubai.com/en
[vii] CIO, "How AI, IoT, and analytics make Expo 2020 Dubai the city of the future", September 29 2021, https://www.cio.com/article/189342/expo-2020-dubai-the-city-of-the-future.html
[viii] Siemens, "Expo 2020 Dubai: Is this what the city of the future looks like?", August 10 2021, https://new.siemens.com/global/en/company/stories/infrastructure/2019/expo-2020-dubai-blueprint-for-smart-cities.html
[ix] Electrical, Construction and Maintenance Magazine, "Expo 2020 Dubai: A Sustainable Site", November 18 2021, https://assets.ctfassets.net/pnliwdxhy0tx/59mRoYXBpTWBL7nCpxKWZ3/0c83b1e7bbfc1a2e794ad9c659cd9598/12140666216_Siemens-Expo-2020-Sustainability-Whitepaper.pdf
Energy & Utilities - Middle East and Africa Market, Outlook Report 2023.
This must-have report for industry players offers a thorough understanding of the latest developments, challenges, and opportunities in the region, supported by data, analysis, and expert insights.