Egyptian green hydrogen breakthrough announced at COP 27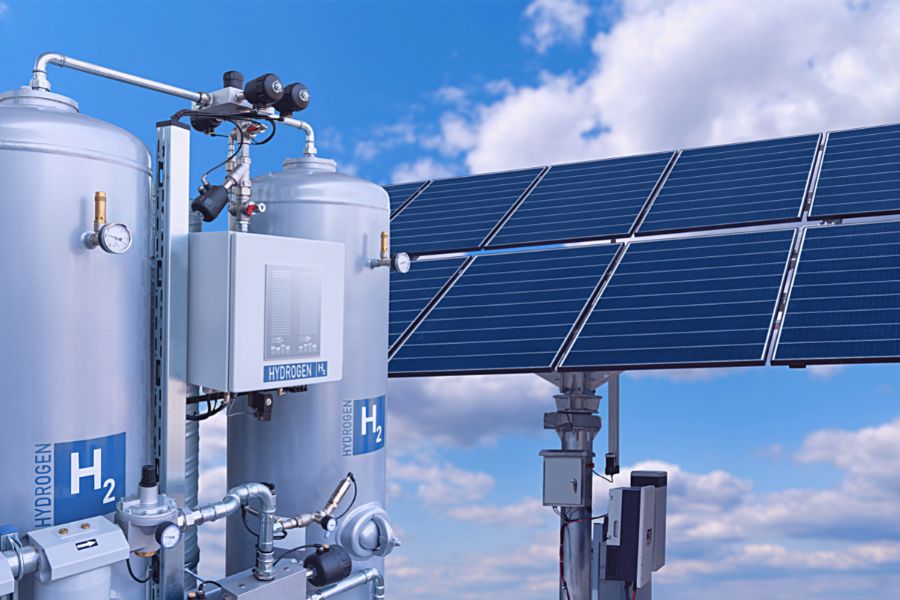 Egypt Green consortium including Norway's Scatec announces start on green H2 plant with 100 MW electrolyser capacity; first in Africa will feed ammonia directly to Fertiglobe plants
Norwegian renewable energy company Scatec announced the start of commissioning of a green hydrogen plant in Ain Sokhna, Egypt. Scatec and its partners are currently testing the first and largest PEM electrolyser in Africa for the first phase of the project, according to the company's  statement.
The announcement, made last week during an event at the COP 27 climate change conference in Sharm El Sheikh, marks an important milestone in the development of a green hydrogen industry in Egypt.
Egypt Green, a joint venture of Scatec, Fertiglobe (an OCI-ADNOC joint venture), Orascom Construction, and The Sovereign Fund of Egypt, is finalizing engineering and technology choices for the full-scale plant. The partners aim to reach Final Investment Decision (FID) on the facility in 2023.
The facility is to be the first integrated green hydrogen plant in Africa. When fully developed it will consist of 100 MW electrolyser capacity, powered by 260 MW of solar and wind power. It will deliver up to approximately 15,000 tons of green hydrogen as feedstock for production of up to 90,000 tons of green ammonia (NH3) per year in Fertiglobe's existing ammonia plants.
The hydrogen tie-ins for up to 100 MW of electrolysis have already been installed at Fertiglobe's two existing ammonia plants in Ain Sokhna. The project is being built by Orascom Construction using Egyptian engineers and state of the art technology.
Fertiglobe's co-owners praised the project as a first for Egypt and Africa, with important potential links to export markets in Europe.
"As the world meets in Sharm el Sheikh for COP 27, this project (is) the first integrated green hydrogen plant in Africa, delivered in record time," said His Excellency Dr. Sultan Al Jaber, ADNOC Managing Director, UAE Minister of Industry and Advanced Technology, and Special Envoy for Climate Change.
"Adding the electrolyser to our state-of-the-art ammonia facilities and infrastructure in Egypt, we are fully leveraging our existing ammonia production and global distribution infrastructure, including OCI's Port of Rotterdam ammonia import terminal," said Ahmed El-Hoshy, CEO of OCI NV and Fertiglobe.
"We are setting a precedent with our foreign and local partners from the private sector by establishing the first integrated green hydrogen plant in Africa and Emerging Markets that caters to the growing demand for clean energy," said Ayman Soliman, CEO of The Sovereign Fund of Egypt.
Energy & Utilities reported this month that 16 MoUs are now signed for green hydrogen fuels projects in the Suez Canal Economic Zone (SCZone). Speakers at the Egypt Energy conference in Cairo said that the development of green hydrogen will be key in the country's effort to have 42% of its power from renewable sources by 2035.
Egypt Green is now taking the lead among these. E&U reported in August that SCZone entered MoUs with 7 companies and consortiums committing $31bn to build green hydrogen and ammonia facilities, with the development focused in the Ain Sokhna economic zone within the SCZone's 460-kilometre area.
E&U reported last fall that Scatec and Fertiglobe had entered into an agreement with the Sovereign Fund of Egypt (SFE) to develop a 50-100MW electrolyser facility to produce green hydrogen for green ammonia production. The facility would be located near Fertiglobe's subsidiary EBIC in Ain Sokhna in Egypt. Under the agreement, Scatec will build, operate and hold majority ownership of the facility, with Fertiglobe's EBIC to use the green hydrogen as a feedstock for the production of up to 90,000 metric tonnes of green ammonia per annum under a long term off-take agreement. FID was expected in 2022, with commercial operations targeted for 2024.
E&U further reported this spring that Egypt signed a $5bn MoU with Scatec to develop a green hydrogen and green ammonia plant to be located in the Ain Sokhna Industrial Zone in the SCZone, powered by renewable energy plants to be built in close proximity on an area of land allocated by Egypt's New and Renewable Energy Authority (NREA). The plant will be designed to expand its capacity to up to 3 million tonnes ammonia per annum.
Energy & Utilities - Middle East and Africa Market, Outlook Report 2023.
This must-have report for industry players offers a thorough understanding of the latest developments, challenges, and opportunities in the region, supported by data, analysis, and expert insights.