Earthing Equipment & Accessories
Earthing Equipment & Accessories (17)
Product
Copperbond Earth Rods
Wallis copperbond earth rods offer installers the most economical method of achieving a low earth resistance.

Each rod has a high tensile strength, low carbon steel core. 99.95% pure copper is applied electrolytically and forms a metallurgical bond between the steel core and the copper. This combin...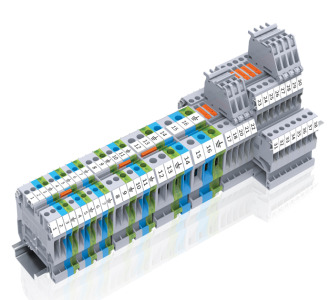 Product
CY SERIES SCREW CLAMP TERMINAL BLOCKS
These next generation Terminal Blocks use theproven & robust Connectwell screw clamp systemfor the most stringent application requirements. TheCY series terminals offer various advantages to theuser which includes pluggable jumpers , unified andminimal accessory requirements and ability to affixmarking ta...
Product
Earthing Accessories
Speedwell was eastablished in 1982 and is now one of the leading manufactuer of Earthing & Lightning Protection System and electrical Accessories, Since its inception company has continued to expand its product range, technology and its presence by innovation and dedication.

EARTHING & LIGHTNING PR...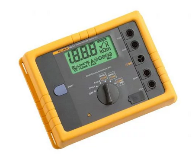 Product
Fluke 1623-2 GEO Earth Ground Resistance Meter
Key features

A unique earth ground tester that performs fast, accurate testing with and without stakes
Tests 3- and 4-pole fall-of-potential, and 4-pole soil resistivity (with stakes)
Performs selective earth ground rod testing (one clamp + stakes)
Performs stakeless earth ground...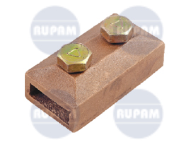 Product
Earthing Accessories / Oblong Test Clamp ( Phosphorous Bronze )
Oblong Test Clamp ( Phosphorous Bronze )


SIZE:
28MM X 10MM
Product
ELRA2M
Analog Earth Leakage Relay [ELRA2M]
Measuring Parameter Monitors True RMS Earth Leakage Current (upto 30A )
Electrical Connection 1Ø-2W, 3Ø-4W, 3Ø-3W
Trip Setting 30mA - 30A
Time Ranges Trip Time Delay: 0 to 9 sec (NA when In=0.03A)
Accuracy Trip: ± 5% of Set Trip Current, Time: ± 5% ...
Product
GDDTORS Short-circuiting equipment
Short-circuiting equipment
Standard(s) :
IEC 61230
Specifications :

Max. Isc : 4 kA/1 second.

• The device consists of female bayonet sockets for connection to male pins, Ø 11.1 mm (ref. NFC33020 - HT33S69).

• The sockets are linked to each other by insulated co...
Product
ONE III 72,5 kV, ONE III 123 kV - outdoor disconnectors


Outdoor disconnectors ONE III are designed for use in high-voltage outdoor switchgears. They open and close electrical circuits in the absence of current flow or when a small amount of current flows, and there is no voltage change between the poles. The disconnector in open provides visible isolat...
Product
R1D415 EARTH LEAKAGE RELAY
EARTH LEAKAGE RELAY WITH 1 OPERATION THRESHOLD, FLUSH MOUNT. EXTERNAL CT, 110VAC/DC-240VAC-415VAC
Product
TM25r
The transmission towers are electrically grounded by ground wires and due to the existence of this connection, any attempt to measure a tower ground resistance by any conventional earth tester leads to wrong results. To make this kind of test feasible, TM- 25R is the appropriate tool for a fast, safe and reli...
Product
Lighting Protection
CBM TECHNOLOGY - GALMAR is Polish company, manufacturer of Earthing and Lightning Protection Accessories that meets standard like IEC/EN 62305-3, IEC/EN 62651-2, HD 60634-5-54, EN 50522.

MAIN PRODUCTS

Copper Bond
ed Rods/conductors
Lightning Protection Accessories
E...
Product
Stainless Steel Anchor Pin
For securing anti-vandal tape guards and copper earth tape.
Product
US 72,5 - 123 kV - outdoor earthing switches


Earthing switches are used to earth the disconnected sections of substations. The earthing switches are devices to be installed outdoors. They can be supplied as a single-column stand-alone devices used for grounding or as the earthing switches mounted on the base of the ONE type disconnectors. Un...
Product
UWS-EL, UWA-EL - 3-pole indoor earthing switches


Presented earthing switches are designed for indoor use, at voltages from 12 up to 24 kV and short – circuit current from 16 up to 31,5 kA. Earthing switch UW-EL has the ability to switch in cases of short - circuit, protecting the operator of the systems and also equipment, in the event of carele...