Dubai's clean energy capacity to reach 14 per cent in 2022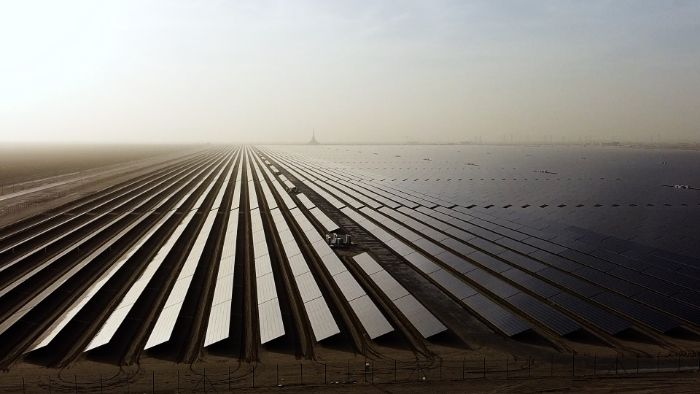 Dubai Electricity and Water Authority (Dewa) announced that its total energy production capacity is now 14.12GW, while the clean energy share in its energy mix has reached 11.5 per cent and is expected to reach 14 per cent by the end of 2022
Dubai Electricity and Water Authority (Dewa) announced that its total energy production capacity is now 14.12GW, while the clean energy share in its energy mix has reached 11.5 per cent and is expected to reach 14 per cent by the end of 2022.
The metrics, released on 3 June, give a broad picture of the emirate's current power supply arrangement and its progress toward the goals of its clean energy strategy. Dubai aims to generate 25 per cent of its energy requirements from renewable sources by 2030 and 100 per cent by 2050, according to its Clean Energy Strategy 2050.
Recent additions to Dubai's power production come from diverse sources, including 600MW from the new Hassyan Power Complex. An additional 100MW came from PV, from the 5th phase of the Mohammed bin Rashid Al Maktoum (MBR) Solar Park, according to Dewa.
"We will continue to implement pioneering projects to diversify Dubai's clean and renewable energy sources to include all available technologies in Dubai," said HE Saeed Mohammed Al Tayer, managing director and CEO, DEWA.
The Hassyan Power Complex will expand to 2.4GW by the third quarter of 2023, as reported by Energy & Utilities in February. It is a dual-fuel plant with the ability to operate on clean coal, although it now relies entirely on natural gas. It complements the nearby Jebel Ali Power Plant and Water Desalination Complex,
Dubai has made steady progress in expanding its power share from renewables, which as recently as 2018 accounted for about 4 percent of its power generation. Its gains have come in large part from ongoing additions at MBR Solar Park, where PV now provides 1.6GW capacity. Dewa is now adding PV/CSP that will add 1.2GW capacity to the solar park. The solar park is planned to reach 5GW capacity upon build out in 2030.
It was the solar park's 800MW photovoltaic third phase that, in 2016, achieved the lowest Levelized Cost of Electricity (LCOE) at that time, with auctioning helping it to break a threshold at 2.99 cents per kilowatt hour (kW/h).
It's 950MW fourth phase combines PV and a CSP complex including a parabolic basin facility and a 262-metre tall solar tower. The CSP component adds important storage capacity using molten salt thermal energy storage fluid, allowing it to achieve storage capacity of 15 hours of dispatchable solar energy day and night.
The 900MW fifth phase, an investment of $500m now in development, uses the latest solar photovoltaic bifacial technologies that allow solar radiation to reach the front and back of the panels, with single-axis tracking to increase generation.
Energy & Utilities - Middle East and Africa Market, Outlook Report 2023.
This must-have report for industry players offers a thorough understanding of the latest developments, challenges, and opportunities in the region, supported by data, analysis, and expert insights.