Dubai delivers 17 new substations last year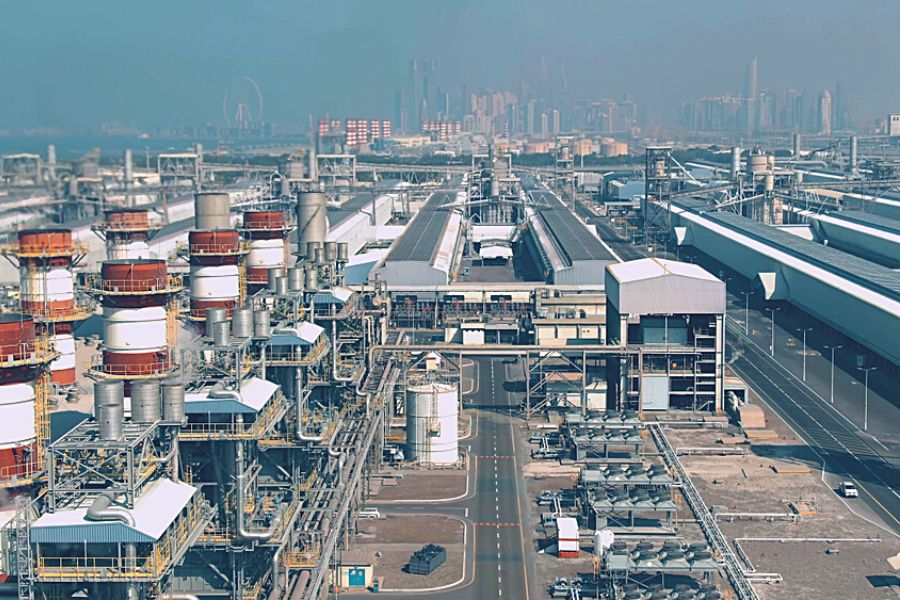 DEWA inaugurated 132kV and 400kV substations in '22, now has 334 total 132kV transmission substations with 29 under construction, supporting Dubai 2040 Urban Master Plan; DEWA also announces efficiency improvements of power and water desal processes
Dubai Electricity and Water Authority (DEWA) inaugurated 17 new substations in 2022. These include fifteen 132kV stations with a conversion capacity of 2,280 megavolt amperes and two 400kV stations with a conversion capacity of 4,000 megavolt amperes, in Al Qusais Industrial Area 5 and Jebel Ali First. DEWA installed five kilometres of 400kV overhead transmission lines and 247 kilometres of 132 kV ground cables to connect the substations to the main transmission network.
The new 132kV main transmission stations supply Al Barsha South, Jebel Ali, Al Furjan, Al Merkadh, Business Bay, Umm Hurair, Wadi Al Safa, Oud Al Muteena, Al Rigga, Al Wasl, Me'aisem, Umm Al Ramool, Al Aweer, and Ghadeer Barashy. The total cost of these stations and projects is approximately AED 3.2 bn.
"DEWA's investments in electricity transmission projects between 2021 and 2024 are AED 10 bn…this includes AED 2 bn for 400 kV transmission projects and AED 8 bn for 132 kV projects," said HE Saeed Mohammed Al Tayer, MD & CEO of DEWA.
Al Tayer explained that the total value of DEWA's investments in existing and completed electricity transmission projects in 2022 reached AED 8.1 billion. This included AED 800 million for 400 kV transmission projects and AED 7.3 billion for 132 kV transmission projects.
He noted the work supports the Dubai 2040 Urban Master Plan.
Hussain Lootah, Executive Vice President of Transmission (Power) at DEWA, said that completing the 17 stations required more than 33 million working hours. He noted that by the end of 2022, the total of 132 kV transmission substations in Dubai had reached 334, in addition to 29 stations under construction.
In related news, DEWA announced recent progress in ongoing work to improve the efficiency of its power generation and water desalination processes, including upgrade of three gas turbines at the E station Phase 1 of its Jebel Ali Power Plant and Water Desalination Complex.
The utility has reduced the maintenance outages for major inspection operations from 11 days to 9 days, which is a reduction in the maintenance duration of 18%, compared to the previous world record achieved and an 84% decrease compared to 2006, according to a company statement.
This has helped DEWA achieve 99.51% and 99.83% availability in the summer for the E-Class and the F-Class fleet of Gas Turbines (GT), respectively. DEWA sustained its global record in the maintenance of desalination units from 21 days to 10 days. These records resulted in an availability increase of F-Class GT, which is equivalent to AED 3.55 million average cost saving per GT per major inspection.
These gains support the Dubai Clean Energy Strategy 2050 and the Dubai Net Zero Carbon Emissions Strategy 2050, according to the company's statement.
Energy & Utilities reported last fall that DEWA advanced toward a first phase of its 120 Million Gallons Per Day (MIGD) Hassyan Sea Water Reverse Osmosis Plant (SWRO), which is the first water project implemented by Dewa using the IWP model.
Energy & Utilities - Middle East and Africa Market, Outlook Report 2023.
This must-have report for industry players offers a thorough understanding of the latest developments, challenges, and opportunities in the region, supported by data, analysis, and expert insights.