Discovering Wind Energy in the Middle East and North Africa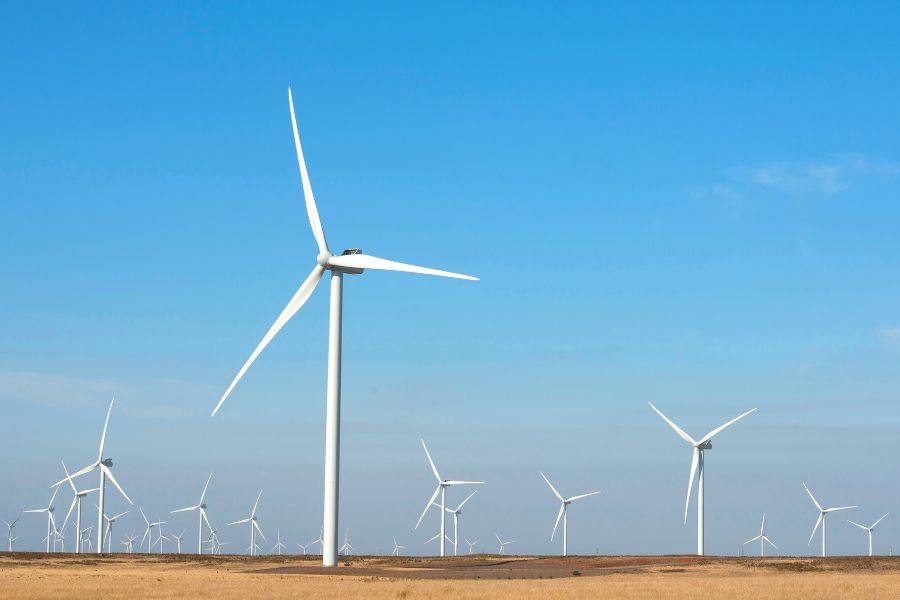 Experts see a key role for wind power in MENA, see further expansion in Morocco and Egypt, with growing pipeline of projects in Oman, KSA, elsewhere, with significant potential for wind power applied to green hydrogen/ammonia production
Last month's exclusive webinar on wind power opened a critical discussion of this potentially substantial resource in the Middle East and North Africa (MENA). Presented by Shanghai-based Envision Energy, powered by Informa Energy & Utilities, the conversation convened on August 4.
Led by moderator Brendan Cronin, Director, AFRY Management Consulting, four expert panellists saw a key role for wind power in the region's transition to carbon-free energy. Their discussion opened insights on challenges facing wind energy in the region and progress made so far, with a few key points to consider.
George Wang, CTO and VP, Envision Energy, opened with insights into Envision Group's three business units, including Envision Energy's wind turbines with 40 GW in operation worldwide, Envision AESC battery technology, and Envision Digital. Together these offer a basic business logic encompassing wind turbines, storage systems, and the digital platforms required to coordinate loads.
"Envision has a very clear business strategy through these three business units, one that is unique compared to a more traditional OEM," said Wang.
"We can benefit from vertical integration, providing comprehensive solutions with the critical elements, wind turbines, energy storage systems, and the platform to coordinate the loads from renewables with storage system and grid."
Brendan Cronin offered a positive picture for wind in the region, already with approximately 4 GW in operation in Morocco and Egypt. A strong pipeline of projects is now in place, with excellent potential in Morocco, Egypt, Saudi Arabia, Oman and elsewhere. 
He highlighted Saudi Arabia where the 400 MW Dumat al Jandal project is nearing completion. That project's tariff, under $0.02/kWh, shows the strong potential of wind power in the region. With the Yanbu wind tender anticipated at over 800 MW, and tenders expected for three projects in Oman, there will be a significant number of wind IPPs under tender in the GCC next year.
Cronin also pointed out the great potential for wind in combination with solar power to produce high load factors for green hydrogen projects in Saudi Arabia and Oman. Wind can offer a favourable profile compared to solar, in terms of curtailment, with significant wind speeds at night. He sees an optimum mix in wind combined with solar power at sites across the region
"We're at the start, the costs have been low," he said, while highlighting challenges including longer prep times for wind power development (compared to solar) and an ongoing need for power grid development to transport electricity.
Abhishek Shukla, Managing Director, Synergy Consulting, Inc. said that he sees a supply chain for wind projects developing, which will lead to wind tariffs coming into line with the lower solar tariffs of recent years. Like Cronin, he also saw wind as potentially complementary with solar in combined solutions and advised that policy makers should look at whole system costs.
Mohamed Atif, Area Manager for MEA, DNV, also emphasized the importance of looking at wind power from a system perspective in order to understand value versus cost. He said that system stability and optimization are key factors driving more interest in wind in MENA, and he saw significant potential for wind power applied to green hydrogen/ammonia production.
Atif added more insight into a challenge facing wind power, insofar as it is a more complex resource to model than solar, making it a challenge for the bankability of projects. Yet he affirmed that research is ongoing with an increasingly sophisticated combination of measuring techniques.
The four experts homed in on critical issues for wind power in MENA, concurring that it is quite viable in many parts of the region, that its potential is heightened through its capacity to combine with and balance solar power, and that it will likely play a large role in the region's embrace of green hydrogen production.
Their full hour-long discussion is available to watch on Informa Energy & Utilities webinars.
Energy & Utilities - Middle East and Africa Market, Outlook Report 2023.
This must-have report for industry players offers a thorough understanding of the latest developments, challenges, and opportunities in the region, supported by data, analysis, and expert insights.