DEWA announces progress toward 5 GW goal at MBR Solar Park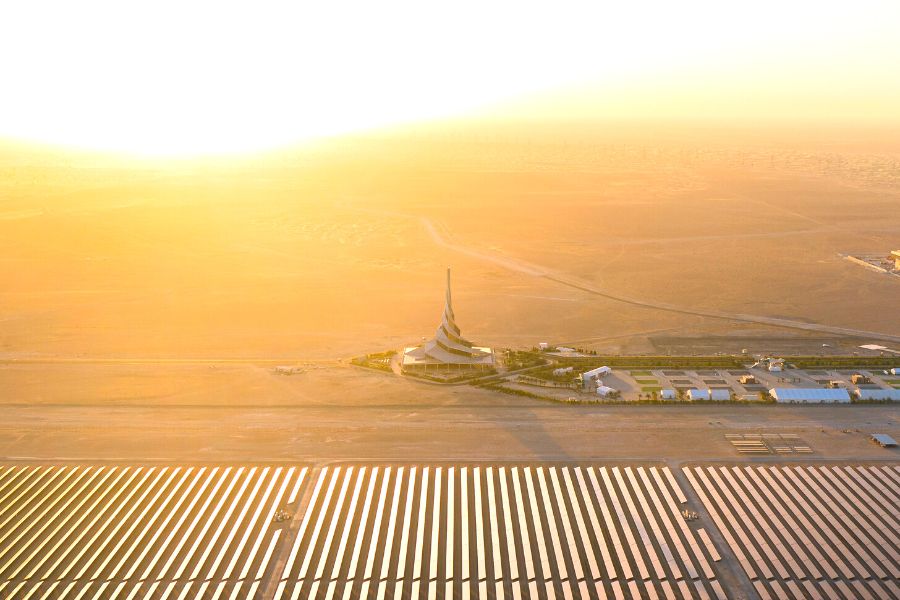 Dubai now has 2.86 GW generation capacity complete or under development at massive MBR Solar Park, 950 MW 4th phase with 3 hybrid components is 90% complete, project on track to achieve 5 GW in 2030
The Dubai Electricity and Water Authority (Dewa) has announced that 2.86 GW of generation capacity is complete or under development at its massive Mohammed bin Rashid Al Maktoum Solar Park (MBR Solar Park).
The current capacity at MBR Solar Park is 1,627 MW of photovoltaic power. Dewa is implementing more projects with a total capacity of 1,233 MW of solar PV and CSP, using the Independent Power Producer (IPP) model.
Following a site visit by DEWA CEO Saeed Mohammed Al Tayer this week, Dewa published a statement reporting steady progress on the fourth and fifth phases.
The overall construction of the 950 MW 4th phase is 90% complete. It will deploy three hybrid technologies: 600 MW from a parabolic basin complex (three units of 200 MW each), 100 MW from the world's tallest solar power tower (262.44 metres, to be coupled with molten salt storage), and 250 MW from photovoltaic solar panels. Upon  completion, the project will have 15 hours of thermal storage capacity, the largest such capacity in the world according to Dewa.  
The AED15.78bn fourth phase is being developed by project company Noor Energy 1, controlled by Dewa (51%), ACWA Power (25%), and the Chinese Silk Road Fund (24%).
Meanwhile, MBR Solar Park's 900MW fifth phase will be operational next year, according to Dewa. Its 330 MW first project, featuring bifacial solar panels mounted on single-axis trackers and fully automated robot cleaning, is already operational. Its second project is 93.3% complete and its third project is 26.03% complete.
The AED2.06bn fifth phase is being develop by the Shuaa Energy 3 special purpose vehicle, established by DEWA (60%) and a consortium led by ACWA Power company and the Gulf Investment Corporation.
In 2019 Dewa achieved a world record for the lowest bid of $0.016953 per kilowatt hour (Levelised Cost of Energy) for Phase 5. 
MBR Solar Park has gained notoriety for breaking records for a single site IPP model with auctions driving down costs. It began with a 13 MW first phase completed in 2013, followed by a 200 MW photovoltaic second phase completed in 2017.
It was Phase 3, completed in 2020 bringing 800 MW photovoltaic into service, that achieved the lowest LCOE as a result of auctioning, breaking a threshold at $0.0299 cents per kW/h. It was built by a consortium of Abu Dhabi's Masdar and the French company EDF Group through its subsidiary EDF Energies Nouvelles.
Auctioning for Phase 4, in 2017, achieved the world's lowest LCOE for a CSP facility at that time, at $0.073 cents per kW/h.
The progress reported this week at MBR Solar Park implies a further 2,140 MW would be required to hit it's 2030 target of 5 GW generation capacity. According to a report today in PV Magazine, Dewa published an update following Mr. Al Tayer's visit to site, which indicated that 2030 remains the project deadline for a 5 GW site.
Energy & Utilities reported last year that Dewa commissioned a new 400/132kV substation at MBR Solar Park, with 223 kilometres of 400kV overhead lines to connect the substation with Dewa's network.
DEWA's installed capacity has reached 14,117 MW of electricity. Clean energy share in Dubai's energy mix has reached 11.5% and is expected to reach 14% by the end of 2022.
Energy & Utilities - Middle East and Africa Market, Outlook Report 2023.
This must-have report for industry players offers a thorough understanding of the latest developments, challenges, and opportunities in the region, supported by data, analysis, and expert insights.