Product
Land Power products | DEIF
Choose DEIF to increase your performance & efficiency Working with EPC, switchboard manufacturers, system integrators/OEMs and asset owners, DEIF identifies new ways to increase performance and efficiency for the IPP, rental, critical power and standby power markets. Part of our strategy and DNA, we're also ...
Product
Marine and offshore Products
DEIF has a long and rich history of providing class-approved, reliable bridge instrumentation, switchboard equipment and power management control solutions. In fact, we cover 40% of today's world market for bridge instrumentation, we stand out as the world's preferred supplier. Conceived and designed to a...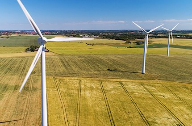 Product
Wind Power | DEIF
DEIF Wind Power Technology is a globally represented with subsidiaries and distributors in Europe and Asia. Headquarters is situated in Skive, Denmark. We are suppliers of robust turbine components, innovative solutions and technology for turbine power performance

Maximising wind turbine availabili...