Consortium signs contracts to develop 525MW of solar capacity in Iraq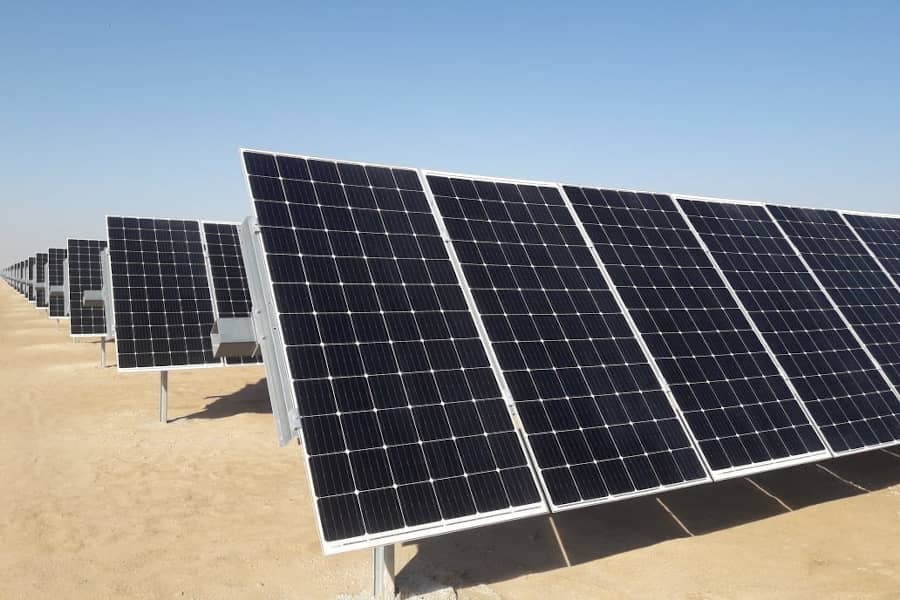 A consortium of Norway's Scatec, Egypt's Orascom Construction and local company Bilal has signed agreements to develop 525MW of solar capacity in Iraq
A consortium of Norway's Scatec, Egypt's Orascom Construction and local company Bilal has signed agreements to develop 525MW of solar capacity in Iraq.
The 525MW of photovoltaic (PV) solar capacity will be developed in the provinces of Babel and Karbala in southern Iraq. The signing of the agreements was announced by Iraq's oil minister Ihsan Abdul Jabbar.
The oil minister revealed that the value of the project will be about $500m.
The Scatec-led consortium was awarded the contracts to develop the capacity earlier this year after participating in the competitive bidding process for 755MW of PV capacity, Iraq's first competitively tendered independent power producer (IPP) programme.
Iraq's Electricity Ministry first announced the 755MW solar IPP programme in April 2019, when it invited developers to submit expressions of interest (EOI) for the scheme.
The Electricity Ministry revealed at the time that the projects would be developed under a build, own, operate (BOO) model, with a special purpose vehicle (SPV) to be set up by the successful developer to build and operate the plants.
The ministry stated it would connect the solar plants to the Iraqi transmission grid under a transmission connection contract (TCC), and will lease the land to the SPV under a land-lease contract (LLC). The ministry would be the offtaker for the electricity and would purchase the power from the special purpose vehicle (SPV) established by the appointed developers for each project.
The seven planned solar projects are:
Al-Diwania solar IPP – 50MW capacity, to be located in Diwania province
Iskandariya solar IPP – 225MW capacity, to be located in Babil province
Jissan solar IPP – 50MW capacity, to be located in Wassit province
Karbala solar IPP – 300MW capacity, to be located in Karbala province
Khidhir solar IPP – 50MW capacity, to be located in Muthana province
Sawa 1 solar IPP – 30MW capacity, to be located in Muthana province
Sawa 2 solar IPP – 50MW capacity, to be located in Muthana province
In addition to the competitive tendering programe, Iraq's government is also directly negotiating contracts with international firms to develop significant renewables capacity across Iraq.
Energy & Utilities recently reported that UAE-based Masdar had signed an implementation agreement with Iraq's Ministry of Electricity & National Investment Commission to implement five photovoltaic (PV) solar projects with a total combined capacity of 1GW.
Under the agreement, Masdar, a subsidiary of Abu Dhabi sovereign wealth fund Mubadala Investment Company, will develop a 450MW PV solar independent power producer (IPP) project in the Dhi Qar governorate in southern Iraq; 100MW and 250MW PV IPPs in Ramadi in central Iraq; a 100MW PV IPP in Mosul and a 100MW project in Amarah in the southeast of the country.
In September, France's TotalEnergies signed a contract to develop 1GW of solar capacity.
In August, Chinese state-owned group Power Construction Corporation of China (Power China) signed a deal with Iraq's Ministry of Electricity to install 2GW of PV solar across several locations in Iraq. Power China will develop 750MW of PV solar capacity under the first phase of the agreement.
Iraq is aiming to develop 10GW of PV solar capacity by 2030 as it battles to reduce the supply-demand deficit for electricity in the country, which leaves many areas with long blackout periods during the hot summer months.
In 2018, the installed capacity of 15GW was significantly lower than the 23.5GW peak demand recorded during the year.
According to data from the International Renewable Energy Agency (Irena), Iraq currently has 216MW of installed renewables capacity.
Energy & Utilities - Middle East and Africa Market, Outlook Report 2023.
This must-have report for industry players offers a thorough understanding of the latest developments, challenges, and opportunities in the region, supported by data, analysis, and expert insights.