EAE Elektrik AS. End. ?ns. San. Ve Tic. A.S
Akcaburgaz Mahallesi 3114 Sok.No:10
34522
Istanbul
Turkey
EAE Elektrik AS. End. ?ns. San. Ve Tic. A.S
EAE Group of Companies; started it's journey within the electricity sector in 1973 as the EAE Elektrik Company, which was located in Güngören. With the increase in production capacity, the manufacturing was later transferred to the modern factory in...

2 Lou Yang Road Suzhou Industrial Park
215121
Suzhou, China
China
Eaton Vacuum Interrupters covering voltages up to 72kV and short circuit ratings up to 63kA

130 Roebuck Street
B70 6RB
West Bromwich, West Midlands
United Kingdom
Earthmet Ltd is the UK's leading manufacturer and distributor of substation and renewable Energy Earthing and Power materials. Backed by one of Europe's leading Copper Mills, we offer a simple one stop-shop facility, without the need to use several ...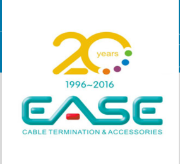 Unit 5 1000 North Circular Road
NW2 7JP
London
United Kingdom
EASE Ltd, founded in 1996, is the leading manufacturer in Europe and China for cable termination and accessories. Our company's motto 'European Quality, Chinese Price' has gained itself an excellent reputation in a broad spectrum of industries, and ...
Brazil Windpower 2022
Transformation is part of every business, and for 2020 we transformed Brazil Windpower into a 100% digital event that will cover the 3 main pillars of an in-person event, maintaining the quality and audience of a business event. It is time to reinvent and to stay close and continue to disseminate content, promoting the meeting between thousands of professionals who have the same purpose, we have prepared a virtual environment, 100% safe.

PO Box 261768, Jebel Ali
Dubai
United Arab Emirates
Eaton is a power management company with 2018 sales of $21.6 billion. Its energy-efficient solutions help customers effectively manage electrical, hydraulic and mechanical power more reliably, safely and sustainably. Eaton employs 99,000 people worl...

EAU - Egyptian African Union Advertising and Printing SAE
8th El Kawther St., Gamat El Dewal St.
Mohandseen
Cairo, Select Option
Egypt
EAU - Egyptian African Union Advertising and Printing SAE