Assessing the first years of Nigeria's 'decade of gas'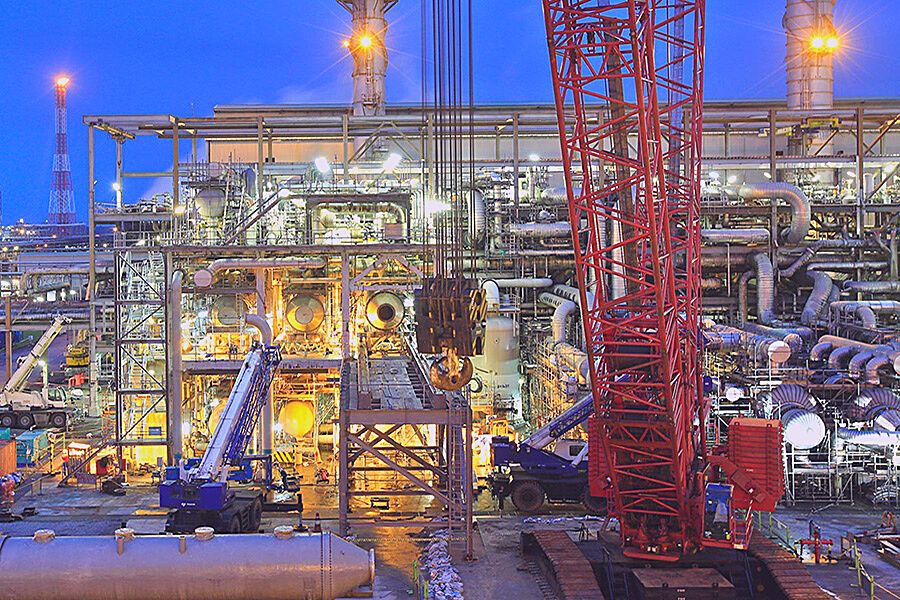 Nigeria's huge natural gas reserves hold potential for the power sector, with policies in place to ramp up LPG, CNG production, yet much production is exported; a holistic solution to current challenges required
In March 2021, former president Muhammadu Buhari declared the 2020s Nigeria's 'decade of gas'. In doing so, he signaled the government's renewed focus on gas as the fuel of choice for powering Nigeria's industrial ambitions.
Nigeria has the tenth largest gas reserves globally, with about 208 trillion cubic feet (tcf) of untapped proven gas reserves according to the Nigerian National Petroleum Corporation, NNPC.
Despite this huge potential, gas production remains relatively low. In 2021, Nigeria produced 1.62 tcf of gas, behind Algeria (3.56 tcf) and Egypt (2.4 tcf) despite having larger reserves.
The majority of gas is produced as a byproduct of oil exploration as associated gas, while a huge portion of the gas produced is exported. In 2021, 50.7 percent of the total gas produced in Nigeria was exported as liquefied natural gas (LNG).
Natural gas now plays a small role and could potentially play a larger role in Nigeria's energy production. Yet significant challenges remain. Developing a holistic solution to help ensure energy access and security will require improving investor confidence in the sector. Developing a local gas market will require stakeholders and consumers to be confident that gas flows won't stop abruptly.
The decade of gas so far
Nigeria has implemented several policies aimed at increasing the domestic utilization of liquefied petroleum gas (LPG), compressed natural gas (CNG), and gas-to-power. Some have focused on reducing and commercializing gas flares and developing industrial gas markets. Nigeria's energy transition plan sees gas as a key transition fuel that will help meet energy needs in the short term.
In 2020, the NNPC began developing its most ambitious gas project, the Ajaokuta-Kaduna-Kano pipeline. The 614km pipeline is a massive $2.5 billion project that will transport gas from production centers in the south to industrial clusters and production centers in the north.
The pipeline will also provide gas for three planned thermal power stations in Abuja (1,350MW), Kaduna (900MW), and Kano (1,350MW) as well as feedstock for industrial production of petrochemicals and fertilizers. The project was slated for completion in the first quarter of 2023, but the NNPC has extended this timeline to the third quarter of 2023 due to what it described as security and terrain challenges.
Other key projects being developed include a second Escravos to Lagos Pipeline System which will double the capacity of the current transport network improving supply to about 9 power plants located in its corridor. The Obiafu – Obrikom – Oben (OB3) gas line is also being developed and will improve supply to petrochemical industries. The NNPC's ultimate goal is to ensure domestic gas utilization of 5 billion standard cubic feet (bscf) daily.
The government is promoting CNG as the key fuel for transport. In 2022, the NNPC announced a plan to convert about 500,000 petrol and diesel vehicles into CNG-powered and deploy 580 gas-filling stations over 18 months. This plan also extends to replacing small diesel and petrol-powered generators, the main energy source for off-grid and underserved customers, with gas-powered alternatives.
Overcoming market challenges
To fully achieve the benefits of these initiatives and projects, the government needs to provide solutions to some of the policy and market challenges that have hampered domestic gas utilization.
Gas-fired power plants constitute about 87 percent (about 14GW) of Nigeria's total installed power generation capacity. However, plants routinely suffer from gas supply constraints. This challenge is linked to the overall lack of liquidity in the power sector and also to the fact that the domestic gas market is a regulated one. When power generation companies are unable to pay and the domestic gas pricing is unattractive, gas suppliers prioritize international buyers that can pay.A related problem is that there is no incentive for these producers to invest in infrastructure for domestic gas supply. Investments will be limited to off-shore basins that are near export ports. Activated and enforced gas sale and purchase contracts are necessary to make gas projects bankable and spur private-sector investment.
Another key challenge that disrupts gas flow is the sabotage of pipelines by vandals. Although instances of vandalism have decreased from its height in the 2010s, it remains a huge issue that affects the country, costing money in not only lost products but also repairs. A 2014 report from the U.K.-based Stakeholder Democracy Network (SDN), notes that pipeline vandalism costs oil companies $14bn annually. In October 2022, NLNG declared a force majeure, citing the unavailability of major liquids evacuation pipelines due to sabotage and vandalism.
Developing a holistic solution to natural gas production and supply in Nigeria will ensure energy security and improve investor confidence in the sector. A holisitic solution that creates a thriving local gas market for the power sector will also require more confident stakeholders and consumers.
Nigeria Energy 2023
Nigeria and West Africa will come into focus at Nigeria Energy in Lagos this month. More than 200 exhibitors will show the products and promising technologies at play in this dynamic region. Hundreds of delegates will attend the Nigeria Energy Leadership Summit and a Technical Seminar.
This year's conference and exhibition is the 10th edition of this key event. And the best news is, registration is free!
For delegate pass enquiries reach out to [email protected]
A new report on West Africa is now out from Informa Energy & Utilities. It combines a useful overview of each country combined with close looks at four key sectors across the region.
Energy & Utilities - Middle East and Africa Market, Outlook Report 2023.
This must-have report for industry players offers a thorough understanding of the latest developments, challenges, and opportunities in the region, supported by data, analysis, and expert insights.