Amaala, EDF & Masdar announce multi-utilities project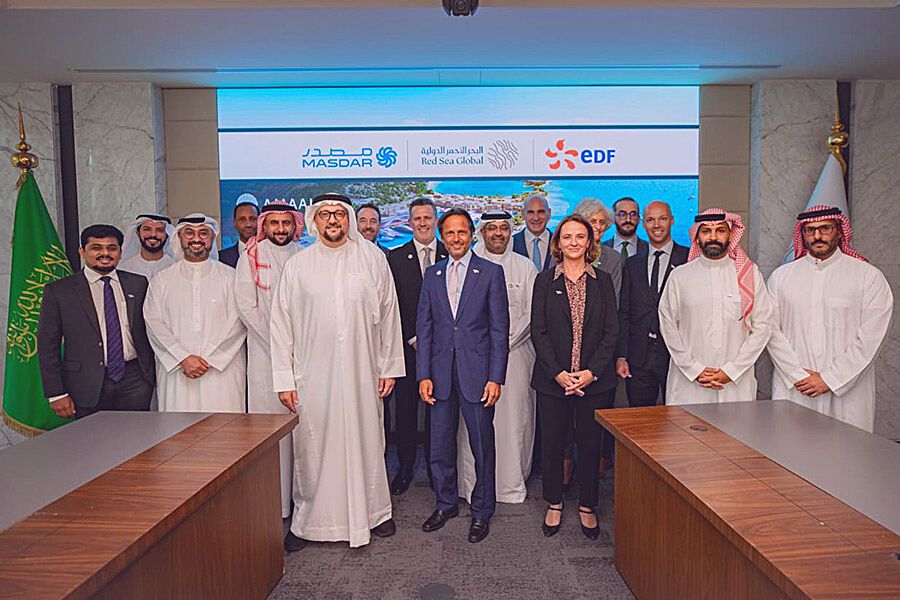 The luxury development will get renewable supply system to generate up to 410,000 megawatt-hour (MWh) per annum, to run completely on renewables; Red Sea resort to have 29 hotels and 1,200 high-end resident villas
Red Sea Global (RSG), a multi-project developer wholly owned by the Public Investment Fund (PIF) of Saudi Arabia, which is behind the development of 'regenerative tourism' destinations like Amaala and The Red Sea, has entered into a 25-year concession agreement with the French multinational electric utility company Électricité de France (EDF) and clean energy company Masdar on a multi-utilities infrastructure facility to service the Amaala destination.
All about Amaala
Like its sister destination The Red Sea, Amaala will be powered entirely by solar energy. According to a statement by Masdar on the 11th of September, the new facility consists of an optimized off-grid renewable energy system, which generates energy from photovoltaic technology, and a battery energy storage solution that enables 24/7 power, plus a desalination plant and wastewater treatment plant, both powered by renewables.
John Pagano, Group CEO of Red Sea Global said, "The project follows the template for success provided by The Red Sea, where we recently completed the build of five solar farms, procuring a destination-wide utility system that enables us to operate with no connection to the national grid."
Amaala's renewable supply system will have the capacity to generate up to 410,000 megawatt-hour (MWh) per annum - enough to power 10,000 households for an entire year. The system includes a 700 MWh battery storage facility, ensuring Amaala will be powered by renewables day and night. A water desalination plant that uses reverse osmosis technology and has capacity of 37 million litters of water per day will also be present.
Working together
The utilities concession agreement between RSG, EDF and Masdar has an initial 25-year term with the option to extend and involves the financing, engineering, development, construction, operation, maintenance and transfer of a multi-utilities' infrastructure facility.
The contract was procured in the model of an independent public-private partnership (PPP), covering the design, construction and operation of the systems providing utilities, accompanied by the associated networks and infrastructure.
Béatrice Buffon, Group Executive Vice-President in charge of EDF's International Division, said: "Together with Masdar, we are thrilled to take part in Red Sea Global's Amaala project, a large scale off-grid system delivering carbon-free electricity and water 24/7.
"This project will set new standards of execution and operation for EDF and the Kingdom."
Mohamed Jameel Al Ramahi, Chief Executive Officer of Masdar, said: "The Kingdom of Saudi Arabia is a key strategic market for Masdar and as a leading renewable energy company and longstanding partner, we are committed to playing an important role in supporting the country's Vision 2030 Strategy…."
Masterplan
Phase One of Amaala is focused on the Triple Bay masterplan and will be ready to welcome first guests in early 2025. Once complete, the destination will be home to more than 3,900 hotel rooms across 29 hotels and 1,200 high-end resident villas, apartments and estate homes, alongside high-end retail establishments, fine dining, wellness and recreational facilities.
It also includes a vibrant community for the more than 15,000 people who will live and work at Amaala when fully complete.
Background
Energy & Utilities previously reported on Amaala's bid deadline being extended so that potential developers would have more time to submit their proposals.
Energy & Utilities also reported on a joint venture between EDF and Masdar to develop SeaWorld Abu Dhabi's solar energy systems.
David Haziri contributed reporting
Energy & Utilities - Middle East and Africa Market, Outlook Report 2023.
This must-have report for industry players offers a thorough understanding of the latest developments, challenges, and opportunities in the region, supported by data, analysis, and expert insights.