Acwa Power reaches financial close for $650m Jubail desalination project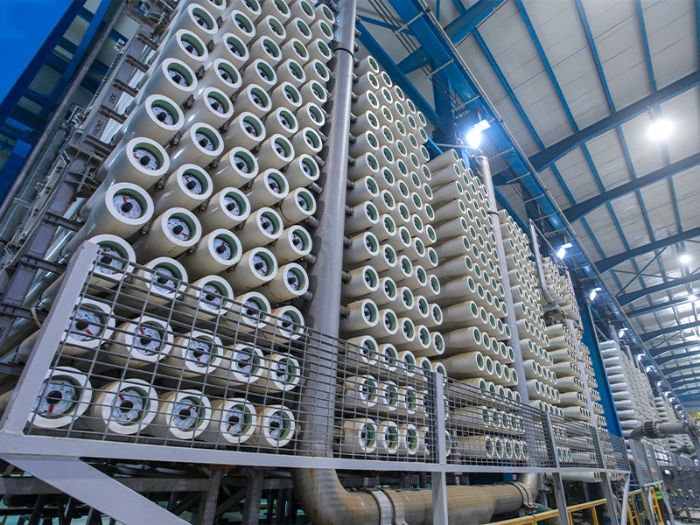 7 Sep 2020
The Acwa Power consortium signed the water purchase agreement (WPA) earlier this year for a world record desalination tariff of $cents41 per cubic metre ($c/cm). The 600,000 cm plant is due to be commissioned in 2022.
A consortium led by the local Acwa Power has reached financial close for the $650m Jubail 3A independent water project (IWP) in Saudi Arabia.
Acwa Power, in consortium with Kuwait's Gulf Investment Company (GIC) and the local AlBawani Water and Power Company, was awarded the contract to develop the plant for a world-record water tariff of $cents41 per cubic metre ($c/cm). The water purchase agreement (WPA) was signed on 21 May.
The Saudi Water Partnership Company (SWPC) is the offtaker for the project.
The project is being financed through limited recourse project financing with Al-Rajhi Bank, Abu Dhabi Islamic Bank (ADIB), Riyad Bank and Mizuho Bank as the initial mandated arrangers. Riyad Bank and Aljazira have already provided equity bridge loans for the transaction.
The reverse osmosis (RO) Jubail 3A IWP will have a desalination capacity of 600,000 cubic metres a day (cm/d) and is due to be commissioned towards the end of 2022.
The engineering, procurement and construction (EPC) contract has been awarded to a consortium of Sepco 3 (China), Power China and Spain's Abengoa.
"Signing of the financing agreements for the Jubail-3A IWP project in less than four months from the date of signing the water purchase agreement, especially in the midst of a pandemic which is causing global disruption, is testament to the financial community's confidence in ACWA Power's proven capabilities in delivering large scale utility plants; and an indication of the unwavering support of our partners, including our lenders, contractors and advisors," Acwa Power's CEO Paddy Padmanathan said in a released statement following the financial closure of the Jubail 3A IWP.
The Acwa Power consortium saw off competition from three other groups to win the Jubail 3A IWP deal, with SWPC having prequalified 10 groups to participate in the tenders for the Jubail 3A and Jubail 3B IWP tenders.
The Jubail 3B IWP is planned to have a capacity of 570,000 cm/d, with bids due on 17 May. India's Synergy Consulting has been appointed as lead and financial adviser for the Jubail 3 A and B projects. UK-based law firm DLA Piper has been appointed as legal adviser and UK-based Atkins is technical adviser for the planned projects.
Bids for the Jubail 3B project are due on 1 October.
The Jubail 3 scheme had originally been planned as one independent water and power project (IWPP) with a 1.17 million cm/d desalination capacity and a power component of 3,000MW. However, the client decided to drop the power generation component and proceed with the projects as two separate IWP projects.
Want more Energy & Utilities insight?
Free energy tutorials at your fingertips this May and June with Middle East Energy Online
Be confident in finding the inspiration you need to navigate the energy evolution. Be energised by 40 hours of free virtual seminars, tech demos, case studies and thought leadership, to help you find the answer to your project challenges, only through Middle East Energy 2021. Plus, discover over 150 renewable and clean energy, transmission & distribution, critical & backup power and energy consumption & management suppliers and solution specialists, from solar and green hydrogen to automation solutions, EV controls, plus switchgears and components.