ACWA Power & Huawei establish joint innovation program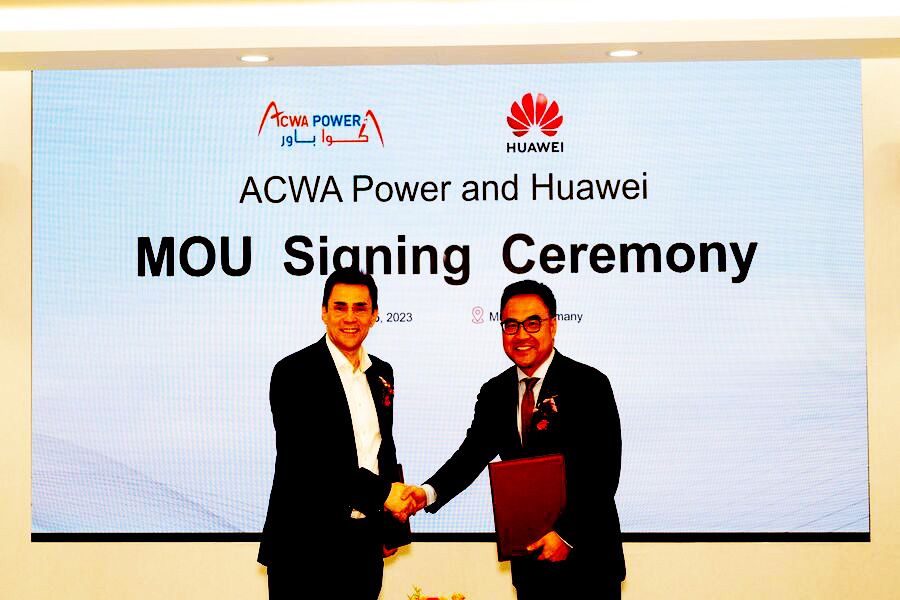 Saudi company announces collaboration with Huawei Digital Power to work on solar modules and advanced controllers for hybrid power and storage; optimizing projects to meet KSA's renewables targets
ACWA Power has signed a memorandum of understanding (MoU) with Huawei Digital Power to establish a joint-innovation program, which will drive the growth of local industries and expedite decarbonization targets of the Kingdom of Saudi Arabia.
The joint initiative, announced by ACWA late last week, will focus on developing cutting-edge technology; the partnership aims to drive advancements through ground breaking solutions in renewable energy production and energy storage projects in Saudi Arabia.
The partnership will concentrate on the design of photovoltaic (PV) strings and maximizing solar module capacity while reducing the number of strings required for each project. These developments will significantly lower the balance of system (BOS) costs, reducing installation and maintenance costs.
Furthermore, the partnership will explore the implementation of microgrid simulations to optimize performance based on specific energy needs. The development of advanced controllers will improve energy management, load balancing, and grid stability, allowing microgrids to adapt to changing conditions. ACWA Power will be able to implement these controllers in any project that integrates and hybridizes power generation, energy storage, and loads, according to the company's statement.
"This partnership with Huawei not only supports our ambitious renewable energy goals but also contributes to the development of a thriving research and innovation ecosystem locally," said Thomas Altmann, EVP of Innovation & New Technology at ACWA Power.
"By joining forces with one of the world's top digital power companies, we ensure that our projects are optimized to meet the Kingdom's renewable energy needs."
Chinese Energy Entities in the Kingdom
In a statement, President of Huawei ME&CA Digital Power Business Department, Yao Jiang said: "We are honored to work with ACWA Power…leveraging our expertise in providing combined digital technology and power generation solutions."
Energy & Utilities previously reported on Huawei Digital Power and SEPCOIII being awarded a contract for the battery energy storage solution (BESS), for a utilities project at the Red Sea development in Saudi Arabia. The project includes 400MW of photovoltaic (PV) solar and 1,300MWh BESS.
As reported by Energy & Utilities, China's Longi will provide bifacial photovoltaic (PV) panels for the $1.6bn Red Sea Tourism Project in Saudi Arabia, a megaproject which will be 100 per cent powered by renewable energy. The project is scheduled to be completed by 2030 and will have 50 hotels and 1,300 residential properties developed across 22 islands and six inland sites.
David Haziri contributed reporting
Photo credit: ACWA Power
Energy & Utilities - Middle East and Africa Market, Outlook Report 2023.
This must-have report for industry players offers a thorough understanding of the latest developments, challenges, and opportunities in the region, supported by data, analysis, and expert insights.