Acwa Power and Air Products sign agreement for Oman green hydrogen and ammonia project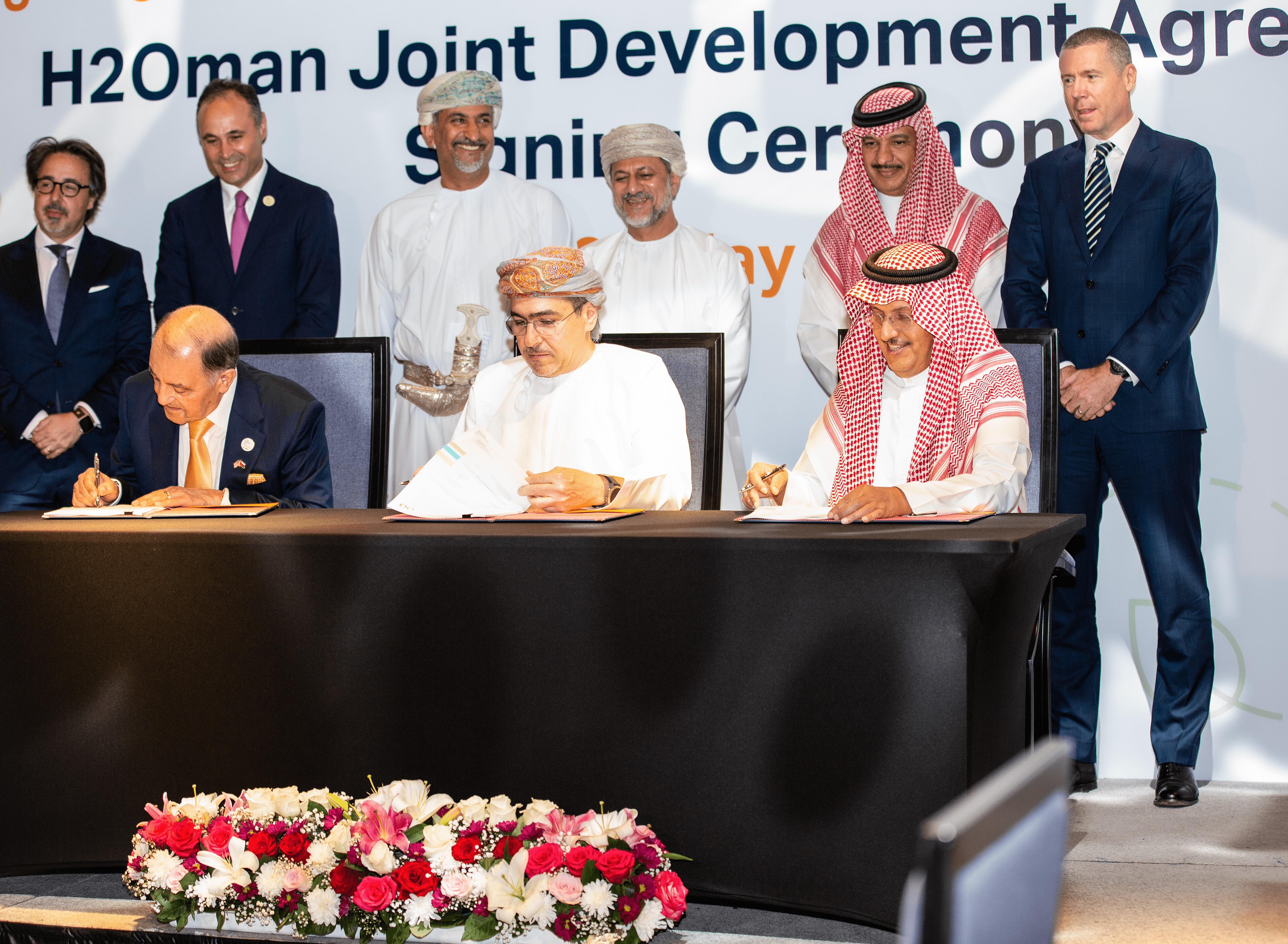 A consortium of Saudi Arabia's Acwa Power, US-based Air Products and local energy company OQ have signed a joint development agreement (JDA) for a multibillion-dollar investment in a world-scale green hydrogen-based ammonia production facility in Oman
A consortium of Saudi Arabia's Acwa Power, US-based Air Products and local energy company OQ have signed a joint development agreement (JDA) for a multibillion-dollar investment in a world-scale green hydrogen-based ammonia production facility in Oman.
The project is planned to be located in Oman's Salalah Free Zone, with the renewable energy to be provided by solar, wind and energy storage technologies. The green hydrogen will be produced by electrolysis with the production of nitrogen to come from air separation.
The estimated $7bn project is planned to be equally owned by the three consortium members.
Acwa Power and US-based Air Products are already moving ahead with plans to develop a $5bn hydrogen-based ammonia plant in Saudi Arabia.
The $5bn hydrogen-based plant will be located at the planned $500bn Neom development on the Red Sea Coast of the kingdom, one of the kingdom's Public Investment Fund (PIF's) key megaprojects planned to diversify the country's economy away from a dependence on oil.
Financial close for the project is expected by the end of the first half of 2022.
The project will be powered by more than 4GW of renewable energy, and will be able to produce 1.2 million tonnes per year of ammonia. The plant will produce 650 tonnes of hydrogen daily, Air Products revealed in a statement released on 7July.
Air Products will be the offtaker for the produced green ammonia, and will invest a further $2bn in distribution. Production from the facility is due to begin in 2025.
Energy & Utilities reported in April that a consortium of Saudi Arabia's Acwa Power and US-based Air Products had signed the $900m engineering, procurement and construction (EPC) contract for the planned green hydrogen and green ammonia project at Neom.
Acwa Power and Air Products each hold a 33.3 per cent stake in the Neom Green Hydrogen Company, with Neom Company holding 33.4 per cent.
Electrolysers with a capacity of 2GW will be supplied by Thyssenkrupp Unde Chrlorine Engineers, a joint venture between Germany's Thyssenkrupp and Italy's Industrie De Nora.