Abu Dhabi firm to develop up to 2GW of solar capacity in Libya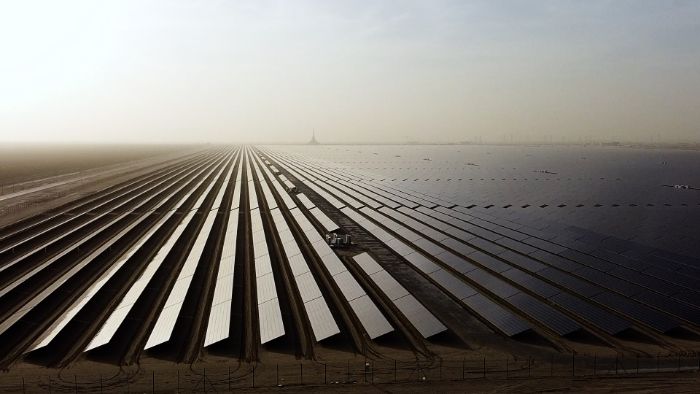 The General Electricity Company of Libya (Gecol) has signed a memorandum of understanding (MoU) with W Solar Investment, a subsidiary of Alpha Dhabi Holding, to develop up to 2GW of solar energy capacity in Libya
The General Electricity Company of Libya (Gecol) has signed a memorandum of understanding (MoU) with W Solar Investment, a subsidiary of Alpha Dhabi Holding.
The public-private partnership (PPP) initiative seeks a strategic long-term partnership in the renewable energy sector in Libya. W Solar will lead the development of solar photovoltaic plants, with a first phase targeting 500MW and a long-term target of 2GW. W Solar Investment will own and operate the projects for 25 years from the start of production. It will sell the net delivered energy from the plants to the Libyan government.
The new MoU is an important step in Libya's ongoing effort to expand its renewable energy production. The Renewable Energy Authority of Libya (REAoL) earlier announced its intention to develop photovoltaic projects totalling 2GW, primarily through public-private partnerships.
"There's no doubt that the MoU with W Solar is important to the economic reform for the renewable energy sector in Libya," said Weam Elabdelie, Chairman of the Board of Directors, General Electricity Company of Libya.
"As we get on with unleashing investments in the renewable energy sector, having a partner like W Solar will definitely help accelerate the national green energy agenda," he added.
"This is a landmark agreement for W Solar as we look to grow our operations in Africa and establish long-term relationships with key partners," said Zafar Muhammad, CEO W Solar.
Alpha Dhabi Holding, a subsidiary of Abu Dhabi-based International Holding Company (IHC), holds a diverse portfolio of non-oil sector investments. Its W Solar subsidiary has signed several agreements to implement and co-invest in renewable energy projects in Africa, Asia, and Europe.
By 2030, Libya aims for 22 percent of electricity generation to come from renewable energy.
Energy & Utilities - Middle East and Africa Market, Outlook Report 2023.
This must-have report for industry players offers a thorough understanding of the latest developments, challenges, and opportunities in the region, supported by data, analysis, and expert insights.